Heath Ledger is a legend but I'm sure you don't need me to tell you that. He is just as widely known and loved now, as he was when he was alive. Today he lives on in his films, photographs, and the relationships he built throughout his time on Earth. This exhibition at the NFSA gives you an insight into who Heath was, not only as an actor, but as a person with a big smile and an even bigger heart.
PICTURES: Heath Ledger: A Life In Pictures gallery
Actor Abbie Cornish, who attended the opening of the exhibition Heath Ledger: A Life In Pictures, was a friend to the late actor. She describes the new exhibition as "nostalgic" and talks about what he meant to her, to his family and to the world.
"I first met Heath when we worked together on the set of Candy. He was like a brother to me, I loved him dearly," says Abbie.
"You have a whole human here, you have a man that was not afraid to explore any part of life. And it's really inspiring. It's moving. I do think there's something very special about the NFSA to bring his life back to life with such dignity and such honesty, it's really beautiful."
This unique exhibition, curated in collaboration with his family, is a testimony to a great artist that also keeps his memories alive. In the photographs of Heath we see a brilliant actor. In the photos taken by Heath we take a stroll through his personal life and glimpse into what his personality was like off-camera.
One colourful series in particular shows off his personality. Titled 'Las Vegas, Nevada' this series shows Heath's spontaneous nature. In celebration of the release of Ten Things I Hate About You and Two Hands, it was Heath's idea to head to Vegas, dress in retro clothing, rent a limo and drive around the strip taking photos.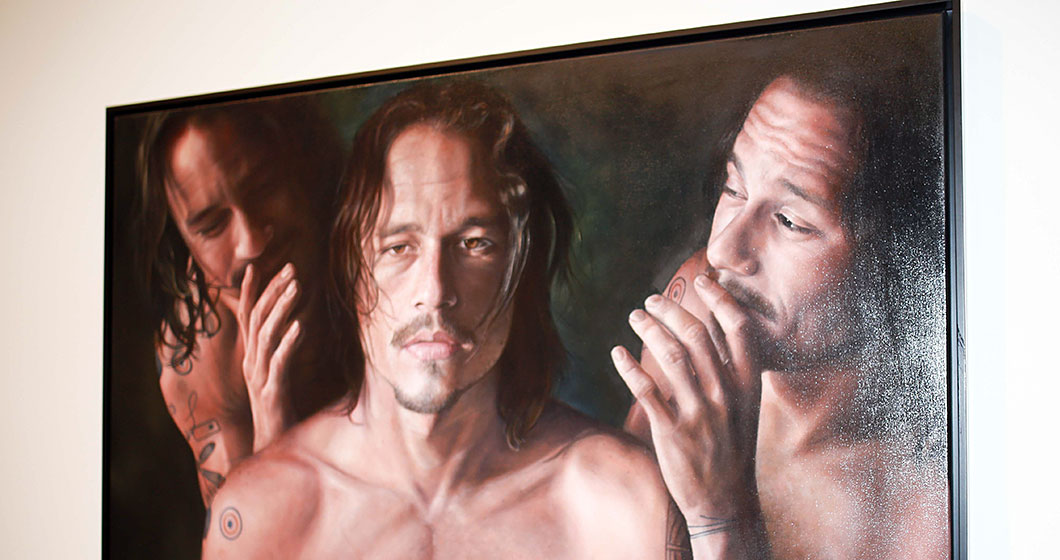 There was one other image that captured my attention, a painting simply titled 'Heath'. The painting is a triple portrait of him, almost like an angel-vs-devil scenario. He is shadowed on either side by two aspects of himself, half-smirking and almost mischievously whispering into his own ears. The Heath in the centre looks tired and seems defeated by the depression and insomnia that was very real at the time.
"I guess it's the whispering, the voices, the frustration or something comical – all the different ways that we might be thinking in our own mind," says Vincent Fantauzzo, the artist.
It feels particularly haunting and special because although it was never meant to be, this was the last portrait of Heath before his death just a few weeks later.
Heath Ledger: A Life In Pictures is exhibiting at the National Film and Sound Archive until February 10.