Join Gundaroo's award-winning restaurant, Grazing, in their 20th birthday celebrations! For three weekends starting Saturday 14 October, enjoy an elevated country fare and taste Grazing through the years, with their very special 'icons' menu.
Head chef and co-owner, Kurt Neumann designed the five-course menu to honour the most memorable dishes of the past and present.
"Picking the menu was hard. I wanted to curate a menu that reflects a modern Grazing. While some of the dishes go back six or seven years, I still wanted to appeal to the contemporary experience our customers have come to enjoy at Grazing," says Neumann.
"Some of our longest standing customers are going to have their memories roused by their tastebuds when they revisit these dishes."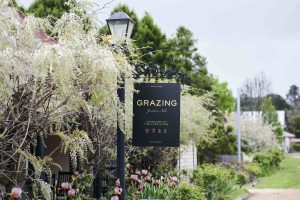 With an array of delicate dishes crafted with quality local produce, some of which are grown and harvested in Grazing's own backyard garden.
The menu features delectable ocean trout rillettes decorated with dill crème, avocado and sourdough wafer. Along with a creamy butterflied king prawn with pipi butter and almond picada, and ash baked kangaroo loin with beetroot, fetta, walnut and wattle seed. Followed by a local rump lamb with sticky glazed rib, kohlrabi and cauliflower.
Finally, to top it off the restaurant is ending on a high note, with a mouth-watering dessert of burnt honey crème, ginger and orange blossom, pear, honey jelly and candied pastry. With honey harvested from Neumann's own bees, if that wasn't enough to entice you, Grazing has hand-selected wines to perfectly compliment your meal, picked from their exclusively Canberra region list.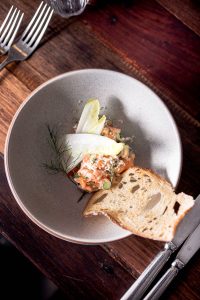 .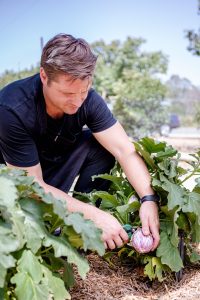 Neumann and his wife took over Grazing's operation in 2011 and after 12 years in the driving seat, Neumann reflects on how far the restaurant has progressed.
"Knowing we've played a small role is some significant events over the years is really humbling. From too many weddings to count, wakes, birthdays, and other celebrations, it's been an incredible journey," he says.
The duo has led Grazing to claim numerous awards, proudly featuring in many 'best restaurant' lists and recognised as a 'hatted' destination by the Australian Good Food Guide since 2013.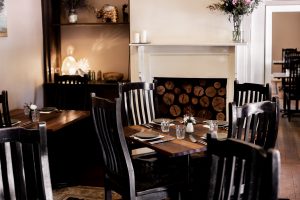 The restaurant sits inside the heritage Royal Hotel, first opening in 1865 as a pub for locals and out-of-towners. Grazing shows respect to its historical roots, with its original stone walls, fireplaces, and hand-cut ironbark ceilings intact.
Grazing's 20th Birthday Icon Menu is running each Saturday and Sunday from Saturday, 14 October until Sunday, 29 October.
Don't miss the chance to taste 20 years of Grazing, to make a booking visit their website.