Leading Australia in innovative healthy burgers, from low carb buns to healthy fried chicken, Grill'd continues to do things differently. And their latest venture is one you would have never seen coming…a Fable Food Co plant-based burger made by none other than world famous Michelin Star Chef, Heston Blumenthal.
Partnering up to deliver two limited-edition burgers made by Heston himself, exclusively for Grill'd, it uses his favourite mushroom-based meat from Queensland brand, Fable. This is the first time one of Heston's burgers will be served outside his restaurants.
Along with Heston's new burgers, Grill'd will be adding a new Fable range that will see three burgers added to the menu. The 'Fable Truffle', 'Fable Southern BBQ' and Heston's 'Fable Spicy Cheeseburger'.
"I never thought I would allow another restaurant to serve one of my very special burgers until I met the amazing team at Grill'd. All four Fable burgers are fantastic," says Michelin Star Chef, Heston Blumenthal.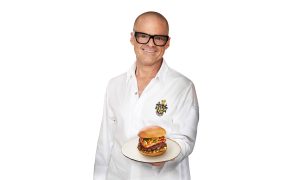 For his second creation, the 'Heston Fable Burger' inspired by Peking duck pancakes, will be limited to only 4,000 burgers at selected restaurants. While unfortunately our Canberra stores will not be one of those making the delicious burger, the Fable range is now available to try.
Fable Spicy Cheeseburger by Heston Blumenthal – Plant-based, meaty mushroom Fable pattie with aged cheddar, Spanish onion, Dijon mustard, dill pickles, egg mayo and Heston's fire roasted spicy tomato sauce
Fable Truffle – Plant-based, meaty mushroom Fable pattie with aged cheddar, cos lettuce, fresh basil and truffle mayo
Fable Southern BBQ – Plant-based, meaty mushroom Fable pattie with cabbage slaw, shredded carrot, Spanish onion, egg mayo, dill pickles and native Davidson plum barbeque sauce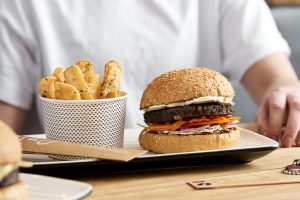 "We're thrilled to be bringing the Heston Fable Burger to Grill'd. In partnering with Fable, we've had the opportunity to work with Heston Blumenthal, one of the world's finest chefs, and expand our plant-based menu with four new Fable meaty mushroom burgers that taste just as good as the real thing. It's the next step in our mission to discover a whole new world of flavour and challenge the status quo with innovative, healthy and mindfully made products," says Grill'd Founder, Simon Crowe.
Find out more about all the incredible initiatives Grill'd is taking on their website.