If you love your meat, why waste steak night with a cheap cut of rump when you can order a gourmet creation from one of Canberra's top restaurants. Carnivores – set your face to stun!
Discover more of Canberra's fine dining with GourMay here
OTIS Dining Hall: Pepper Steak
Otis Dining Hall brings GourMay this mouth-watering Pepper Steak. A classic French dish called Steak au poivre, which means steak with pepper and chips. Owner Damian and head chef Adam worked together in London almost ten years ago and have never let this menu item go. The simplicity of the dish had people lined up out the door in South Kensington and now likewise here in Canberra with over 100 sold a week. The cut of meat rotates depending on the season, currently, a 28-day aged prime beef is on offer. The pièce de résistance is all in the sauce, consisting of a mix of Australian peppercorns, mostly made up of Silkwood pepper from Queensland.
Pair with none other than a local creation, The Murrumbateman Cabernet Sauvignon 2016 is not overly peppery therefore it will suit the peppery beef to form a balanced match. The Cab Sav will offer something a little more exciting than your safe choice of steak and Shiraz.
Turkish Pide House: Lamb Rack ala Turk
Turkish Pide House Woden offer a rich gourmet experience. Their Lamb Rack ala Turk is one of the chefs' fusion specials, incorporating Mediterranean flavours with other cultures. This hearty rack of lamb is a mix of Turkish and Aussie and definitely won't leave you unsatisfied. Rested on a bed of eggplant mash and complemented with a wine-red jus, a Turkish kick is added by incorporating a pomegranate molasses for a subtle sweetness.
To accompany the meat feast, the team recommend a Turkish wine that goes by the title Kavaklidere. For the wine connoisseurs, it is best associated with a Cabernet Sauvignon or a Petit Verdot. Known for its bright fuchsia colour, the wine has intense notes of sour cherry and blackberry aromas.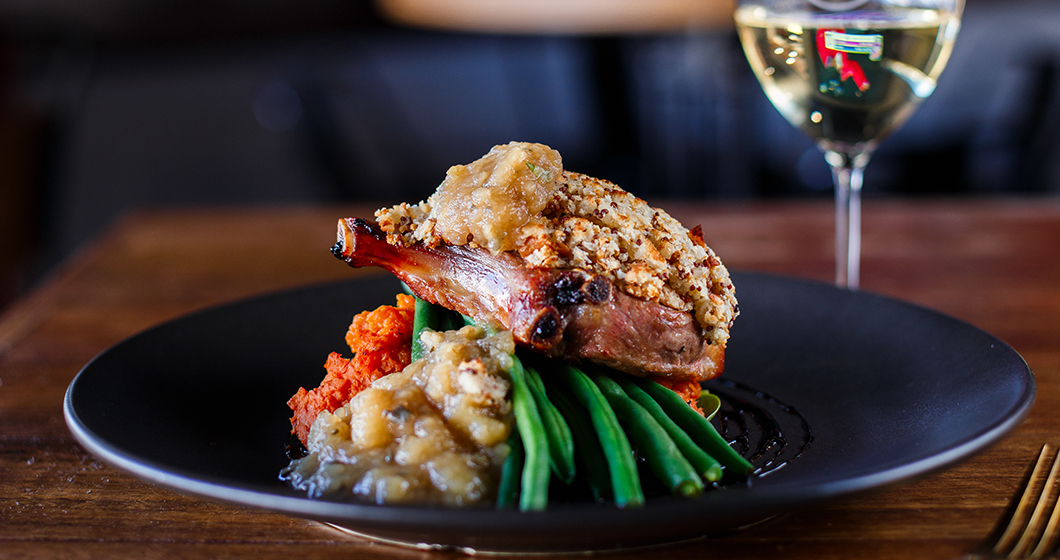 Hale + Mary: Macadamia Crusted Pork Cutlet
Heading into winter Hale +Mary in Kingston have adapted their menu to include a selection of gourmet mains. The Macadamia Crusted Pork Cutlet has all the best qualities of a Sunday roast served to restaurant standards. With a side of crushed sweet potatoes, left slightly chunky to absorb the sweeter flavours from the homemade apple chutney. Healthy green beans add the right amount of crunch to the hearty dish. The juicy pork cutlet itself is a generous 300g serving, smothered in a macadamia crust and showcased as a feature in the middle of the plate.
The cutlet would pair well with a dry or firm body white wine, though the chef recommended the 2017 Nick O'Leary Riesling. She said a white pairing works well with pork – being a white meat – whereas a red would overpower the subtle flavours of sage and chutney.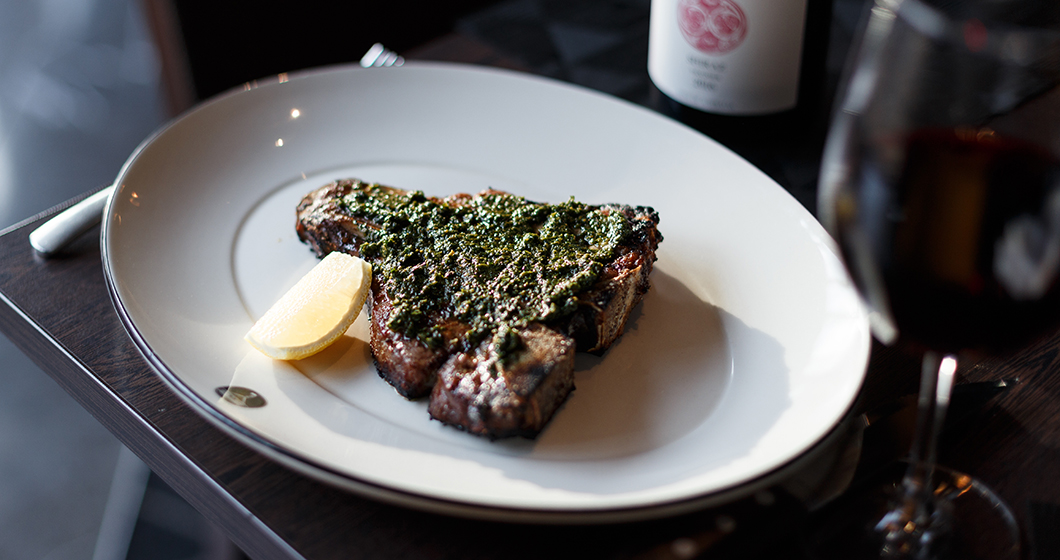 Capitol Bar & Grill: Bistecca Fiorentina
A prime cut steak from QT Canberra's Capitol Bar & Grill will have you salivating at the beautiful sight. This T-Bone "Bistecca Fiorentina" Dry Aged is cut from the short loin of the cow and contains a smaller section of tenderloin. The T-Bone Capitol Bar and Grill serves is dry aged in house for a minimum of 21 days to a maximum of 28 days. Grass Fed, from Cape Grim, North West Tasmania. This beef is guaranteed to be the best meat you will taste. The T-Bone is grilled on a wood-fired grill and served with an enticing Salsa Erbe on top.
Match your meat with the iconic Clonakilla Shiraz Viognier 2016 from the Canberra District, a vintage which sits confidently next to such a tender cut.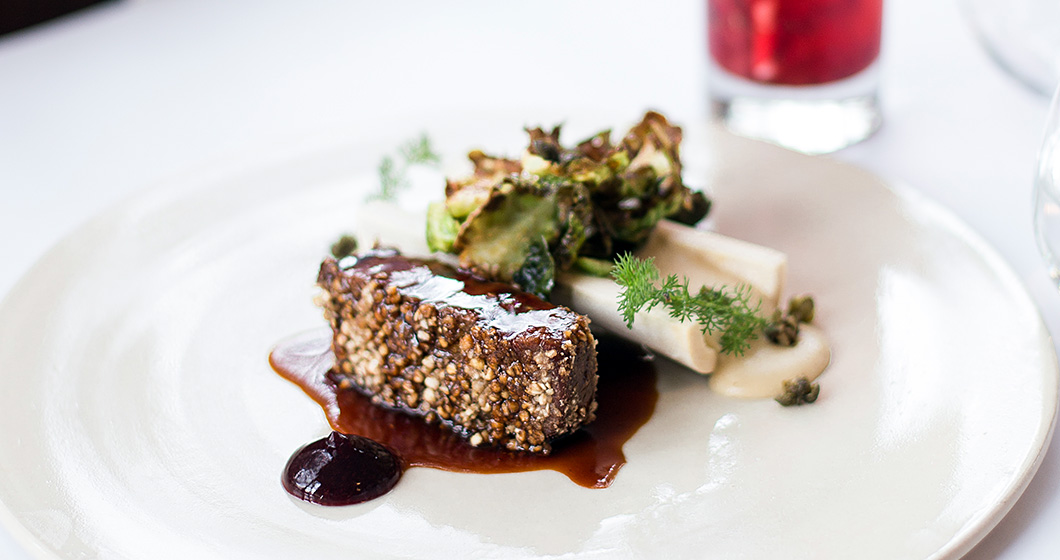 Sage Dining Rooms: Beef Tenderloin
It would be unforgiving to host GourMay without an inclusion of a dish from one of Canberra's premium restaurants, Sage Dining Rooms. This grain fed Beef Tenderloin has been sous-vide and then seared before being coated with a black pepper and buckwheat crust. Drizzled over the top is a duck fat mustard vinaigrette. Adding a slight crunch, the fried brussel sprouts sourced directly from the Sage Farm. The tenderloin rests on a bone marrow puree which is aesthetically cupped inside a bone. The dish is topped with fried capers and a sherry gel to cut through the fat from the bone marrow.
Pair it with a Raspberry and Black Pepper high ball cocktail; similarly, to the beef crust this cocktail holds subtle peppery notes which makes the two the perfect match. Allow the acidity of the raspberries to cut through the rich sauce of the gourmet dish.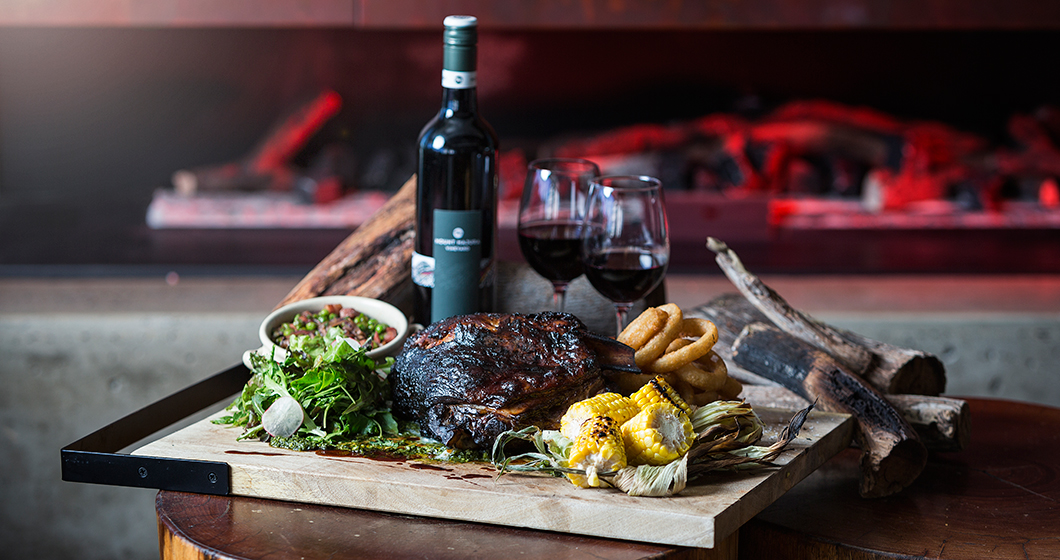 Walt & Burley: 12-Hour Braised Lamb Shoulder
Walt & Burley brings GourMay a succulent dish to share in front of the fireplace. This Whole 12-hour Braised Cowra Lamb Shoulder couldn't have come at a better time, it is the epitome of dining in Canberra once the cold front hits. Lamb shoulder takes time to perfect and this one, in particular, is why we associate the cut as a culinary pleasure. You won't need a knife to devour through the moist lamb and with the accompaniment of peas x speck & maple, onion rings, mac & cheese and salad the perfect gourmet meal is in sight.
Pair your meal with the Frank Van De Loo's Mount Majura T.S.G a Tempranillo, Shiraz, Graciano combo sure to rule the dinner table. The synergy between the wine and the food will make your evening feeling like a special night. The lush, full-bodied red is a pleasing match to the tender meat.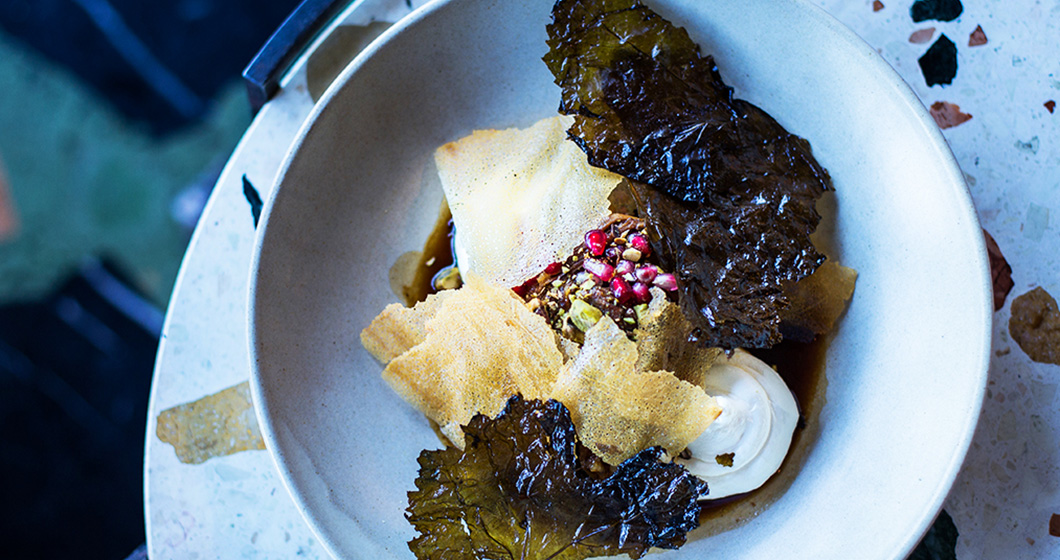 Monster Kitchen and Bar: Grazing Beef Tartare
From the Bar menu, the Grazing Beef Tartare encompasses what it means to be gourmet in its presentation, high-end ingredients and preparation method. The raw beef sirloin from Murrumbateman's Boxgum grazing is a cut is exclusively supplied to Monster Bar & Kitchen. The dish takes an Asian twist to the traditional culinary classic of raw meat and egg yolk, instead miso curing the egg and adding Asian rice seasoning for flavour and texture. Served with a side of black rice crackers to pile the tartar on. To reach its pitch dark tone, the rice is boiled in squid ink and cooked down into a congee. The paste is then blended, spread out and dried. Once it has reached its dried form the black rice can be transformed into a cracker by deep frying. Colour is injected with an avocado mousse and horseradish.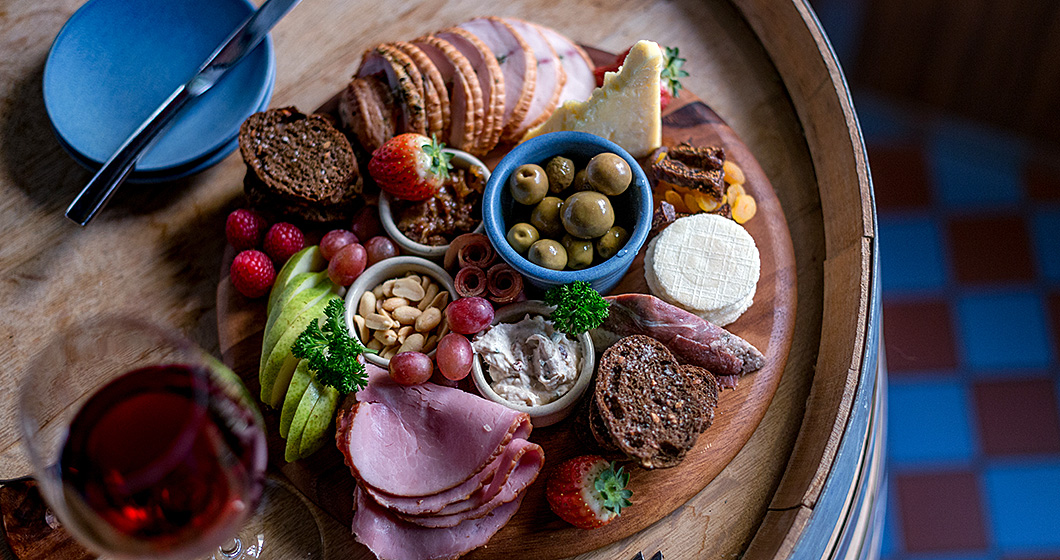 Canberra Wine House: Charcuterie Board
Canberra Wine House is allowing you to make your own gourmet creation using their collection of quality ingredients. The Charcuterie Board is full of textures including rolled prosciutto, carved ham's, finely sliced chicken and crumbly cheese. Garnished with colourful fruits and a bunch of platter essentials like olives and dried fruits this share board is the most delightful way to watch the sun go down and enjoy a bottle of vino.  As its name suggests this is predominately a meat platter with a local flair. Poachers Pantry Sicilian chicken, ham off the bone and prosciutto are all key elements. Rabbit terrine with pistachio and cranberries and the smoked trout pate make for interesting spreads on top of the rye bruschetta from grocer Fresh Fodder. The hunk of cheddar cheese from the Hunter Valley will keep you going well into your second bottle of wine along with the Bateman's Bay peanuts. For something sweet, the Pialligo bacon jam, seasonal fruits from local farmers or the dried figs will give you the balance you are looking for.
Lamberts Vineyards 2013 Rose was selected specifically for its excellence in pairing with prosciutto. It's as sweet as strawberry jam and pairs especially well with salty treats.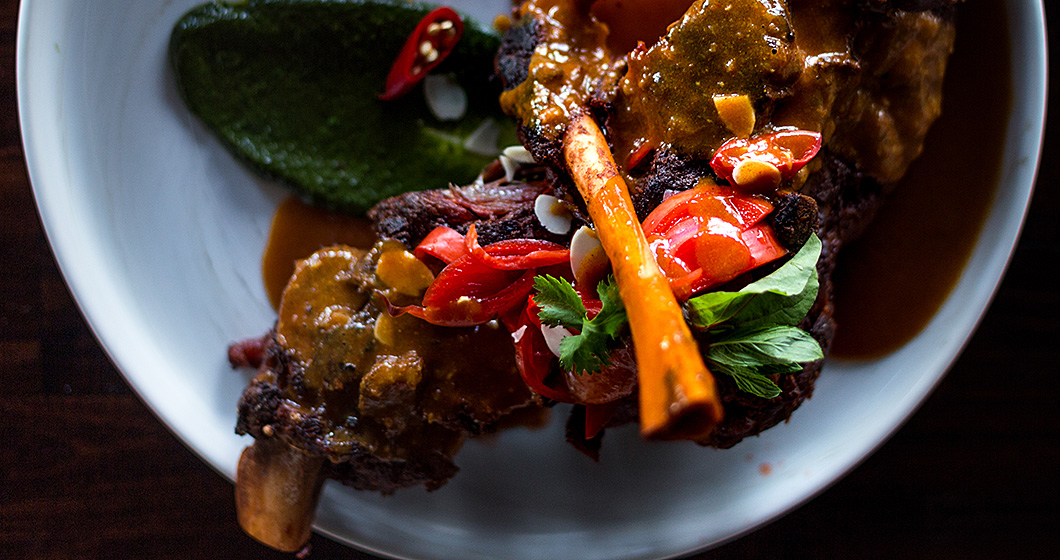 Gan-Jeez: Leg Of Lamb
We can't get enough lamb this GourMay, Gan-jeez mission to make Indian dining a gourmet experience is set in stone with this eight-hour slow-cooked Leg of Lamb in garlic-ginger and lamb jus. An Indian and Australian fusion on a fine hunk of meat, this dish is made to be shared and loved by all who have forks around it. Accompanied by a spinach porridge, onion pickle and coriander foam, the aromas from this blend plus the masala gravy will spark your interest.
As sweet as it looks, this Passionfruit Cocktail will go down nicely next to the leg of lamb. The sweet tones of the passionfruit will provide you a rounded aftertaste for the most fulfilling dinner.