Here we are Canberra, it's the last day of GourMay 2017 – or the last day of sunshine before we hit the deep-freeze of winter in Canberra.
We have had some amazing dishes throughout the month and a great event that will have all guests returning to Bicicletta very soon!
We kicked off the week on Thursday with the Confit Duck Maryland from the Columns Restaurant at The National Press Club. Think of anything gourmet and you would find it on this dish including Pialligo Estate bacon, champagne-poached lobster, kohlrabi and a shaving of Majura truffle.
Next, we captured the essence of the season with the Jones & Co Autumn Crumble. Complete with a poached pear in the middle of the plate covered in a crunchy crumble of granola and pistachio. Chai crème patissier, honeycomb and vanilla bean ice-cream were added to the dish for a touch of decadence.
On Saturday our eager GourMay guests headed to Bicicletta for our Pizza and Aperol Spritz class. As two groups lined up at separate stations to make their treats, there were lots of laughs and fun to be had (including some rather chunky orange slices in the Aperol Spritz!)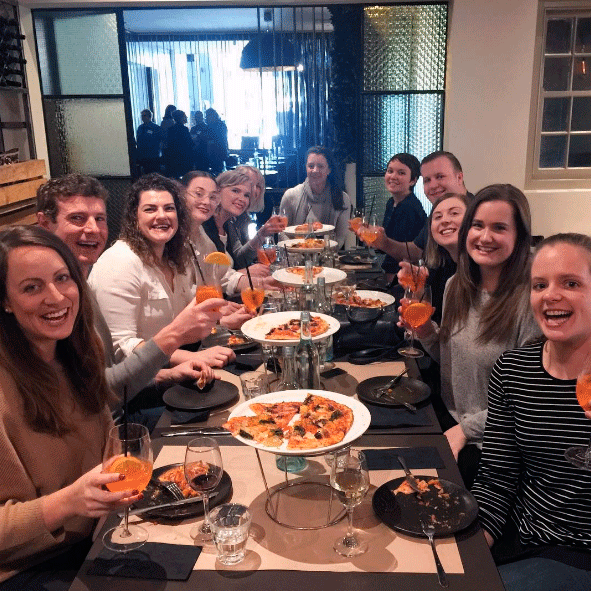 With much more pizza than people, everyone left with a take-home snack and the knowledge to recreate the experience at home.
Sunday we showcased Barton favourite, EQ Café Lounge and its Atlantic Salmon for a light lunch.
To start the working week, Marble & Grain presented their luxurious Butchers Board complete with slow-roasted ribs, black sausage, venison sausage, stuffed capsicum, just to name a few.
On Tuesday we added an Italian flavour to the week with the classic Spaghetti Alle Vongole at Deakin's Local Pizzeria. The dish's flavoursome punch was perfectly matched with a glass or two of the Monte Tondo 'Mito' Soave.
Last but not least we travelled to one of our favourites suburban gems, Gryphons Caffe and Bar for the Pig and Fig Salad. Although it doesn't have the most gourmet of names, this is a delicious dish is beautifully presented with all the flavours of the season – perfect for the last day of Autumn.
Thank you to everyone who has been involved in GourMay 2017, we are already busily preparing to make the 2018 celebration of Canberra fine food and wine bigger and better than ever before, so stay tuned!