"No matter what crowd we are playing for we always make sure we put on a show and give it 100 per cent."
This will certainly be the case when multi-platinum selling group Foreigner kick off their Australian tour at our very own Royal Theatre, with the show backed by an 18-piece orchestra led by celebrated Canberra conductor Kenneth Lampl.
Bassist Jeff Pilson gave me the lowdown on what to expect from the tour and how it all began.
"I'm in Manchester," Jeff tells me first. "We've just finished a tour of eastern European countries and are about to head out again to play with the Swiss orchestra."
The band performs in various capacities in rather diverse settings around the world. I was curious to explore this diversity with Jeff, along with the history of the group.
"Those last shows were just with the band, the orchestra is a bit of a new thing we did last year, and that's the latest CD/DVD 'FOREIGNER with the 21st Century Symphony Orchestra & Chorus.'"
Back in the USA, the group have been performing at private parties and conventions, at stadiums with other acts from that 'classic rock' era, such as Journey, Kansas, Styx as well as supporting Kid Rock in 2015.
"His audiences really connected with us," Jeff said of Kid Rock. "You know what, he actually requested for us to tour with him because Kid Rock kind of sees himself as becoming part of the classic rock landscape … he sees where the music business is going. It really worked well for us; it was a great tour and set us up for the following year which was the big 40th."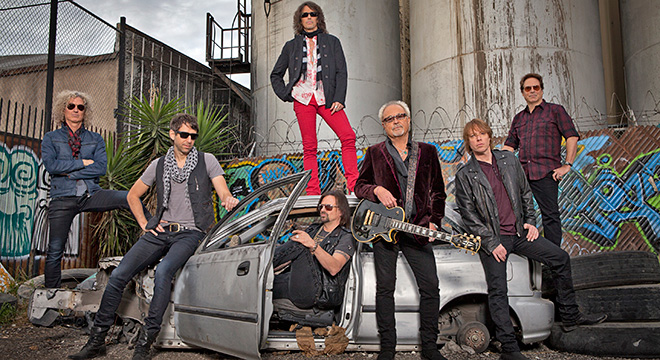 The diverse live scenarios somewhat match the history of the group. Long standing fans will remember the chart topping original line-up with vocalist Lou Gramm, who officially left the band in 1990 after a run of solo albums. There have been various member changes since then, with the current line-up solidified in 2015. Given this history, I was curious about Jeff's part in it all.
"I'd always been a fan of the band," he said. "So I knew a lot of it. As a fan I was just honoured to join and perform such great songs."
Given the huge hits the group have ( from 'I Want To Know What Love Is', to  I 'Feels Like The First Time', 'Cold As Ice', 'Waiting For A Girl Like You', and 'Urgent', ) I asked Jeff what his favourites are to perform.
"I wouldn't necessarily say I have favourite songs to perform, but there are certainly highlight moments like when we do Urgent and Tom Gimbel does his sax solo, that's always a highlight for me," he said.
"We do a lot of jamming on a couple of songs where we just improvise and that's always fun. It's interesting when we have the orchestra though, as we will in Australia, because some songs just sort of take on a life of their own. Like Urgent has this Egyptian feel to it."
The last time the band was in Australia was tough to discover, and Jeff wasn't much help either!
"Mmmm I think it was 2006," Jeff said. "Has it really been that long, am I spacing out? It was definitely since then, but I couldn't honestly tell you. I've never been to Canberra so I'm very excited about that. Australia is a wonderful place that I love so much."
For a sophisticated night of chart topping classic rock in Canberra, Foreigner Orchestral is at the Royal Theatre on Friday 12 October. Tickets at Ticketek.