Last night I attended the spring preview menu at the Novotel's First Edition. Upon arrival, we were given the advice: 'before you eat fill yourself with alcohol' as we got knee deep in dried herbs and began making our very own gin. I was outraged by the fact that gin is coriander based – coriander just seems to slip its way into everything. Nonetheless, the team at First Edition have created a custom gin for the restaurant which was admittedly delightful. If you head-in to give it a whirl, be sure to order the 'First Impressions' cocktail', a surprisingly perfect pairing of passionfruit and basil.
The new menu is showcasing the very best produce that Canberra has to offer, but also what Executive Chef Jennie Tressler and her phenomenal team have got install for the warmer weather.
"Spring menus are my favourite," Jennifer says. "It signifies new beginnings and presents lots of colours from the vegetable world. We are using a lot of Indigenous products which can only be ordered once a week, so we have to be ahead of the game."
First Edition's new spring menu sees a variety of innovative and unique dishes keeping true to their promise of utilising fresh local produce from the Canberra region and its surrounds, but also incorporating the use of native fruits.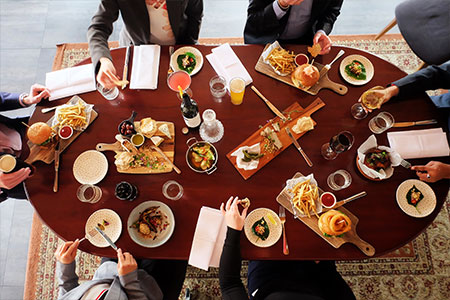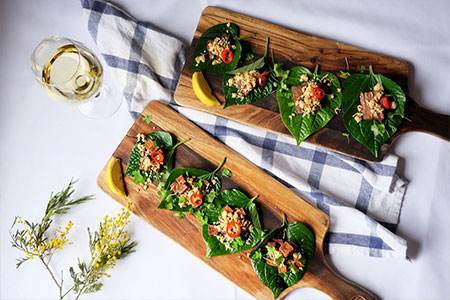 The vego Lasagne is so tasty it starts fights across the table with hands flying everywhere for the last slice. Handmade pasta, with wild mushroom ragu, truffle infused béchamel and baby leaves.
Some other newbies include Cherry Pork accompanied with kalette, red leaf & crushed crackle. Traditional Chicken and Prawn Wontons with chilli kick chicken broth. Pan-Fried Duck Breast which has been generously soaked in ginger & soy, paired with glass noodles, pickled onion, cucumber salad & sake vinaigrette. Moving away from the Asian influenced dishes Steak Frites with blue frog truffle butter, 400g Riverina Angus T-Bone with Lyonnaise potato, snow pea tendrils, seeded mustard dressing & a choice of either creamy peppercorn sauce or classic red wine jus.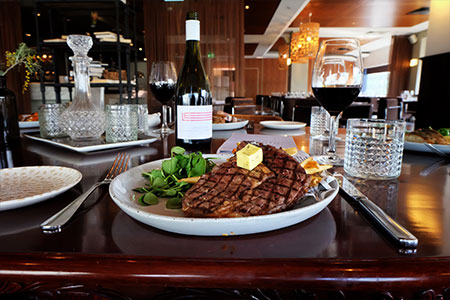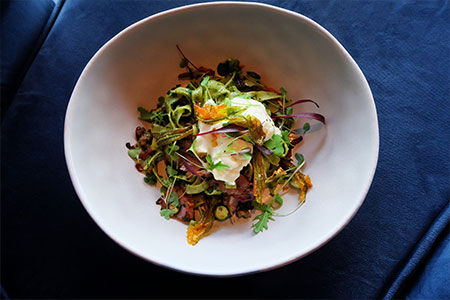 Finish off with a choice of either sweet or savoury. From the taste of Tilba Cheese Selection with local bush honey & accompaniments to the decadent 'Love is in the Air' baked rosewater cheesecake, crushed red velvet, white chocolate ganache & crystallised petals. This dessert takes on a Japanese style of cooking, where the cheesecake is more fluffy.