Stay home this Easter! It may be the first time you've been schedule free for Easter since…forever. Easter in isolation is  an opportune time to spend with the family. You can still enjoy all the Easter must-have like hot cross buns and choccies, just ensure you limit your Easter hunts to the backyard, order online where possible, and take this time to do Easter themed arts and crafts or cooking together in the home.
Family fish & chips
Marion's takeaway window at Walt & Burley on the Kingston foreshore has everything the family needs for the long weekend. For $48 get your hands on a family fish meal perfect for Good Friday. It comes with 4x pieces of battered fish, 1 battered prawns, salt and pepper squid, family chips, lemon and tartare sauce; easily collected from the takeaway window. See the menu online: www.waltandburley.com.au
View this post on Instagram
Good Friday Sashimi Platters
Ainslie IGA has teamed up with Canberra's iconic Japanese Restaurant IORI, to bring the community restaurant grade sashimi platters for Good Friday. Start the long weekend off right with a platter to be enjoyed in isolation. Iori will selling a bento boxes and sashimi plates in store daily, though the platters for Good Friday will need to be preordered: 6248 5777 or [email protected]
View this post on Instagram
Hot Cross Buns
Three Mills Bakery will be working around the clock to ensure that although Canberra is celebrating at home this year, our fair share of freshly baked Hot X Buns will be consumed! Order ahead for Easter, home delivering Monday – Saturday afternoons (for the next day). Shop is open for takeaway  Mon-Thurs 7.30am – 2pm, Good Friday 8am – 2pm, Easter Saturday 8am – 2pm.
View this post on Instagram
Hot X Bun Lattes
Two Before Ten Cafes across Canberra (Airport arrivals, Brindabella Business Park, Aranda, Greenway, City) have mastered the recipe for Hot Cross Bun lattes. Surprise the working from home family with a warm bevvie.
View this post on Instagram
Golden Chocolate
Ricardos Cafe has a cabinet full of golden bunnies and eggs! Treat someone you will be missing this Easter with a super special golden brushed gift.
View this post on Instagram
Easter Cookies
A socially responsible Easter means staying home, but doesn't mean you can't treat yourself! Get your hands on these dairy free, gluten free Easter cookies by local caker, Sugar Plum Fairy Cakes. PM on Instagram for more details.
View this post on Instagram
Easter Macarons
Don't forget to check out your local venues for Easter treats. Lil Milk Bar in Mawson has cartons of Easter macarons ready to go. Call to order on 6134 6436 or 0411 740 837.
View this post on Instagram
Easter Egg Hunt
2020 is surely going to the the biggest year yet for at-home Easter egg hunts. Koko Black are doing home deliveries to your door in a hop, skip and a jump.  Get your Easter goodies to your door before the Easter bunny arrives. Simply order via the Deliveroo app and start planning your hunt.
View this post on Instagram
Cookie Craft
The Knox in Watson has Easter cookie decorating kits ready to purchase. The little Knox bunnies have been working hard to create some fun things for Easter. Order at www.theknox.com.au
Egg Craft
Arts and craft are a great way to enjoy Easter at home and give the little ones a break from chocolate! Stock up on supplies at the arts and craft store – Eckersleys in Braddon (they also  have an online store, www.eckersleys.com.au). Hard boil some eggs, dye them and let the kiddies decorate them.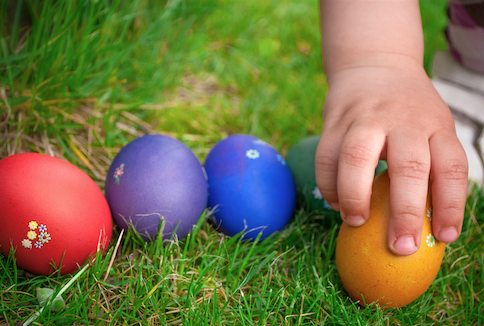 Easter Bunny Bouquet
Tiny Creatures Co has turned their entertainment to the digital world with their "Boredom Buster" delivery boxes. For Easter, they are delivery Easter Bunny Bouquets to send someone who needs a little love. A no-contact delivery including a plush bunny, easter goodies, Cadbury chocolate & pastel balloons. Order at www.tinycreaturesco.com