Stepping through the tranquil Mint Garden Bar in the Heritage Gorman House building, we are welcomed with twinkling fairy lights wrapped around the trees and pretty garden beds potted around the white tabled clothed outdoor dining space. Tonight we are joining Sage Dining Rooms for a much-needed weeknight dinner. Trying their new spring tasting menu under the guidance of Group Chef James Viles, we are excited to see how he injects his signature paddock to plate philosophy through seasonal dishes and local produce.
After being seated at our table, we are met with the six-course tasting menu card. Upon first glance we notice a range of seasonal produce, with flavours of myrtle, summer squash, rockmelon and blood orange accompanying each dish. Flipping the menu card over, there is a selection of refreshing cocktails that too boast seasonality and make for a perfect accompaniment.
The ambiance of the restaurant is warm and intimate. While most tables are full, diners are nicely spaced out and conversation is cosy. If you're looking for a romantic dinner for two, Sage provides a casual yet upscale appeal.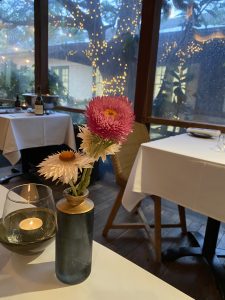 After ordering drinks and getting settled, we are swiftly welcomed with our first snack course. Malted baps with treacle butter and LP's mortadella, and taramasalata, potato chips, asparagus and smoked roe. Dipping one of the homemade chips into the taramasalata, we immediately get a soft, creamy salmon flavour with a hint of lemon. Also trying our hand at dipping with the asparagus, while big and seemingly odd, the combining flavours complement each other and work really well. Moving on to the baps we spread a generous serve of butter and take our first bite. They are both salty and sweet, and paired with the mortadella it is a homely combination of flavours. All in all, a great way to kick off the evening.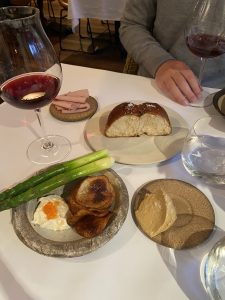 Moving on to our first official course, cured and smoked ocean trout with rockmelon and myrtle yoghurt, the thinly sliced rockmelon, yoghurt and spice adds just the right amount of flavour to the soft trout. Little bursts of citrus also sit underneath, adding a nice, bight element to the dish.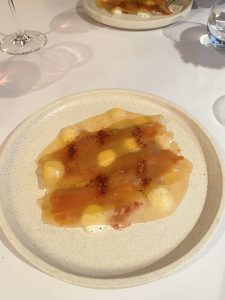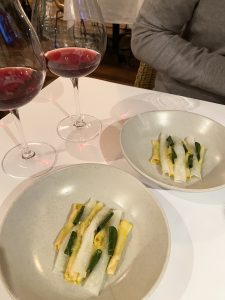 Next, we try the kohlrabi with peas, grapes, summer squash and sorrel. Our first time trying kohlrabi, we cut through the thin slices, mixing it with the remaining vegetables and grapes. The dish is light, soft and effortlessly shows off seasonal spring vegetables.
For our next course, we move on to a dish with slightly deeper flavours. Glazed lamb ribs cooked over coals with cashew butter and saltbrush furikake. Encouraged to use our hands, we take a rib each and are delighted as the meat falls off the bone and melts in your mouth – exactly what you would want from slow cooked ribs. The sticky glaze dipped with the cashew butter also cuts through some of the rich flavours and makes for a truly delicious dish.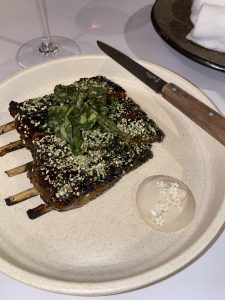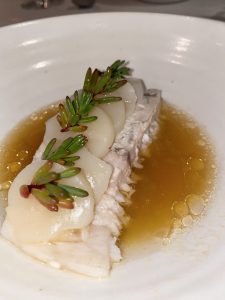 Barramundi and scallops with tomato and lemon myrtle, our last savoury dish of the night. Lightly steamed in the broth, the scallops are juicy and tender, as well as the barramundi, that is soft, soaking up the light tomato broth nicely – Our favourite dish of the night.
Intrigued by dessert, we are eager to try the final course, blood orange ice with sheep's yoghurt and candied sorghum. A generous serving, the texture of the yoghurt is similar to that of a cooked marshmallow and is light and fluffy with a sweet honey flavour. Digging deeper we get to the blood orange, which adds a tangy, sour element, cutting through some of the sweeter flavours.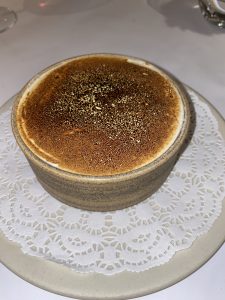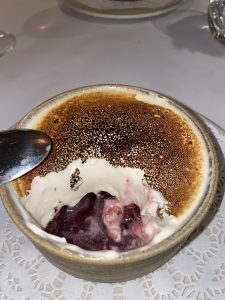 Overall, our evening with Sage was delightful, experiencing the local, seasonal flavours of spring that boasts our diverse region. Each dish was thoughtful, presenting beautifully and made for a truly satisfying meal. For dining during the week, Sage provides a quiet and intimate space with attentive staff and exceptional food. We will definitely be going back!
Sage Dining Rooms is open for lunch and dinner, Wednesday to Saturday. Bookings can be made on their website.