Opening in the midst of Covid in 2021, Mu Omakase at Constitution Place quickly became a must-try dining experience for our fellow foodie friends. Showcasing a rather unique concept of 'omakase' meaning 'I leave it up to you' to Canberra, we were intrigued not just by the 10+ Japanese set menu but how diners can watch first-hand how the dishes are prepared, with a front row seat at the chef's kitchen as they work their magic.
Championing seasonality, as we approached the winter season Mu worked on a new menu that highlighted the humble nature of winter cooking in Japan through robatayaki style cuisine. Referring to the method of cooking, robatayaki uses the charcoal grill to enhance the quality of ingredients and uplift their flavours.
Trying the 13-course menu for ourselves, we sat in their adjacent Cicada Bar, eager to experience this unique dining offering.
Firstly scanning the cocktail menu, we chose two from the signature list that were developed to complement the robatayaki menu. Including one of their most popular cocktails yuzu cloud, made with white rum, yuzu, lime and butter.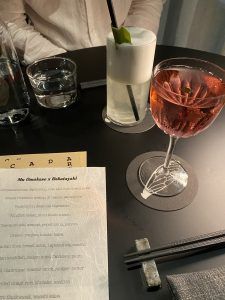 Preparing our tastebuds, a chrysanthemum dashi soup with rose and corn flower petals was our first course. Only one or two mouthfuls, it was the perfect warming starter with simple, well-balanced flavour.
Our next three courses consisted of a grilled Hokkaido scallop with XO sauce and salmon roe, kingfish tataki with yuzu kosho tosazu, and tsukemono seasonal vegetables to be used as a palate cleanser between courses.
The meaty scallop was perfectly tender and complimented with just the right amount of XO without being overpowering. While the kingfish was lightly seared on the outside and soaked in a delicate yuzu dressing.
Onto our next course, a dish that has made a comeback from their very first menu, the chawanmushi with scampi, persimmon and porcini. A traditional egg custard with a hint of earthy porcini and a beautifully fresh piece of scampi, it was soft, creamy and delicious!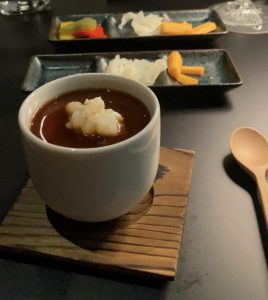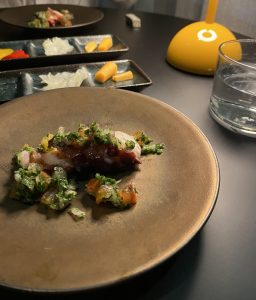 We then tried a grilled octopus with tomato salsa. Cooked in duck fat to give it an extra meaty aroma before it is thrown on the coals and sliced, it was tender and flavourful.
Halfway through the menu we were served a steaming bowl of comfort, the kamo duck breast udon with Lapsang tea and sansho. Letting the beautiful slices of duck shine, the soft udon and light broth were the perfect accompaniments.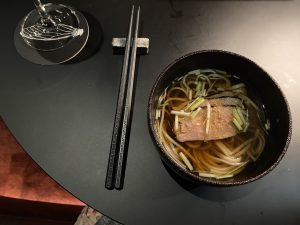 Making our way down to the star dish of the night, we finally tried the Patagonian toothfish with saikyo miso and Davidson plum. Cured in miso for two days, the fish was succulent, smooth and melted in your mouth. The light char flavour from the charcoal and lovely sweet hint from the vibrant plum elevated its buttery flavour effortlessly. We couldn't fault it.
Moving on from our cocktails, we paired this dish with a glass of wine from the Yamanashi region in Japan. A combination of Muscat Bailey, Merlot, Cabernets and Petit Verdot, it was rather complex and full-bodied, a perfect winter red.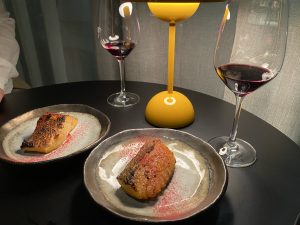 Grilled quail with Cantonese master stock and juniper butter, and chargrilled unagi rice with shiitake and scallion were next. Very succulent, the juniper butter added a light citrus flavour to the quail. While the unagi and rice had a wonderful combination of rich flavours.
Our last savoury courses of the night, we were served a wagyu flank steak with wasabi salsa and an aged plum cured chilled tomato with lime zest. The perfect morsels of buttery wagyu dipped in the salsa gave it a lovely bite, followed by the sweet tomato which acted as a salad.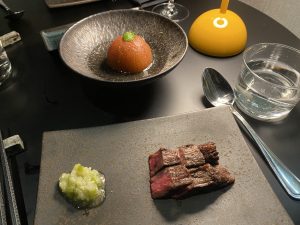 Ending on one final sweet dish, we paired the amaretto miso ice cream and genmai with a peach and yuzu sake to finish off. The perfect amount of dessert after an amazing previous 12 courses, it wasn't overly rich and just enough to satisfy your sweet tooth.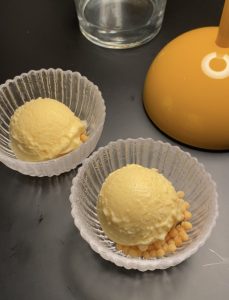 A truly unforgettable dining experience, Mu offers a sophisticated setting with a refined menu that can be traditional at times, while also pushing the boundaries. Not your everyday restaurant dining, save it for a special occasion or join them each time they change the menu. Delighted with every course, all we can say is we will be coming back.
Visit https://chairmangroup.com.au/mu/ to make a booking.