Headed to the new Les Bistronomes which now resides in Campbell, we knew we were in for an evening of haute cuisine. Having visited the French Bistro numerous times over the 4-years it served in Braddon, the menu was one that vexed me. I was guilty of repeat ordering the same dish on each visit.
The story was similar for many others I had asked about their own experiences at Les Bistronomes. The general consensus was a restaurant held in high regard, though, they had only explored the two iconic menu items Duck à L' Orange and Beef Wellington.
This time around, I was determined to venture into the new Autumn menu. The first sign of rainfall saw mushrooms and venison enter the menu as well as chestnut soup and my willingness to leave my dining experience in the hands of Chef Clėment Chauvin.
What first caught my attention is how the talented chef always has his hands in the salt and pepper. By that, I mean, he is very hands on in his own restaurant even after building a strong following. From picking up a napkin off the ground, serving a meal to a table and cooking up a storm in the kitchen, I marvelled at how involved Clėment was in his own restaurant –  front and back of house. He was everywhere, and he brought great knowledge and energy to the evening.
We began the night on French classics. It seemed fitting to start on Duck Liver Parfait and Burgundy imported snails to get us into the Gallic spirit and so we looked exotic on our Instagram story. The snails were coated in a delicious garlic and parsley butter, while the parfait was super sweet from the pickled cherry topping and exceptionally creamy. In true French style we had house baked brioche and smoked tomato butter which had an inviting cream cheese texture to it. Generally, if the bread and butter is a striking start to the evening, you can bet the remainder of your night will be remarkable.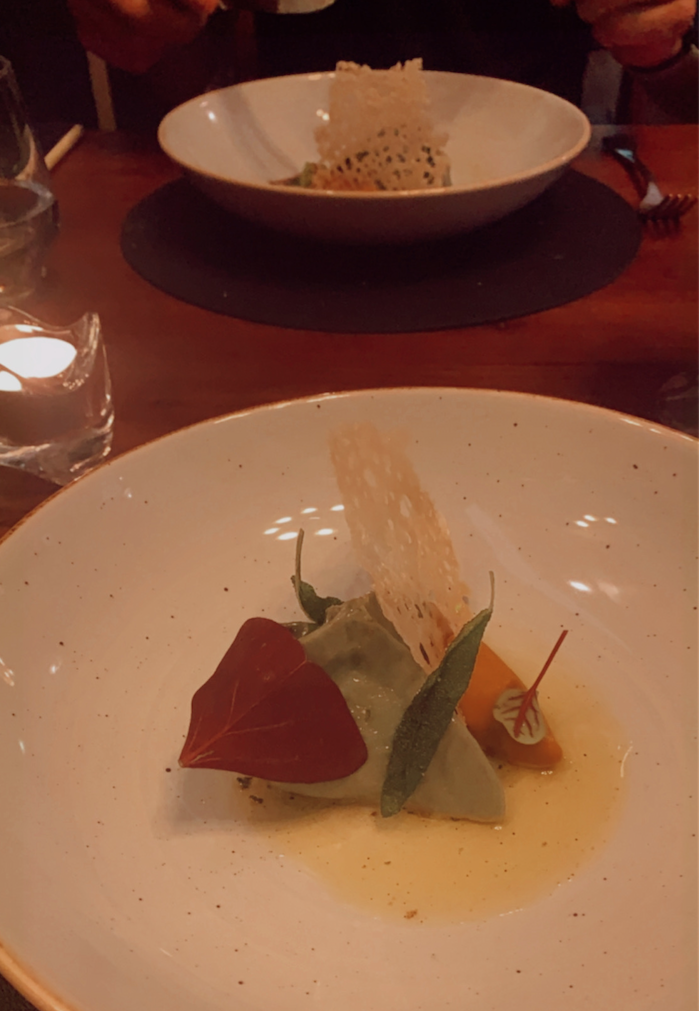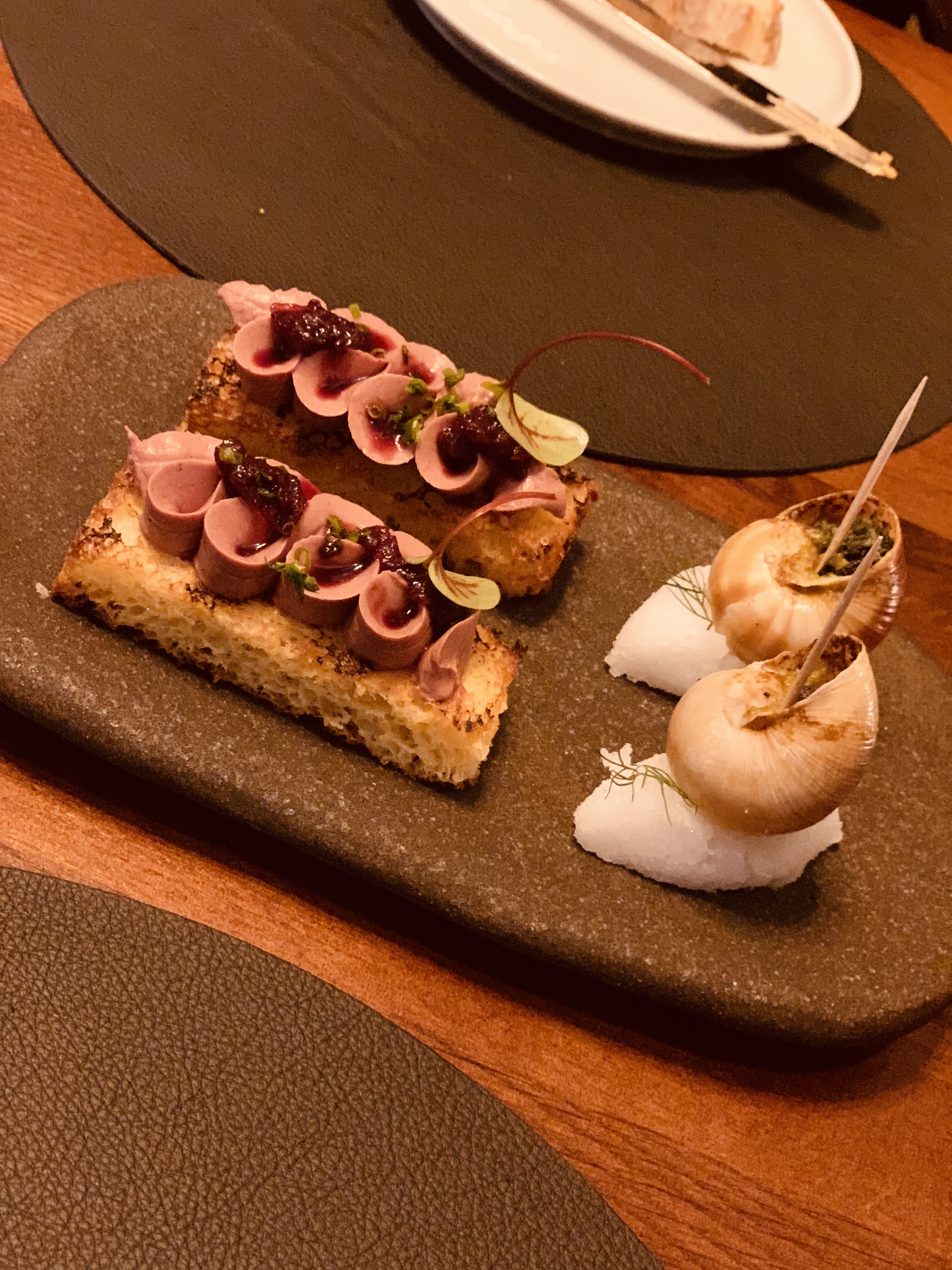 During this unforgettable breaking of bread, I started on a Rosé Piscine with Pamplemousse liqueur rosé and ice. It was a light spritz-y start to the evening, though it didn't take me long to be won over by the Vouvray Cuvee Silex Blanc. As an advocate of Canberra wines, I felt guilty of how badly I wanted to adopt this French white as my new go-to.
Next, we had spinach pasta stuffed with chèvre. It came resting on pumpkin puree, in a pool of green tea beurre noisette to keep the dish light. The pasta was finished with sage and a display of true craftsmanship was shown with the parmesan wafer feature. Mid consuming the dish, I concluded the Berlingot au Chèvre would surely be the standout of the evening. Albeit, on reflection the Monkfish triumphed by a second over the finish line. A pan-fried fillet, sautéed mushrooms & pippie emulsion took me back to French seafood restaurants on the fisherman ports of Malta. An impeccable fresh addition to the menu which will make me think twice about ordering the Beef Wellington each visit. The pasta and monkfish were two great of examples of Clėment's nouvelle style of food.
By this time my social was blowing up – not because I'm an influencer – as it seems, there is a huge snail demand in the Capital. Perhaps one could smell the herb butter through the phone.
Nevertheless, the show continued, Quail, a nest of potato, sumac yoghurt, fresh fig and port jus to finish off our savoury recommendations. The balance of texture in each course is a skill which has obviously been a driving factor of Chef Clėment's success.
To finish off the evening, two perfectly executed chocolate crepe cigars, filled with orange custard, blood orange sorbet and delivered flamed with Grand Marnier. This finisher was a grown-up dessert if ever I had tasted one. Lush textures, rich chocolate and a healthy hit of liqueur, not to mention it was on fire.
I was supposed to be taking note of the new location, though the culinary experience took centre stage. A sign of a good establishment and even better chef. It seemed the new location was the final touch to Les Bistonomes finding its identity as a produce driven restaurant, with great technique and integrity. The Campbell location will bring many more memorable dining experiences with the new option of private dining rooms.
At the end of the night we found ourselves in conversation about fresh snail farming and where to source them. In attempting to be more self-aware of what I put into my body, the provenance of snail faming was an interesting note to end the night on.
18 Blamey Place Campbell.