Nestled above Novotel in the Jolimont centre, you will feel transported to another time by First Edition's softly lit old-world charm, with the only reminder that you're still in Canberra being the fantastic view of the light rail running up and down Northbourne.
Recently we were given the opportunity to sample First Editions' new winter menu – a true testament to the power of collaboration. Executive head chef Jennie Tressler sought input from suppliers, chefs and staff to create this exciting new menu that showcases local, seasonal produce sourced from within Australia's capital and surrounds, with a touch of First Edition's classic old-world charm.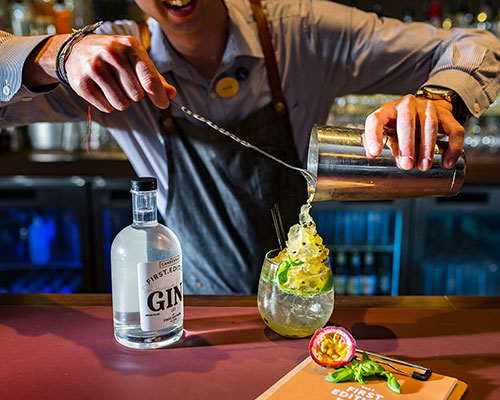 Upon arrival we were seated by the floor to ceiling window and offered a taste of First Edition's signature gin in their First Impression cocktail. The clapped basil and passionfruit drink was refreshing and not overly sweet.
We began our evening with Sean's duck sausage roll, a delightful take on the Australian classic. Fine strands of pastry replace the flaky sheets of the traditional dish, resulting in a new and unmatched texture. The earthiness of the beetroot and native rosella puree grounded the sweetness of the duck, and gave the dish an incredible depth of flavour.
Set down your knife, you won't be needing it to enjoy the melt-in-your-mouth American BBQ Ribs. The waffle fries were a nostalgic side but be wary of the candied jalapeno – it packs a punch!
It's the clever use of seasonal vegetables, such as chargrilled corn, pomegranate and dried figs to offset the tartness of the rocket salad, which sets apart the Free range chicken supreme. Stuffed with truffled gruyere, spinach and pine nuts, this was the perfect example of hearty winter food.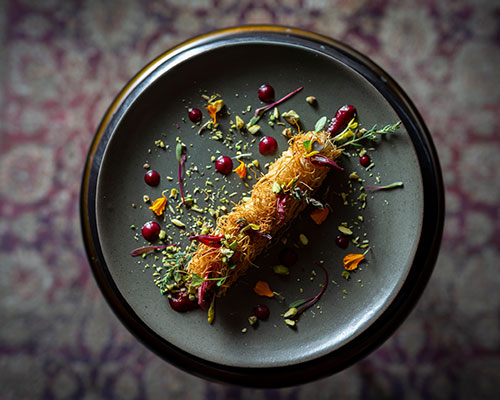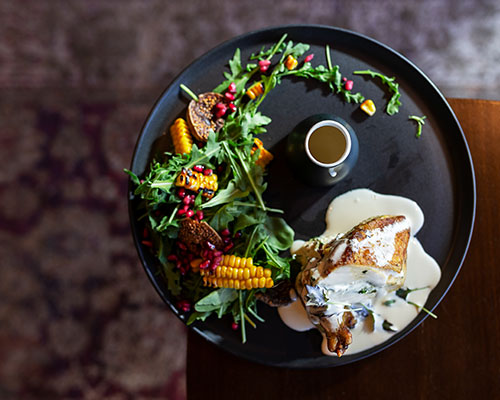 To finish off the experience, we were presented with not one but two delicious desserts, the Maple sugar pie and the Truffled white chocolate fondant. Coffee whipped cream and a fine sprinkling of walnut dust make the sugar pie the perfect choice for those who possess both a refined palette and a sweet tooth. On the other hand, the truffled white chocolate is ideal for chocolate lovers, with relief from potential overdose supplied by the fresh raspberries and blueberries.
Offering both intimate window-side booths and large central tables, First Edition is the perfect dinner spot for couples and families. With old world charm that translates in not only the décor, but the food and service too, First Edition's has the ingredients for a memorable dining experience.