One of the most loved venues to come out of hospitality group and Canberra institution, The Chairman Group, we often find ourselves drawn to Malay Nyonya restaurant Lanterne Rooms. First opening at the Campbell Shops in 2008, they have since relocated not so far away in the Iskia Building, where you'll still find some of the iconic dishes they served all those years ago, accompanied of course by many new ones.
The space itself is quite beautiful. Offering dining in the light-filled covered outdoor bar, in the restaurant or private room, each area is spacious and dotted with vibrant artwork, bold feature walls, rounded archways and woven chairs – keeping in touch with their Malaysian influence.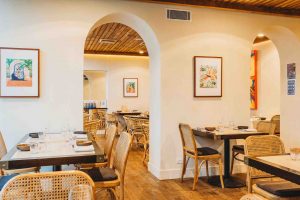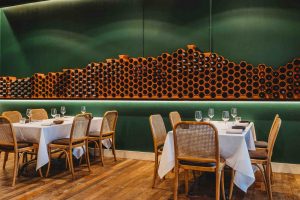 Kicking off the evening with cocktails – with the help of their sister venue Cicada Bar, we tried the Aussie Old Fashioned and Watermelon Daquiri. Not quite the frozen daiquiri consistency most of us would be used to, the cocktail was elegant, well-rounded and has the perfect bite, and so too was the Old Fashioned.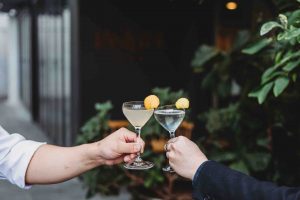 The reintroduction of their la carte menu is what bought us back. If you're a regular like us, it's perfect if you're opting for a lighter meal or if you only want to choose your absolute favourite dishes.
One of the reasons we often love dining at Lanterne Rooms is for its unique cuisine, you truly won't find anything quite like it in Canberra. Serving bold Nyonya flavours, presented with modern elegance, it's a dining experience you often can't fault.
Starting with a new entrée, the cured scallop crudo with lemongrass, coconut cream and Peruvian pepper stood out to us straight away. Presented with beautiful slices of raw scallops on a bed of coconut sauce and topped with fresh onion, the flavours were everything you'd expect – light, fresh and slightly punchy. It also went perfectly with the last few sips of our cocktails.
Moving on to a light red and our next dish, we couldn't dine at Lanterne Rooms without ordering their famous Tom yum prawns. A crowd-pleaser since day one, the meaty prawns are deep-fried and tossed through a delicious Tom yum sauce, then paired with thin slices of rockmelon and apple. What at first sounds like an unusual mix of flavours, it's just something you have to try for yourself to understand how it works together effortlessly.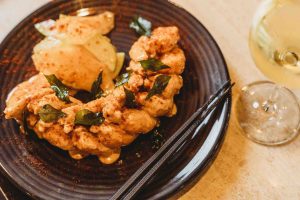 Next up, we were served a stunning aromatic whole barramundi doused in a delectable Singaporean mud crab sauce. Quickly deep fried, the fish appeared crunchy until we pulled it apart to unveil the beautifully soft pieces of fish. Sticky, sweet and sour, the sauce soaked up every aspect of the dish, including the crunchy noodles and our bowl of steamed rice. Also topped with fresh pieces of pineapple, it added a wonderful burst of sweetness to the dish.
We then ended with a roasted duck breast with pickled daikon, goji and Osmanthus. Delicately presented, the sliced duck was perfectly cooked and once paired with the bite of the daikon salad, and your last morsel of rice, becomes a well-balanced mouthful.
If your stomach won't allow you to venture onto the dessert menu, we suggest ending with sake. The 'Japanese limoncello' Heiwa Shuzo 'Tsuru-ume' Yuzushu sake refreshed the palate with its citrus character while still having that fruity sweet finish. If you do have room for something sweet, enjoy a light dessert that often involves some sort of fruit.
Delivering elevated Malaysian dining through refined and elegantly drafted dishes, Lanterne Rooms' use of bold and exotic flavours makes for a memorable experience for diners. Met with a compact beverage list chosen to uplift the food, the journey through the menu will not leave you disappointed.
To make a booking for Lanterne Rooms a la carte menu, visit https://chairmangroup.com.au/lanterne-rooms/