Wouldn't life be sweet if your biggest concern was having to wait a day before a box of over-the-top desserts and treats to be delivered directly to your door? I mean, can you imagine?
Well the good news is, you don't just have to imagine! Local dessert delivery parlour, The Sugar Deli, have launched their all-new dessert boxes – over-the-top, sugary packs filled to the brim with everything from donuts, cookies, slices, cannoli, chocolates, lollies and other confectionaries. And the only catch to make one of these bad boys your own is that you have to order at least one day in advance. That's literally it.
Created to exist alongside their usual on-demand rotation of weekly changing treats, Sugar Deli owner Caterina Pochi introduced the dessert packs to bring something to Canberra that we've never seen before.
"I wanted to create something that hasn't been offered in Canberra before," Caterina said. 'There aren't many options to order outrageous yet delicious dessert gift packs and I felt The Sugar Deli was the perfect brand to offer just that."
And outrageous they are, with a whopping 20 dessert box varieties now available to order…. But with that many options, how does one possibly decide what dessert box to choose? Check out our top picks below.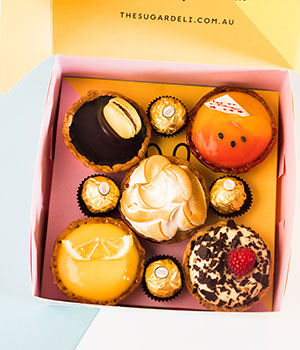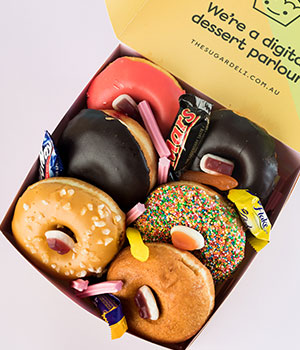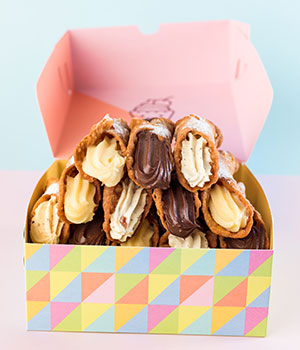 The Cheat Meal Pack
'Cheat meal' is an understatement with this pack made up of 4 slices, 2 donuts, 3 macarons and a combo of lollies and chocolates. The perfect choice for those who want a little bit of everything, whether you're catering for a group or being a #fatty from the comfort of your own couch.
Nutella Overload
Picture this: real Nutella piped into a buttery brioche ball, rolled in cinnamon and sugar…  sounds amazing right? But then add a mini jar of Nutella, a Nutella filled syringe, AND Ferroro Rochers. Boom! You've reached peak Nutella-style heaven, neatly packed and delivered in a Sugar Deli box.
The Yup-Town Cronut Pack
Are normal donuts too basic for your fancy tastes? Then give the cronut pack a whirl.  These croissant-donut-pastry hybrids are the royalty of the round food world, and come iced with strawberry and pistachio, and salted caramel. Plus they're super pretty so you're guaranteed a good Insta-snap!
Leaning Tower of Cannoli
Warning: not for the faint hearted! This dessert box comes with a whopping twelve cannoli's, consisting of rich and creamy vanilla, chocolate, or ricotta piped into a pastry tube. If you're thinking this sounds like a great idea for that work meeting you're supposed to organising catering for, then you took the words (or cannoli's) right out of our mouths.
Cookie Monster's Pack – If He was a Vegan!
12 vegan, dairy free, egg free, and gluten free cookies, 6 being double choc, the other 6 organic healthy nut. That's right folks, the Sugar Deli has catered for all! And if cookies aren't your thing, there are a bunch of other gluten-free and vegan-friendly options, including donuts, tea cakes, and slices.
Dessert boxes are available for next-day delivery every Monday-Friday. Saturday catering options available with prior arrangement. Check them out.