As a massive fan of Downton Abbey and The Crown, I have dreamt of the day I can pop on an elaborate hat and gloves and sip on fragrant tea from bone china while nibbling on a ribbon sandwich. Last weekend, thanks to the high tea setting at the beautiful Burbury Terrace, my dreams came true (minus the hat and gloves).
Walking into the bright modern space of Burbury Terrace, we were seated near the window overlooking the gorgeous Barton precinct and Parliament House. The white, starched tablecloths, napkins and squeaky-clean waitstaff set the scene for a lavish midday affair.
As a high tea virgin, I was unsure how the whole ordering process worked. The menu in promised mouth-watering savoury and sweet-treat options – but I had no idea what to order… everything looked amazing!
As I discovered, you select a drink option and the rest comes out on a three-tier platter complete with sweet, cold and hot savoury items. That's right – you get to sample everything!
When the platter arrived, my first thoughts were "I can eat all that!" Once I'd demolished one tier of treats, I started thinking, "There is so much food!" Stick with it, though… everything is so delicious and cute that you absolutely must push through.
With a delicious array of savoury treats, it was hard to pick a favourite. The delicate flavour of the Prawn and Chive sandwich and its creamy texture was sophisticated and elegant. The Chicken Waldorf wrap perfectly mixed the intense nutty flavour of walnuts with the sweetness of the chicken and mayonnaise.
Nothing says high tea like scones, and the Burbury's stellar scones with jam and cream certainly did not disappoint. Mixing a classic buttermilk base with a sprinkling of orange zest and cranberries, these were a welcome treat with lashing of house-made preserve and cream.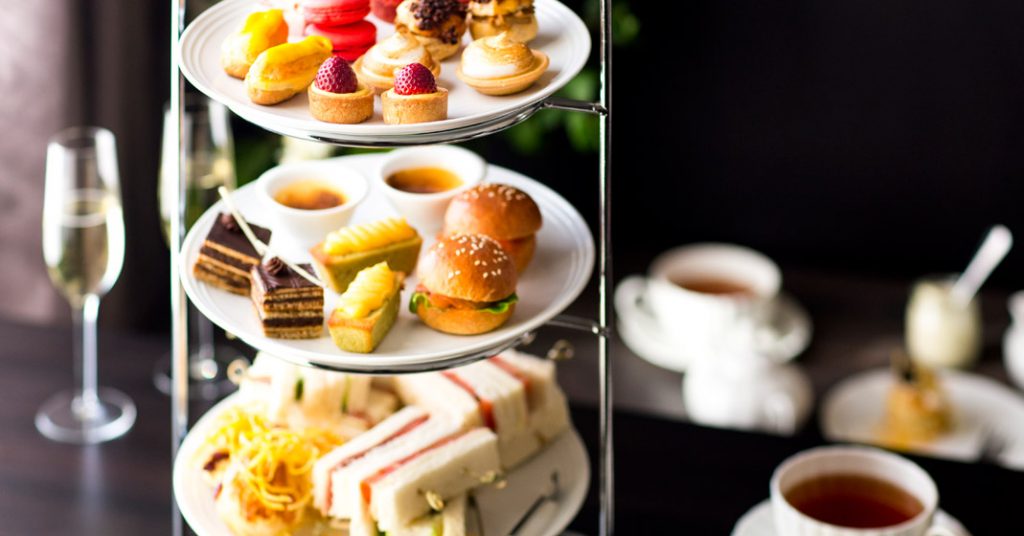 Now for the pièce de résistance: the top layer of sweet treats. The delicate morsels on this plate look too pretty to eat, but once you start it's ridiculously hard to stop. The tier is complete with strawberry macaroons, Paris-Brest éclair, passionfruit profiterole, chocolate mousse cup, miniature berry pavlova, and a chocolate tart with a gooey caramel centre and a strawberry marshmallow on top. Yep, I think I died and went to heaven!
Whether your mum is in town or you want to try something a little different with a bunch of your best gal-pals, the Burbury Terrace is the perfect option, open for High Tea every Saturday from 12 – 4:30pm.