This year Floriade's NightFest has been designed to captivate crowds over the entire long weekend. Thursday 3 and Sunday 6 October from 6:30pm to 10:30pm NightFest lights up Commonwealth Park boasting market stalls, food trucks, pop up wine, spirits and beer bars and loads of entertainment! To coincide with the jam-packed weekend, season passes are now available so you don't miss a beat across the four nights.
Internationally-renowned lighting specialists, Mandylights return to NightFest this year creating two epic installations for that perfect selfie moment. The 'World in Bloom' inspired flowerbeds will be clustered with LED's and lanterns to light the way to the two bigger, bespoke installations at NightFest 2019.
The Always On
Spheric
Introducing Spheric a 15-metre-wide by 7.5-metre-high sphere which is  covered in more than 2 thousand individually controllable LED pixels. Once you've entered – and you've mastered your Instagram upload, make sure you look down. Spheric is perched on Kangaroo Pond, walk across a bridge which takes you through the middle of the dome The angelic reflection off the water creates a sphere of light around you, which you can't help but dance to as the lights change to the beat of the soundtrack.
Framed
The energy and good tunes continue into the Rhododendron Garden where you'll find the ultimate photo frame – well actually 16 of them! Framed is a tunnel of 16 five-meter high illuminated picture frames. Walk through the rotating tunnel to a soundtrack composed of modern and old-school floral songs.
Orlando Bloom
Gelato Messina have come to the flowering fest with an impeccable looking sundae named Orlando Bloom. A delicious concoction of coconut and lychee gelato, apricot shaved ice, coconut biscuit crumbs, raspberry and orange blossom chantilly and freeze-dried raspberry crumble sprinkled on top.
View this post on Instagram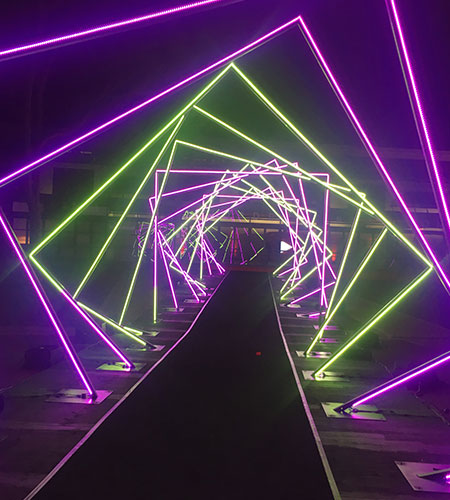 Non-Stop Entertainment
Night 1
Expect live entertainment across multiple stages and roving performers all night long! To kick off 4-nights of fun at NightFest 2019, The Baker Boys are the perfect opening act. Joining them on Thursday night is Mitch Tambo, renowned for his didgeridoo playing,  is a proud Gamilaraay/Birra Gubba man. Mitch lights up any stage with passion and deep commitment to his First Nations culture and the people he represents.
Night 2
The night you won't stop dancing. The Veronicas and Electric Fields are bringing Stage 88 to life with huge performances on the same night! It's the start to the  long weekend and this evening will definitely get you in the spirit to party.
Night 3
Live music continues in Commonwealth Park on Saturday night with duo BUSBY MAROU gracing Stage 88. Tom's playful onstage presence combined with Jeremy's freakish instrumental ability will fit right into the upbeat happenings of NightFest 2019.
Night 4
The final night of illuminations includes a lot of laughs! NightFest Comedy night returns to NightFest and brings big names such as Dave Hughes and Urzila Carlson to Canberra. The cracker line-up to make you giggle all night long includes the likes of The Stevenson Experience, Nina Oyama, Anthony Tomic, Guy Montgomery, Becky Lucas, Sam Taunton and Urzila Carlson.
What are you waiting for? Get your tickets to Floriade NightFest now – with single night entry only $31.95 or season pass tickets just $115, you'd better get in quick. Find out more and purchase you tickets now from floriadeaustralia.com/nightfest
View this post on Instagram
View this post on Instagram