Do you love books, writing and authors? Then the Canberra Writers Festival is the place to be from 23 to 26 August this year as local, national and international writers discuss work under the themes Power, Politics and Passion.
This three-day celebration of literature, reading, writing and writers offers something for everyone– including top-class journalists, big names from across the globe, thriller and crime authors, military and defence writers, political commentators, childrens' and young adult writers.
The Festival will offer a range of events including author talks, literary lunches and dinners, book launches, exciting panel presentations, musical treats and family events.
The Festival is spread across some of the capital's most iconic venues, including vibrant national institutions like the National Library of Australia, Australian National University, National Museum of Australia, the Museum of Australian Democracy at Old Parliament House, the National Portrait Gallery and the National Press Club of Australia.
The program is packed with international and Australian writers. Here's just a few of the events you should put on your radar:
Irvine Welsh The Interview – with Richard Fidler
A must attend event. Acclaimed and sometimes controversial Scottish author and playwright Irvine Welsh in conversation with the ABC's Richard Fidler. Best known as the writer of the Trainspotting series, Welsh will chat about Dead Men's Trousers, the fifth novel in the series that has made Welsh a household name in the literary world. Hear from the man who swears he had a criminal record at eight years old. Sunday 26 August, 4pm to 5pm.
One on One – Matthew Reilly in conversation with Emma Alberici
Exclusive to the Canberra Writers Festival, Matthew Reilly flies in and out of the country for one session only One on One in Canberra. Matthew's story is one of extraordinary success selling over 7.5 million copies of his books based on self-belief, self-publishing and a passion for action and thrilling plots. His story is also one of great personal pain and the courage and strength required to move forward. Matthew talks with highly respected ABC journalist and television presenter, Emma Alberici. Sunday 26 August, 1pm to 2pm.
On the Brink – panel with Gwynne Dyer, Greg Sheridan, Afua Hirsch, moderated by Chris Uhlmann
At a time of unprecedented global change, these experts try to make sense of a world in turmoil. Join them at the National Press Club for a world-class panel session featuring Gwynne Dyer, (London based Canadian journalist, syndicated columnist and military historian); Afua Hirsch (British writer, broadcaster, barrister of Ghanaian, British, Jewish heritage); Greg Sheridan (Australian Foreign Affairs journalist and commentator) moderated by Chris Uhlmann, journalist and television presenter, Political Editor of Channel 9. Friday 24 August, 11.30am to 2pm.
Charlie's Adventures – free children's event with Jacqueline de Rose-Ahern
Bring a cushion and settle in to hear from some great children's authors. Jacqueline de Rose-Ahern is a Canberra based author and the recipient of the ACT Writers Centre 2017 Anne Edgeworth Fellowship. Her debut picture book, Charlie's Adventures…in Hawaii, was shortlisted for the 2017 Speech Pathology Australia Book of the Year Awards and chosen as a finalist in the 2017 American Best Book Awards. Get in early to avoid disappointment.   Saturday 25 August, 11am to 12noon.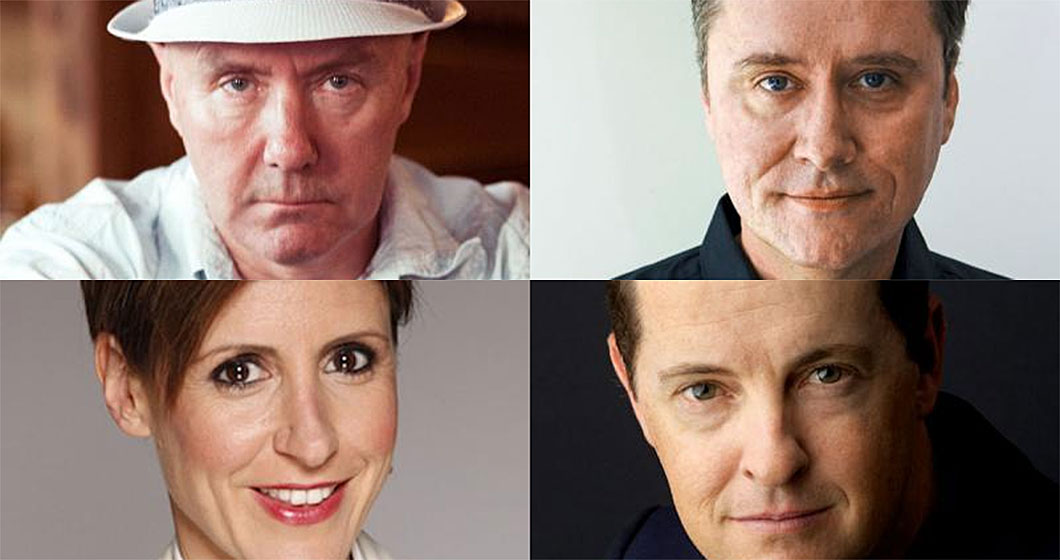 Telling Your Story – a workshop with Michael Veitch
Michael Veitch is an author, actor and broadcaster best known for his roles in the D-Generation, Fast Forward and Full Frontalas well as his books on WWII aviation, travel and marine science. In this workshop, Michael will help you find your story. Everyone has a story! The retelling of facts, in a way that excites an audience is always a daunting task. It takes a certain visual storytelling method to weave facts into form. Bring your ideas and listen to some amazing tips and techniques so you can tell your story. Saturday 25 August, 2.30pm to 3.30pm.
The Romance Gauntlet – The Battle of the Sexes
Join a MA15+ afternoon of romance plots, racy adjectives and risqué metaphors, as two teams battle it out by reading samples of their work to discover if men or women write the best 'romance' scenes. Will the Romance Gauntlet trophy go to the men's team of Robert Porteous, David Versace and Chris Andrews, or to the women's team of Darcy Delany, Donna Maree Hanson and Nicole Murphy? Host Dr. Craig Cormick and a panel of judges may need your help to decide. Saturday 25 August, 4pm to 5pm.
Pathways to Publishing with Debbie Lee
Join Debbie Lee, Manager Content Acquisition from Ingram Content Group, to discuss your pathways to publishing one on one. With the advent of print on demand and global distribution, find out how you can self-publish. Sunday 26 August, 1pm to 2pm.
Weatherboard & Iron…politics, the bush and me – Barnaby Joyce in conversation with Mark Kenny
In this a not-to-be-missed event, former Deputy Prime Minister Barnaby Joyce will riff about life on the land and discuss his ode to the bush, Weatherboard & Iron. In what promises to be a spirited session with senior Press Gallery reporter Mark Kenny, Joyce will also discuss the big issues confronting Australia – and provide a rare insight into the controversies that have plagued his recent career. Thursday 23 August, 11.30am to 2pm
See the full program of events here.
Main picture: Herald Scotland