I recently had the pleasure of joining an intimate dinner of food bloggers to celebrate truffle season at the Courtyard Restaurant, Mercure Canberra. The event was hosted by Macenmist Black Truffles and Wines, who produce the Black Perigord Truffle just up in the Snowy Monaro.
Now, I am not kidding when I say this – truffle makes everything better.  And I mean everything!
They are a rare delicacy and quite expensive, because they're so hard to farm and only do well in specific climates and soil. But what a delight to the palate!
Entree
Ricotta and Egg Yolk Stuffed Ravioli on a bed of wild forest mushrooms and creamy truffle sauce
The egg yolk sensually oozed out when the fork hit the ravioli. The ricotta gave the egg flavour and added a nice texture, while the mushrooms complimented the softness and smoothness of the ingredients. Now, onto the main attraction, the truffle sauce! I really appreciated the sauce to pasta ratio as well as the thickness of it. Not too thick that is drowned out the other ingredients but not too thin that it was hard to taste. This dish was a nice welcome to what was to come!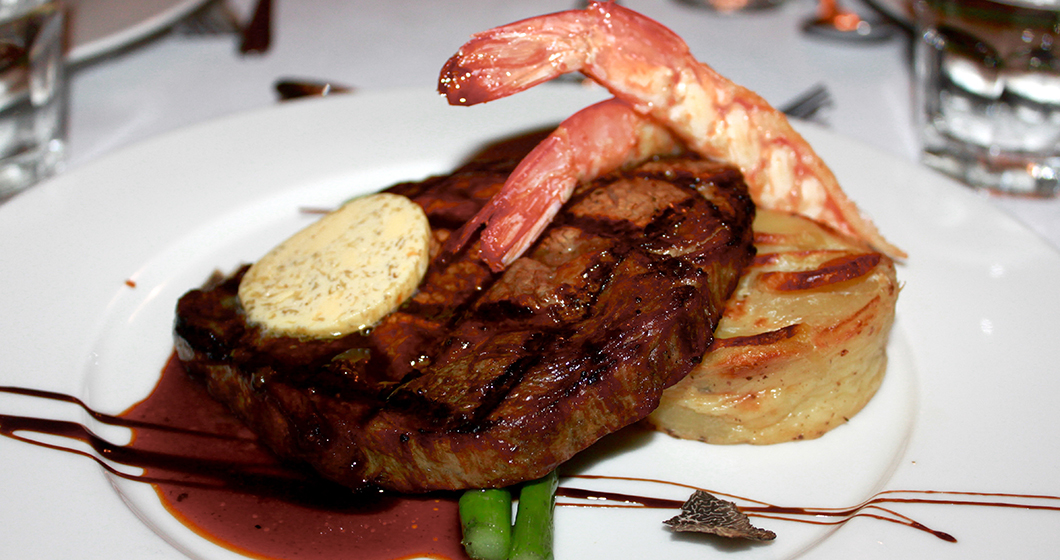 Main Course
Chef Hayley's Surf & Turf
Next up was 259g of scotch fillet topped with seared king prawns, served with potato gratin, olive tapenade, truffled butter, and topped with fresh truffle shavings
The aroma was tantalising. I was salivating the entire time I was taking pre-feast photos.
The fillet was cooked to perfection; it was so tender and flavoursome and the truffle butter melted onto it like heaven. The potato gratin made the dish wholesome, adding a side of carbs to complement the meat. The prawns added a fresh delight to the dish and the truffle shavings provided a deep and musky flavour. This colourful dish was a big yes from me.
Dessert
Truffled Honey and Vanilla Creme Brûlée
No matter how hard you try, you can't stop rolling your eyes back in pleasure when tasting this sweet delight! Creme brûlée alone is already a dessert favourite but throw truffle into the mix and you a whole other level of dessert. I had never had a truffled dessert before: it was sweet but savoury, filling but light. I loved the simple but effective presentation, less is more in this case. My plate was so clean by the end I might as well as have licked it.
A warm thank you to Mercure Canberra for having me. The hospitality and professionalism that was shown exceeded my wildest expectations.
Try truffles this season and you won't be disappointed!