Thousands of people have checked out the new song by Canberra artists George Huitker & Junk Sculpture.
Tiny Tin Town is George's tribute to Tingha, a small town in NSW, and the song is clearly resonating, with more than 4,500 people hitting Vimeo to watch the clip, shot by Dylan Mordike.
You can see the clip for Tiny Tin Town below or download it from George's website here.
We caught up with George and asked him about his work, his future and his community.
What inspired you to write Tiny Tin Town?
I've been visiting, assisting and walking alongside school communities in the Gamilaraay region of northwestern NSW as part of Radford College's service learning program since 2011. We've made lasting friendships there and in 2014 I took my band, Junk Sculpture, for a mini-rural tour to give back to the area. We played for the school community out of their small hall and then did a benefit for the Tingha Tigers Junior League. The kids up there are very sporty which is a great thing and it's a very small town that's produced NRL legends such as Nathan Blacklock, Preston Campbell and Bevan French.
Tell us a bit about yourself – how did you get into music?
Music has always been in my soul. My prized possession was a little red record player and I wore out the grooves of any singles I could get my hands on. Skyhooks' "Horror Movie" was the first and I haven't looked back since. In my teens I became obsessed with Midnight Oil and the tour I just mentioned is a respectful nod to their 1986 Blackfella/Whitefella Tour of the outback.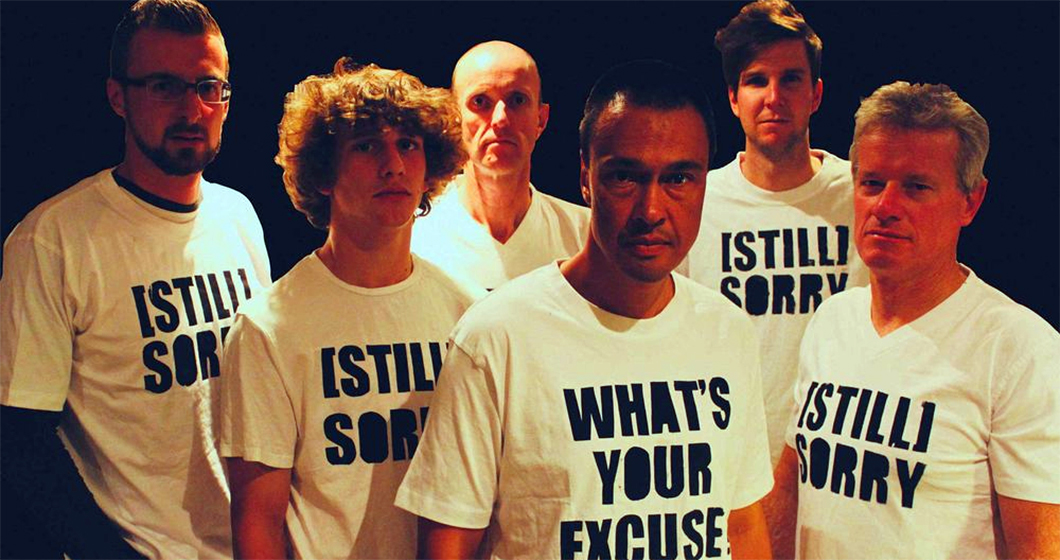 Tell us about filming the clip. Did you receive a lot of support from the community?
I was in Tingha with Radford Collegians and we'd been putting it off due to the summer heat. It was our last day in town and I turned to cameraman Dylan Mordike and said, "It's now or never." So we made a cinematic tour of the town in 36C heat asking anyone we met (and cows) to be part of the life-affirming fun that I hope exudes from the video clip. Although some folk were a little camera-shy, most were happy to dance ala Peter Garrett with me on their porch, in their shop or under their bridge. The good folk of Green Valley Farm, where we stay when visiting Tingha, played a huge part in the clip, as they do in our lives through our regular visits. They gave me the Tingha Tigers top I wear in the clip.
Is there a specific target for your music or a specific message you're trying to get across?
I hope the song and the one before it, "Near Myall Creek", draw attention to the plight and history of people in rural Australia, particularly the Indigenous. Taking a look at the Closing The Gap Report each year makes you wonder… if those stats applied to you living in your comfortable city, would you sit and do nothing? I still shake my head at Abbott's "lifestyle-choice" comment. He should have come and danced and played cricket with me and the Tingha kids.
Tell us about the future – what's next for you and your music?
Next up is a second tour of Tingha and Coonabararan – and stops along the way – in July, including a return benefit gig at Tingha Tigers Sport & Rec. We're also exploring taking up a residency at Tallagandra Hill Wines with indoor and outdoor shows like the ones we used to do at Vivaldi's. While this is happening I will slowly leak out new songs and videos until we've done an album's worth. We have two in the pipeline with community-driven concepts.
George Huitker's band Junk Sculpture features the skills of his long-time musical collaborator and bassist Chris Brown and former "Dark Violence of Beauty" guitarist Rob Marshall.  George is also often joined on stage with a quartet of precociously gifted local young guns: Joel Copeland on drums, Matt Heinrich on keyboards, Callum Sambridge on trumpet and backing vocals, and Dom Nguyen on guitars and keyboards. Sound and synth-man, Tim Kuschel completes the line-up.