The Enlighten Noodle Markets is not just about noodles.  Here are some of the delightful food that will be on offer from Friday 2 March to Sunday 11 March.
Phoritto – Little Kyoto
Ever had the struggle where you can't decide between your two great loves – pho and burritos? Well struggle no more as Little Kyoto brings you a pho soup flavoured burrito. One to sample that authentic east-meets-west flavour combination.
Chichi Fries – POKLOL
Koren and Mexican fusion food – even geography can't intervene in this incredible taste pairing. The chichi fries feature your choice of bulgogi beef, chilli chicken or chilli pork served on top of super crunchy beer battered fries with cheese, kimchi, shallots and topped with Japanese mayo and a sweet Korean BBQ sauce.
Beef Noodle Soup (Pho) – What the Pho
Local favourites What the Pho have been bringing authentic Vietnamese cuisine to Canberra for a while now, and we can say with absolute conviction that their Pho is not to be missed.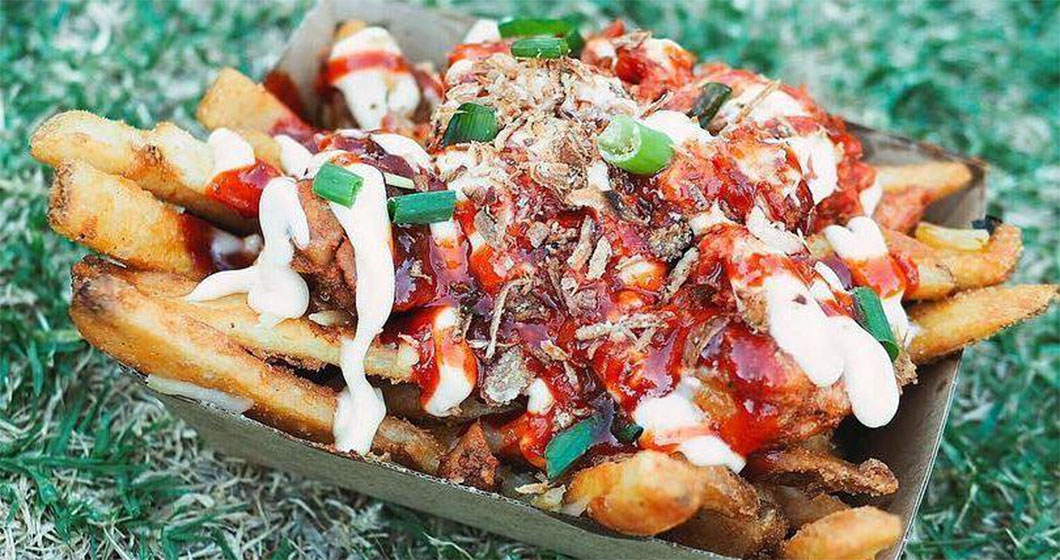 KFC Cheese Puffle – Puffle
We were sceptical at first – isn't a puffle a Harry Potter creature? – but they won us around with their description of the KFC Cheese Puffle. Think Korean Fried Chicken stuffed inside a cheesey-savoury waffle hybrid,  topped with Japanese mayo & shallots. There's only one way to experience puffles and that's from the self-described Puff Daddies.
Notorious P.I.G. – Chur Burger
What's an Asian-fusion feast without the mandatory cripsy pork belly dish? Chur Burger is serving up the goods with their crispy pork belly, Asian slaw, aioli, pickled carrot and chilli caramel burger. Chilli caramel. On a burger. What more could you want?
Strawberry Watermelon Cake – Black Star Pastry
Now's your opportunity to score the Insta-famous dessert for yourself. Layers of almond cake, rose cream, watermelon and strawberries are topped with rose petals in this sumptuous dessert.
To sum it up in one word: Heaven. To sum it up in three words:  Must. Eat. Now.
Pad Thai Chicken – Shallot Thai
We couldn't do a must-eat list of the Enlighten Night Noodle Markets without mentioning, well, noodles. Perhaps the most iconic of all the noodle dishes, Shallot Thai will be fulfilling all your flavourful and tasty stir-fried noodle needs.
Waffle on a stick – Waffleland
The sweet cousin of the infamous chip on a stick, waffle on a stick loads your doughy delight with a range of toppings from the familiar (warm Nutella) to the unusual (lychee and caramel syrup) and the straight up extravagant (peanut butter, ice cream, fresh bananas, pretzels, wafer sticks and topped with caramel – yes, we're serious). If you're concerned about how one stick could possibly have enough structural integrity to harness all these delicious favours at once, we're happy to report your tasty treat comes nestled in a cardboard container, hopefully preventing more than a few tears when it comes to dessert time.