Weekday lunch dining has long been associated with quick grab-n-go options like a sandwich or a sushi roll – but is there anything more indulgent than a long-lunch? Canberra Centre is home to vast food options, you can eat almost any cuisine at any price point, yet for those days you're looking to lift the spirit of your day time activity through good food, here are the places you can rely on:
Alter Ego
If you're meeting a friend for lunch or even hosting a work meeting, Alter Ego has the space you'll need to please who ever steps through the door. Their menu evokes the adventurous side of lunch time dining. The Soba Noodle Salad has personality and is way more fun than its leafy green counterpart salad. Swimming in konbu and ginger broth, this soupy salad will warm you and fill you up. Soba noodles fill the middle of the bowl while edamame and enoki soak up the broth.  Garnished in coriander and sesame, the most satisfying part is mixing this deconstructed dish together. And we can't forget the cherry on top – which is actually a fried egg which brings all the Asian flavours together. The dish is Vegan and Dairy Free with the option to add chicken. While waiting to embark on your lunch journey, it's hard to look past a specialty Alter Ego cocktail. By night the venue is a bar, so trust in the team to choose you a delicious drink. The Blueberry Clover Club will shake up your lunch time. Blueberries, gin, vermouth, lemon, sugar & egg white create a mix to win your heart over, and if not, the love heart drawn into your cocktail foam will.
10 Bunda St, Canberra Centre
Coffee Lab
Coffee Lab dishes up good vibes from the second they open, allowing good food, sun shine and tunes to lift your mood. The venue sits within Narellan place and is known for their love of coffee; pouring ONA espresso, speciality filter, batch brew and Bellerophon Cold Brew. At lunch, get stuck into their quirky and nourishing menu. The bright coloured Buddah Bowl is jam-packed with nutrition and is vegan and gluten-free so it can be enjoyed by all. Cauliflower puree, five mixed beans, beetroot mash, dutch carrot, seasoned parsnip, edamame beans and pickled red cabbage make for a beautifully looking bowl. Garnished with pistachio dukkah and vegan seeded aioli to give it that edge Coffee Lab is known for. The root veggies scream winter, a lunch bowl to lift your spirits. If you've already reached your caffeine max for the day, the Daily Juice is highly regarded. A mix of watermelon, pineapple, apple, mint & lime make for a refreshing midday hit.
26 Narellan Place, Canberra Centre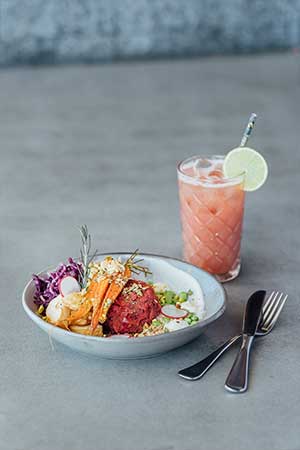 Raku
The most discerning diners of Canberra would know that Raku is a force to be reckoned with. You may have experienced Raku on date night or a night out with the girls, however Raku at lunch time unveils an entire new experience. The Yude Tako is truly a work of art. A generous serve of slow cooked Fremantle octopus, XO miso, green apple relish and Brussel sprouts bring this dish to life, and will bring you back to life after a morning of hard work. The octopus is blanched in soy sauce and soda water and slow cooked over fire before allowing the red onion and green apple relish to give it its unique taste. Garnished with deep fried Brussel sprouts and pickled pepper kosho – there are many textures and flavours that only Raku could bring together for a lunch option as special as this. The Toji Sake – Junmai Daiginjo 2017 is a premium, clear dry sake to pair well with the octopus. The Australia company with roots in Japan are really making a name for themselves in the industry.
148 Bunda St, Canberra Centre