Sports satirist and Canberra boy Denis Carnahan has gone from busking in Civic to bringing his infamous Rugby League The Musical home for the very first time. We caught up with the funnyman for a five minute chat.
Tell us about your Canberra history.
Reid Preschool, Ainslie Primary, Campbell High, Dickson College, ANU Arts/Science, Monaro Mallrat. I used to busk in Civic, outside the old Woodstock Pizza, which is sadly no longer there.
Tell us about Rugby League The Musical. How did you come up with the idea?
Quite by accident. I was writing music for Channel 9, and got asked to write a theme song for The Footy Show. After that I threw a couple of ideas at them and started writing and recording songs for Reg Reagan. Fox Sports got me to write a few footy songs for them, then the Matty Johns Show moved to 7 and they got me on board as music director. That was followed by writing a weekly parody song for The Game Plan on channel 10, which would then be broadcast by ABC Grandstand. I got asked to play at a few corporate functions and the idea of putting all these songs I'd written, both parodies and original songs, into some sort of show dawned on me.
What can audiences expect from the show?
A good laugh, and a really entertaining night out. Hopefully they'll get involved – cheer the heroes, boo the villains and sing along. Audience participation and interjection is actively encouraged. For hardcore Rugby League fans there's a heap of references going back through the years, but for people who have no interest in footy, most of the material is front page rather than back page news so they'll know the stories, and the majority of the songs have explanatory video clips which set up the songs, so you don't need to have watched every game for the last 40 seasons to get the jokes.
Are you excited about performing back in front of Canberra?
Beyond excited. My humour is very much formed in Canberra, so I think Canberrans will really get amongst it. I've played as pre-match entertainment at Bruce Stadium a few times (yes yes, I know it's not called that any more, but I was one of the thousands of children who danced on the field for the grand opening, so for me it will always be Bruce Stadium), and for corporate functions for The Raiders and some junior clubs, but this will be my first headline show in Canberra since I played at pubs and clubs in Civic which no longer exist. I cannot wait.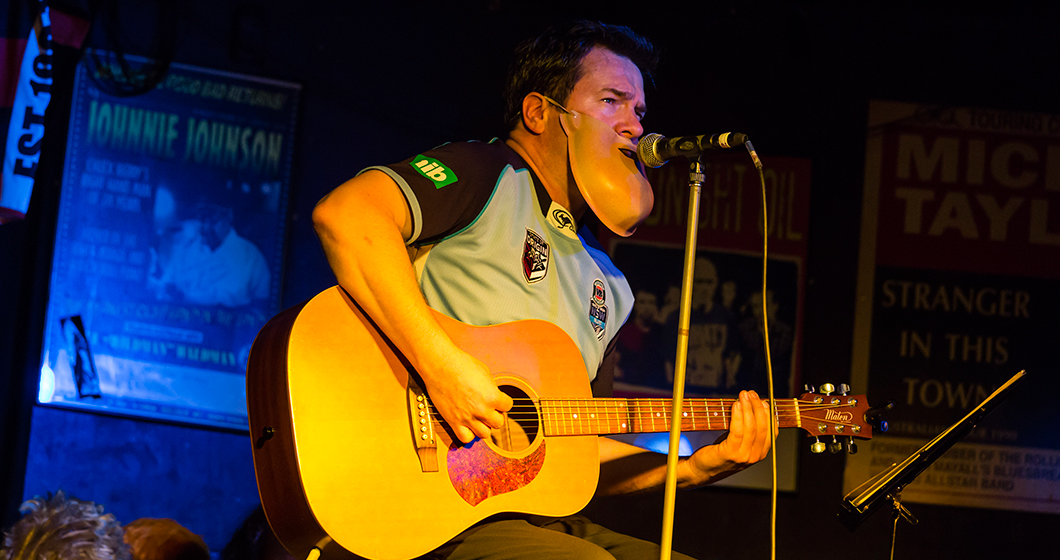 Who is your biggest influence?
Difficult to put it down to a single person. Rugby League provides me with endless controversy and pantomime both on and off the field, as well as angst to fuel the show, so that's a big influence on the show. Musically? Well I used to go into Civic every Saturday morning to watch The Doug Anthony All-Stars busking. That probably got me started along this path, but there were a lot of diversions along the way!
What's your favourite place for a coffee or a meal in Canberra?
My sister's house in O'Connor. There's always a splendid range of cakes and biscuits to go with the coffee.
What's in store for the future?
I'll keep evolving Rugby League The Musical as new material comes to hand, and The NRL provides no end of new material to satirise. I mean bringing Peter Beattie on as ARLC Chairman? I couldn't have asked for someone more hilarious! But I was raised to be a multi-cultural sports fan and have done quite a few Cricket songs and functions, as well as some AFL and Rugby. So Cricket The Musical? Footy The Musical? Who knows?
Rugby League The Musical is showing at the Street Theatre on Sunday 29 July.