BentSpoke Brewing Company is the brainchild of twice crowned Australian Champion brewer Richard Watkins and Tracy Margrain, who have 'bent' the rules of the beer scene in their industrial chic Braddon brewpub. Not only are their beers something for Canberrans to brag about, after ploughing through the menu, I've just found out that their food earns equal bragging rights.
A game changer from the classic man-shed, this brewing pub attracts a varied crowd. The beers pay homage to Canberra's identity as they create full flavoured bevvies with names like 'Barley Griffin' and 'Braddon Bitter.' And they have a unique menu with a varied list of eats to match the tastes of Canberra's foodie scene. The menu is influenced by new head chef James Foreman's personal touch whilst embracing the flavours of beer and beer ingredients to create simple yet fun, hearty and honest food.
Whilst the chefs thrive off a menu that is constantly changing, we can see why the Brewer's Grain Crusted Hot Wings aren't leaving any time soon. The kind of food where you want to tie your hair back and get your hands dirty, the house-made chilli sauce is finger-lickin' delicious and perfectly complemented by their malted blue cheese aioli. Paired with the Crankshaft beer; which was voted 3rd best beer in Australia, it bursts with hop flavours and aromas and balanced the spicy seasoning well.
Despite having no prior background knowledge of beer tasting, I was surprised by how swiftly I jumped on the band wagon after just one round.
The Cob Loaf Dip is inspired by the chef's mum who excitingly called cob time 'happy hour'. It's one of those timeless dishes that goes well with a beer on a Friday arvo, but It wouldn't be BentSpoke without bending the rules even for something as simple as a classic cob loaf. Made with hot cheese, Jalapeno and Crankshaft dip and served with crunchy house-made tortilla crisps seasoned with hops and salt. And the pickles on the plate – they're lovingly pickled in-house with BentSpoke's cider. This one was paired with the Easy brew palette cleanser. Their new mid-strength beer where the light, tropical aromas pleasantly break through the intensity of the cheese.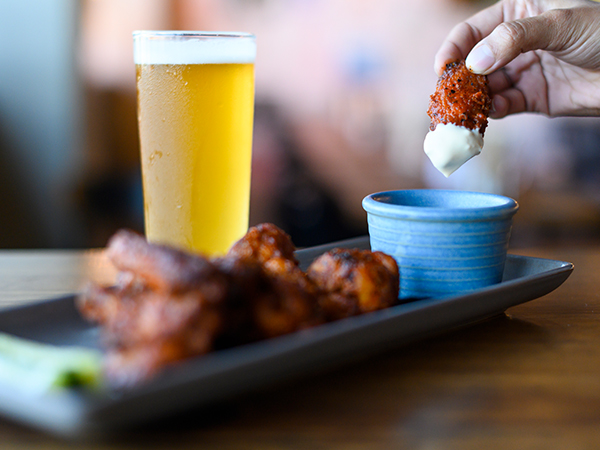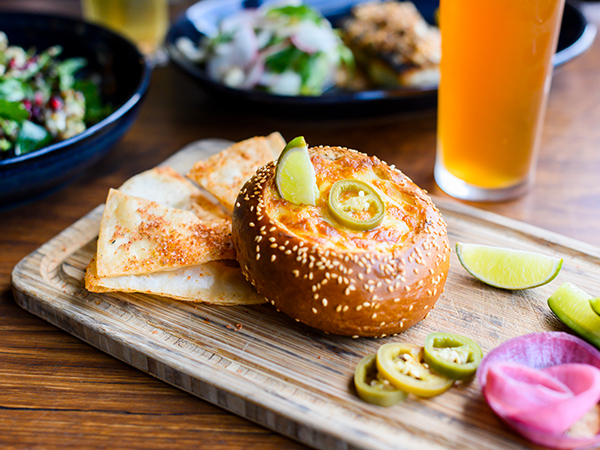 The Zucchini and Mint Fritters are another reason for the chef's family to boast, this time drawing inspiration from his sister. They're deliciously light and fluffy with flavours of the Middle East and the fun addition of fresh mango and butterbean salad to bring it home. Paired with another nationally recognised brew, the Barley Griffin, it provided a true pale ale taste exemplifying the flavours in the meal without masking them.
Taking us from the Middle East to Asia, the Confit Pork Belly is a melt in your mouth dish with a crunchy Asian salad, chilli caramel and lime. Served with some seriously crunchy crackling this dish provides the perfect mix of textures. This is an example of a meal that doesn't incorporate beer in order to maintain its gluten-free nature. To compliment the lively flavours, we paired it with the How's it Gosen? A beer which shocked all the senses, with a salty sour profile balanced with blueberries – it reminded me of sour lollies from my childhood.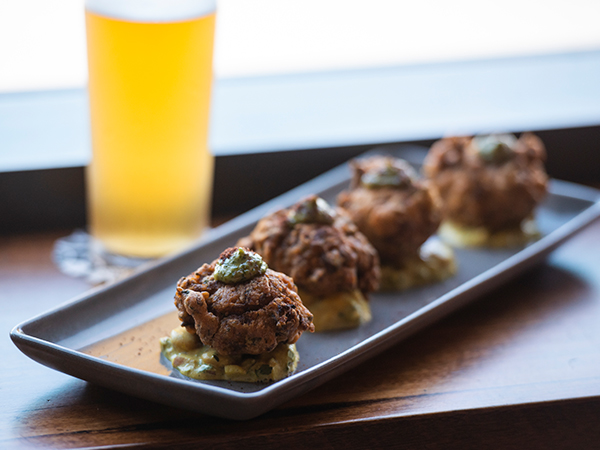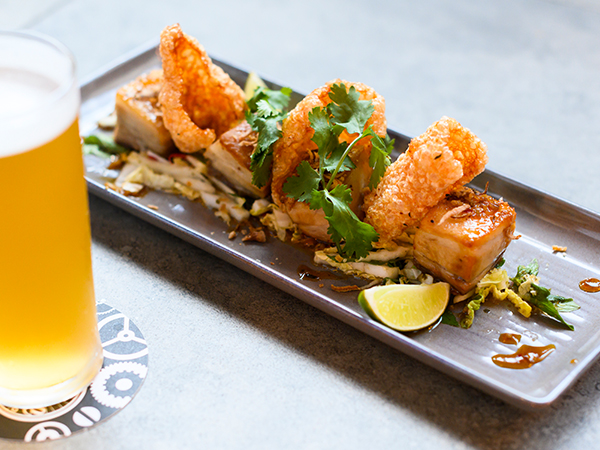 We tucked in to the Mussels dish and licked the plate clean. With bursting seashore succulent, radiant veggies and a side of freshly grilled ciabatta, to soak up the deliciously moreish sauce. Out of all the beers, the Frenzy was the most visually distinctive, a beer created for this year's YesFest to show their support. This was a bold raspberry wheat beer infused with refreshing summer berries. A delicious fruity brew that can be enjoyed even by those who don't call themselves beer drinkers.
Another brew to support an event – the Ale of Two Cities – was created in collaboration with the Sister City Relationship between Canberra and Wellington showcasing a mix of handpicked Aussie and NZ hops. BentSpoke's ability to engage with local community events through their brews is something our city can brag about. This one was paired with one of the chef's favourites the Chargrilled Broccoli and Pomegranate Salad. An earthy taste with the bursts of pomegranate made for a delicious lighter option to complement the beer.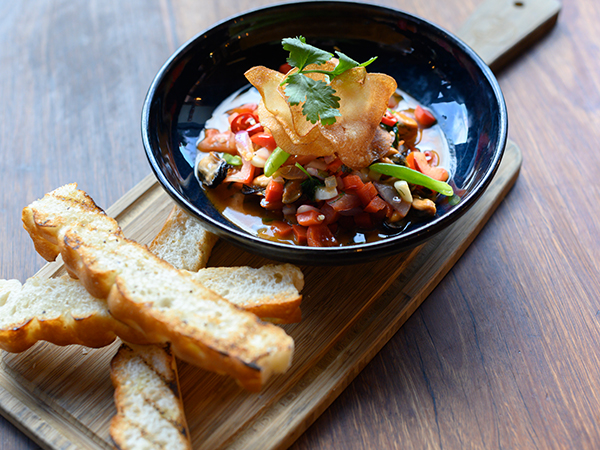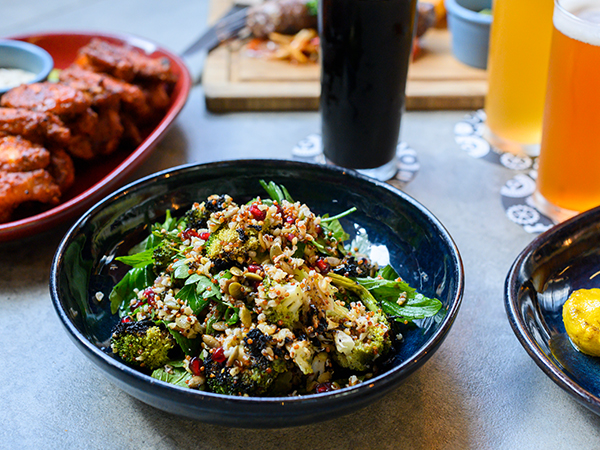 The Pan Roasted Barramundi was one of the standouts for its simplicity and incorporation of seasonal ingredients. Chef James tries not to complicate classic Aussie staples like Barramundi, but rather showcase it with fresh lemon, spring salad infused with hops and a crunchy macadamia crust on the charred fish skin. This one was paired with the Mort's Gold, the only lager they have on tap which has been brewed for those after a true blue Aussie beer with a familiar taste.
To uphold the pub classics, the 300g Grilled Sirloin Steak is a timeless number for those who just want an honest, juicy and tender steak. By name you think you know what you're going to get, but it showed up to the table with clean presentation and thickly cut house-made polenta chips, adding a twist to the traditional side chippies. Served on sweet peperonata with a side of rocket and walnut salsa, and steamed broccoli, the dish was fit for a king. For those who like a beer richer than their bank account, the Gatekeeper with roasted dark malt notes pleasantly complemented the chargrilled beef.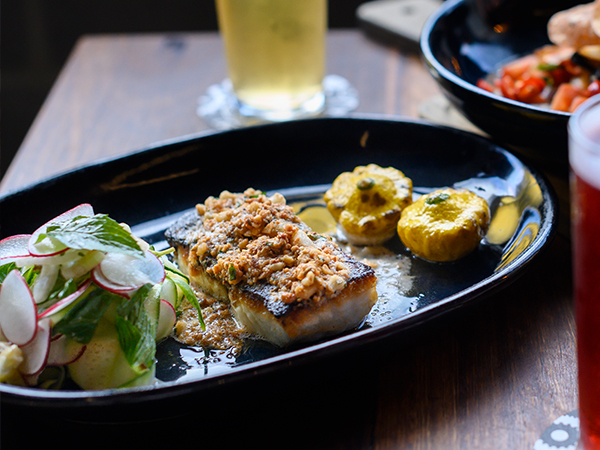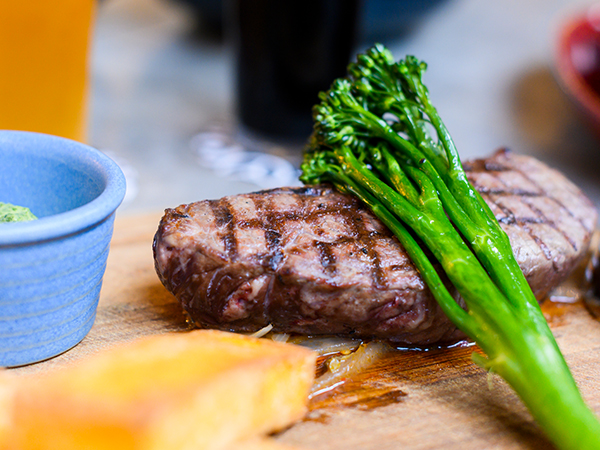 By this point you would think all brews blended into one, but each beer still held its distinct flavour which was a pleasant surprise.
There is something in the air at BentSpoke that will draw you in and make you leave with a deeper appreciation of beer, the wonderful ways it can be used in cuisine, and a sense of pride that it comes from our very own pure Canberran water.