As the nights get colder, we often crave stodgy, carb-heavy foods and rely on delivery apps and unhealthy fixes. But while these meals may seem like the answer, our bodies and minds actually hunger for nutritious foods.
To help you get through the colder months, dietitian and nutritionist Jaime Chambers has created five quick and tasty mood-boosting recipes.
Jaime says comfort food doesn't need to be unhealthy.
"Tasty soups, warm salads and fresh stir-fries are the perfect way to fuel your body with proteins and vegetables needed for the colder months, while keeping you satisfied and full," she says.
"The great thing about proteins like beef is that it's not only delicious but packed full of essential nutrients like iron and zinc, which help you feel happy, motivated and energised."
Here are five mood-lifting recipes, thanks to Jaime and Australian Beef.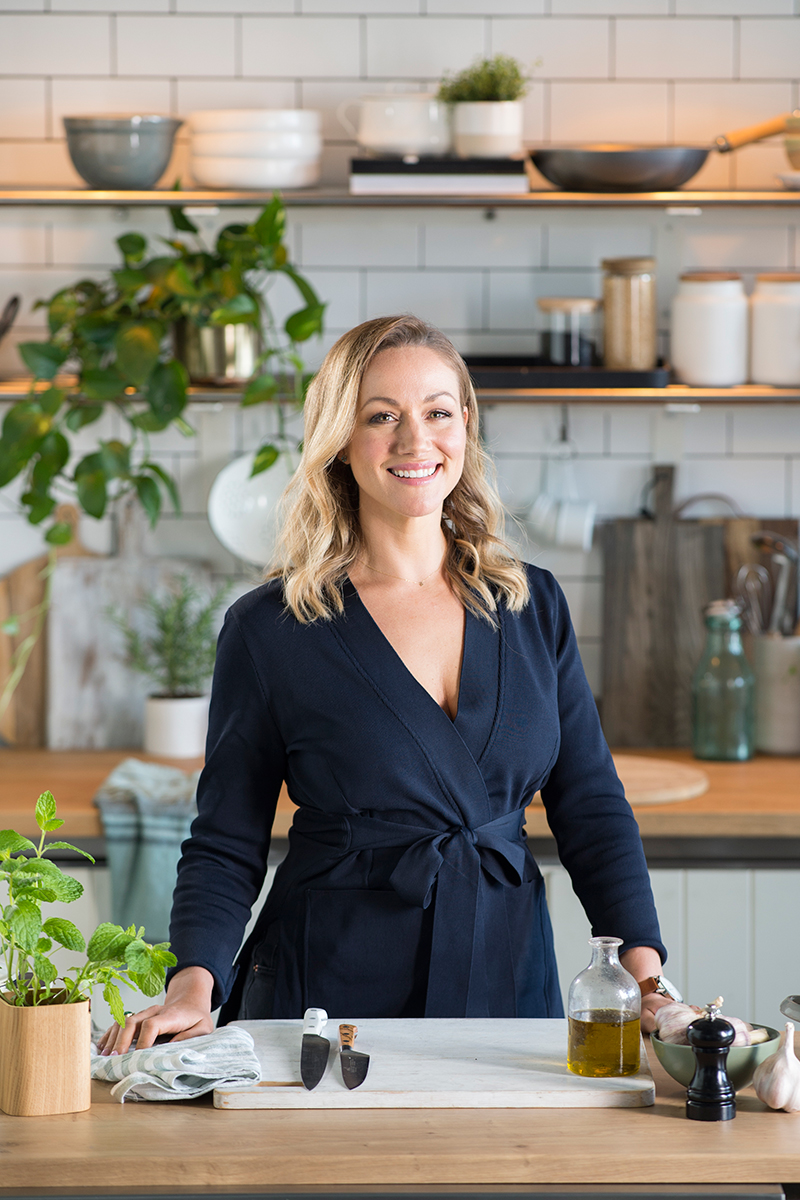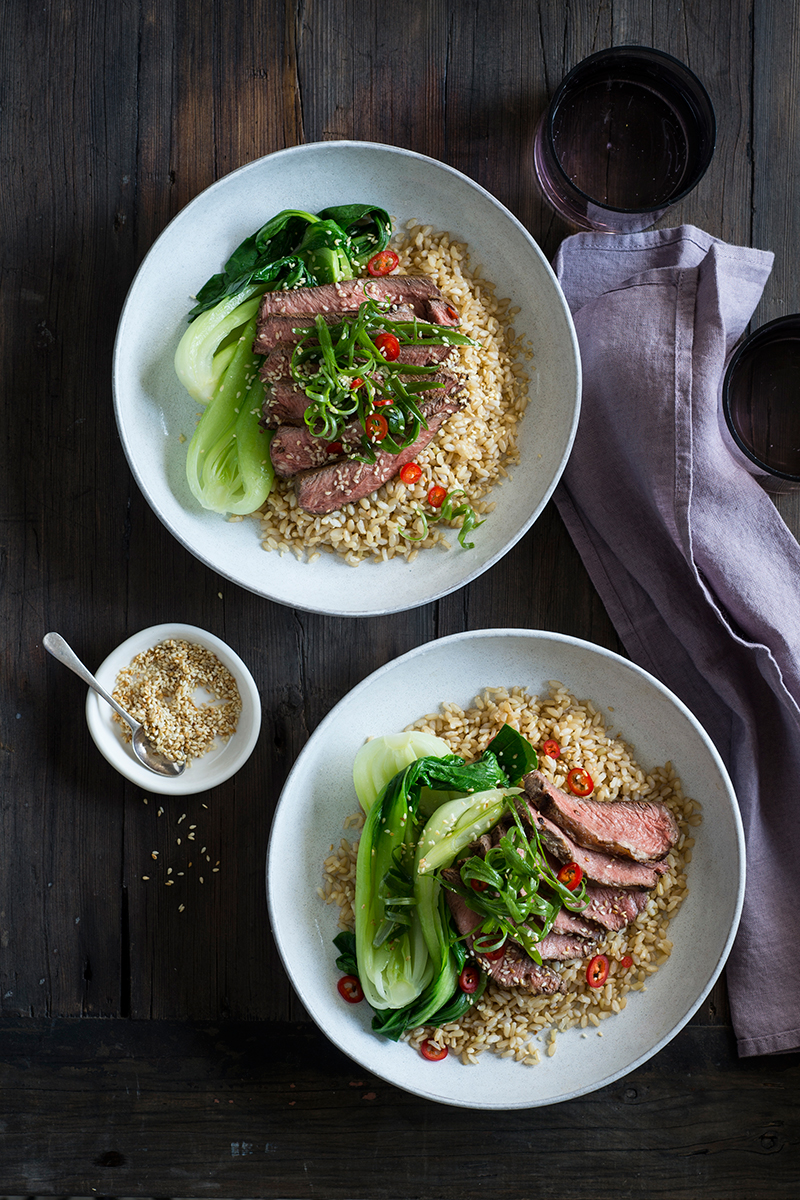 Jaime's Soy & Sesame Flat Iron Steak
This juicy flat iron steak is the perfect dish to give you an energy boost.
Serves: 4; Preparation: 25 minutes; Cooking: 10 minutes
Ingredients
650g flat iron steak, 1/2 cup soy or tamari sauce, 1/2 cup rice wine vinegar, 2 tbsp honey, 3 tbsp sesame oil, 3 garlic cloves, crushed 3cm piece of fresh ginger, finely grated 2 shallots, finely sliced 1/2 large red chilli, finely sliced (optional), 2 cups brown rice, 2 bunches bok choy, Toasted sesame seeds, coriander sprigs to serve
Method
Place the soy, vinegar, honey, two tablespoons of oil, garlic, ginger, shallots and chilli into a small bowl and whisk together. Pour into a large snap-lock bag and add the steaks. Seal the bag and leave to marinate for a minimum of 20 minutes or overnight in the fridge.
Cook the brown rice according to the packet instructions. Add remaining oil, season with a pinch of salt and pepper, and fluff with a fork.
When you're ready to cook the steak, heat a BBQ, griddle pan or fry pan to high heat. Add the steak and cook on one side for around 4-5 minutes without moving it. Then turn it over and cook on the other side for the same time for medium-rare. Once the steak is cooked, take it off the heat and let it rest for 5 minutes on a warm plate. Slice thinly.
While the steak is cooking, steam the bok choy for 3-5 minutes or until tender but still firm.
Serve the steak on top of the fluffy brown rice, sprinkled with sesame seeds, coriander and a side of bok choy.
Jaime's Mediterranean Char-Grilled Vegetable & Beef Strip Salad
Beef is an excellent source of iron, and paired with fresh grilled vegetables, this super salad will help boost your energy levels.
Serves: 4; Preparation: 10 minutes; Cooking: 20 minutes
Ingredients
600g rump steak, trimmed, cut into thin strips, Olive oil spray, 1 large eggplant, halved lengthways, thinly sliced, 1 large zucchini, thinly sliced longways, 1 red capsicum, cut into 2cm strips, 1 red onion, cut in half, then thinly sliced, 1/2 cup kalamata olives, pitted and roughly torn in half, 100g feta cheese, 1 tbsp olive oil, 100g rocket leaves, 1 small loaf of fresh wholegrain bread and mint leaves to serve
Dressing: 4 tbsp. olive oil (preferably extra virgin), 2 tbsp. red wine vinegar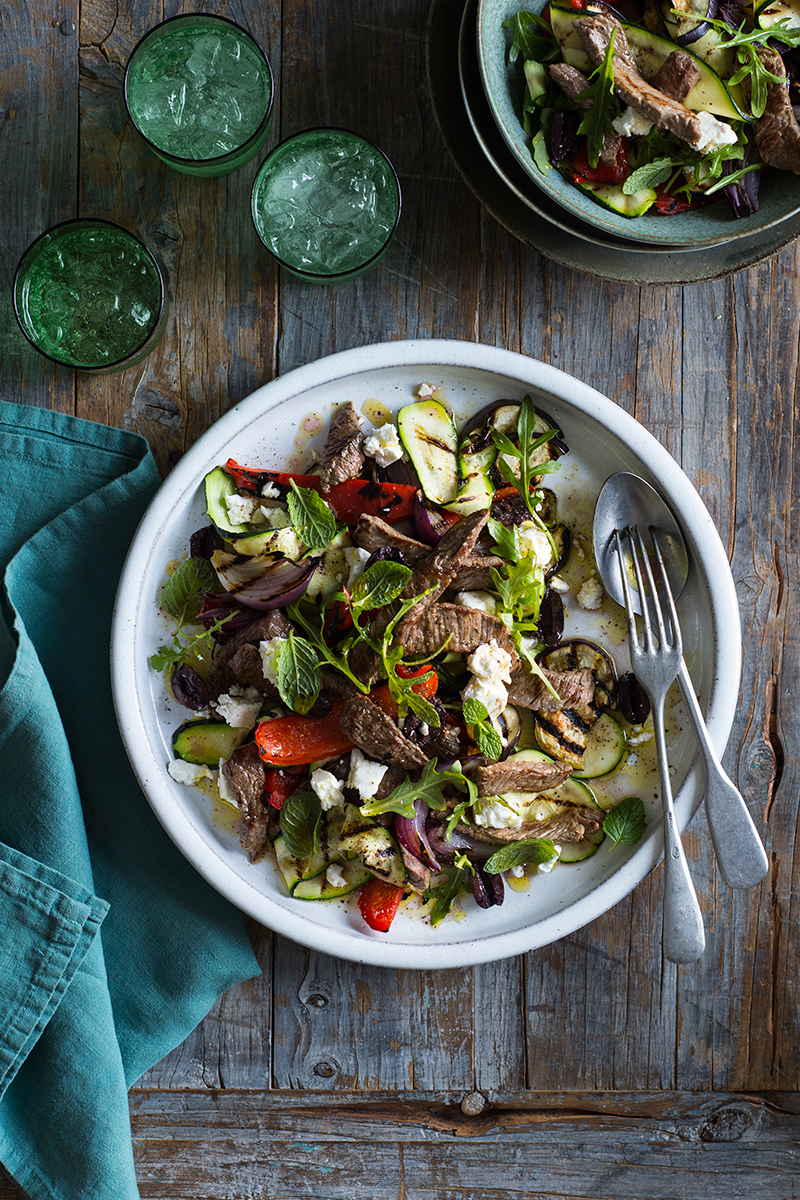 Method
To make the dressing, whisk together ingredients in a small bowl with sea salt and black pepper.
Heat a BBQ, grill or fry pan to medium high heat. Spray the vegetables with olive oil and season with salt and pepper. Pan fry in batches until golden and tender. Once cooked, set aside on a plate to cool.
To cook the beef strips, season with a pinch of salt and pepper. Heat oil in a large non-stick frying pan or BBQ over high heat. Add the beef in two or three batches to ensure the pan stays at a high heat and fries the beef. This should only take around 2 minutes per batch. Place the beef on a warm plate once cooked.
To serve, use a large platter and cover the base with a bed of rocket. Scatter over the char-grilled vegetables and beef strips, and then drizzle over the dressing. Finish with the torn olives, a scatter of crumbled feta and mint leaves.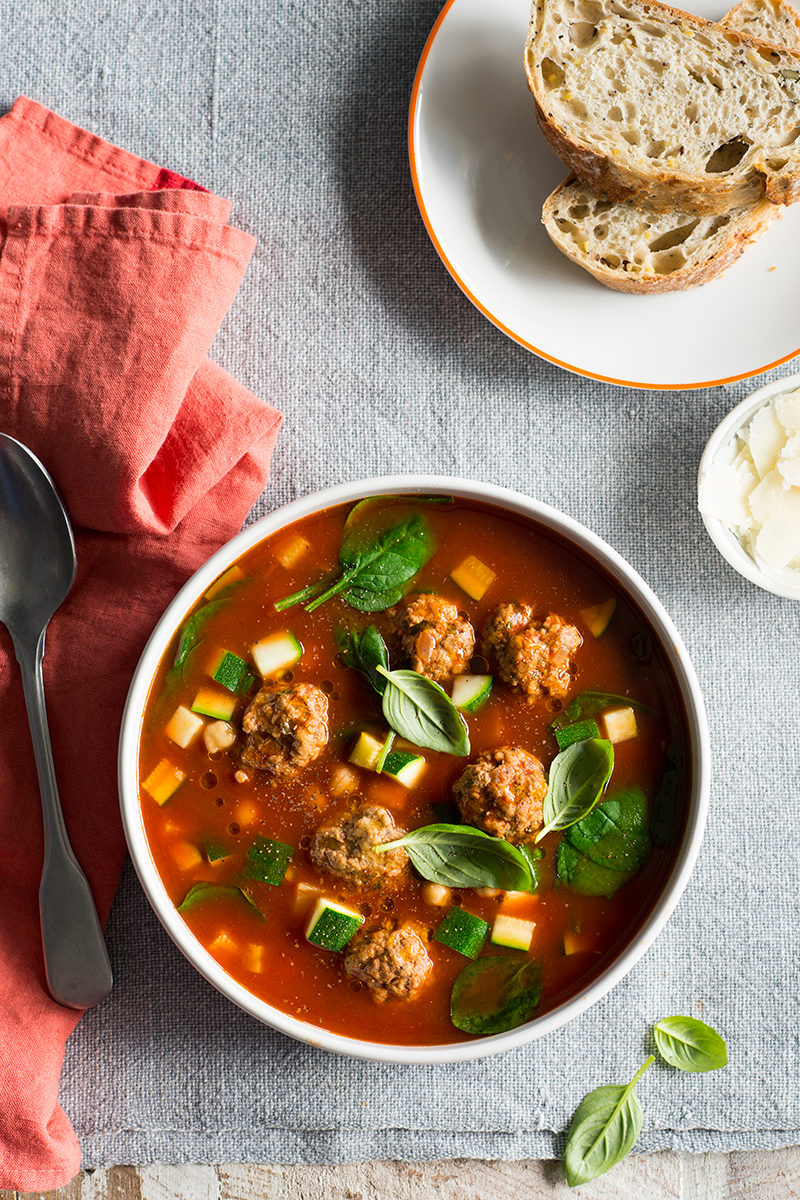 Meatball, Zucchini & Chickpea Soup
Light up a cold winter's night with this colourful and warming soup.
Serves: 4; Prep time: 10 minutes; Cook time: 20 minutes
Ingredients
500g lean beef mince, 2 garlic cloves, crushed, 1 small red onion, finely chopped, 1/2 cup panko breadcrumbs, 2 tbsp. basil leaves, finely chopped + extra leaves, to serve, 1 egg, lightly beaten, 700g passata of choice, 1.5L (6 cups) salt-reduced beef stock, 400g chickpeas, rinsed, drained, 2 small zucchini, cut into 1cm pieces, 60g baby spinach Shaved parmesan, wholegrain bread, drizzle of olive oil to serve
Method
In a large bowl combine mince, garlic, onion, breadcrumbs, basil and egg. Season and combine well. Roll heaped tablespoons of mince mixture into balls (makes 24) and place on a large plate.
In a large saucepan add passata, stock and 500ml (2 cups) water. Cover and bring to the boil over high heat. Reduce heat to medium and simmer, uncovered, for 5 minutes. Add meatballs and cook for 5 minutes. Add chickpeas and zucchini and cook for a further 2-3 minutes. Remove from heat and stir through baby spinach. Season with salt and pepper.
Ladle soup into bowls and sprinkle with extra basil and parmesan. Serve with bread drizzled with a little olive oil.
Middle Eastern Beef Mince Bowl
Tasty Moroccan mince and sweet butternut pumpkin ensure your winter cravings are satisfied in a flash.
Serves: 4; Preparation time: 5 minutes; Cooking time: 15 minutes
Ingredients
500g lean beef mince, 300g wholemeal couscous, 2 tbsp olive oil, 1 tbsp Moroccan seasoning, 1 red onion, thinly sliced, 350g butternut pumpkin, peeled, cut into 2cm pieces, 1/2 small cauliflower head, cut into small florets, 2 small zucchini, shredded or grated, 80g baby rocket, Coriander sprigs, toasted pine nuts, lemon wedges, to serve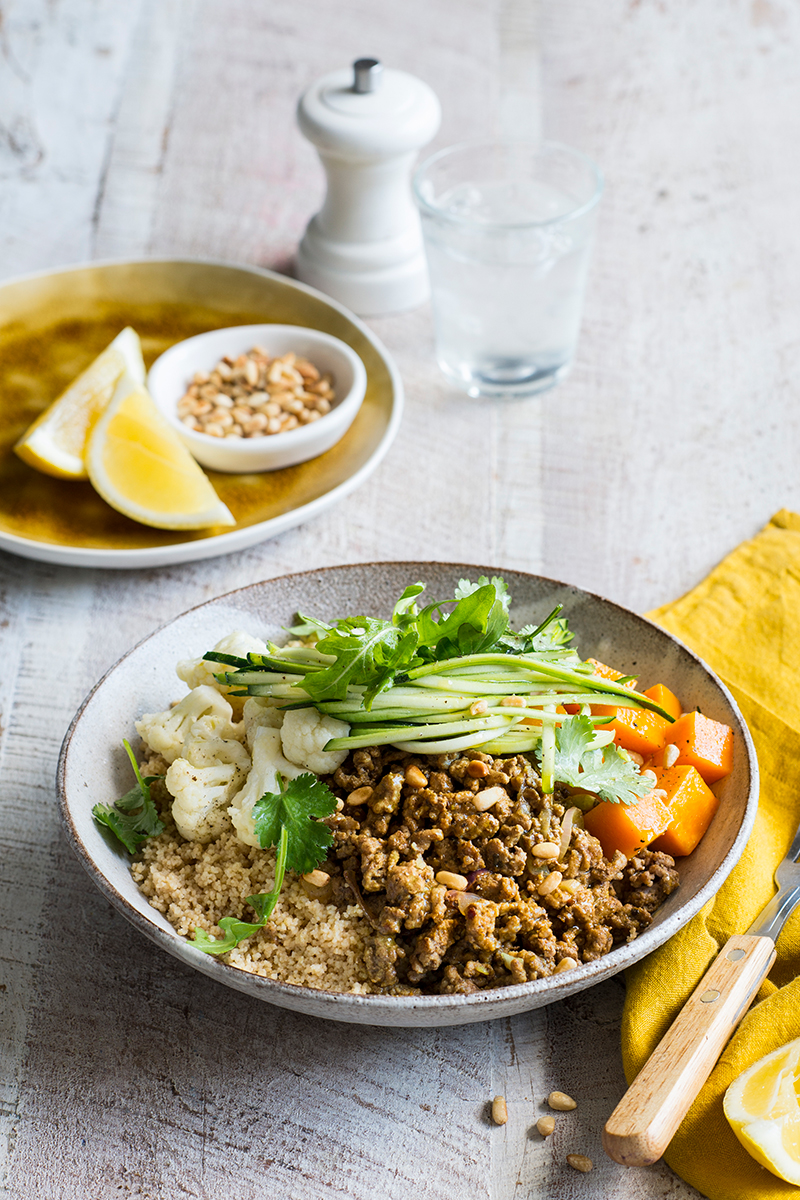 Method
Prepare couscous according to packet instructions and set aside.
Heat half the oil in a large wok or non-stick frying pan over medium-high heat. Add mince and cook for 4-5 minutes or until browned. Add onion, Moroccan seasoning, one tablespoon water and cook for 2 minutes. Set aside and keep warm.
Microwave pumpkin and cauliflower for 2-2 1/2 minutes on high or until tender.
Divide couscous between bowls. Top with mince mixture, pumpkin, cauliflower, zucchini and rocket. Season with salt and pepper. Drizzle with remaining oil and sprinkle with coriander and pine nuts. Serve with lemon wedges.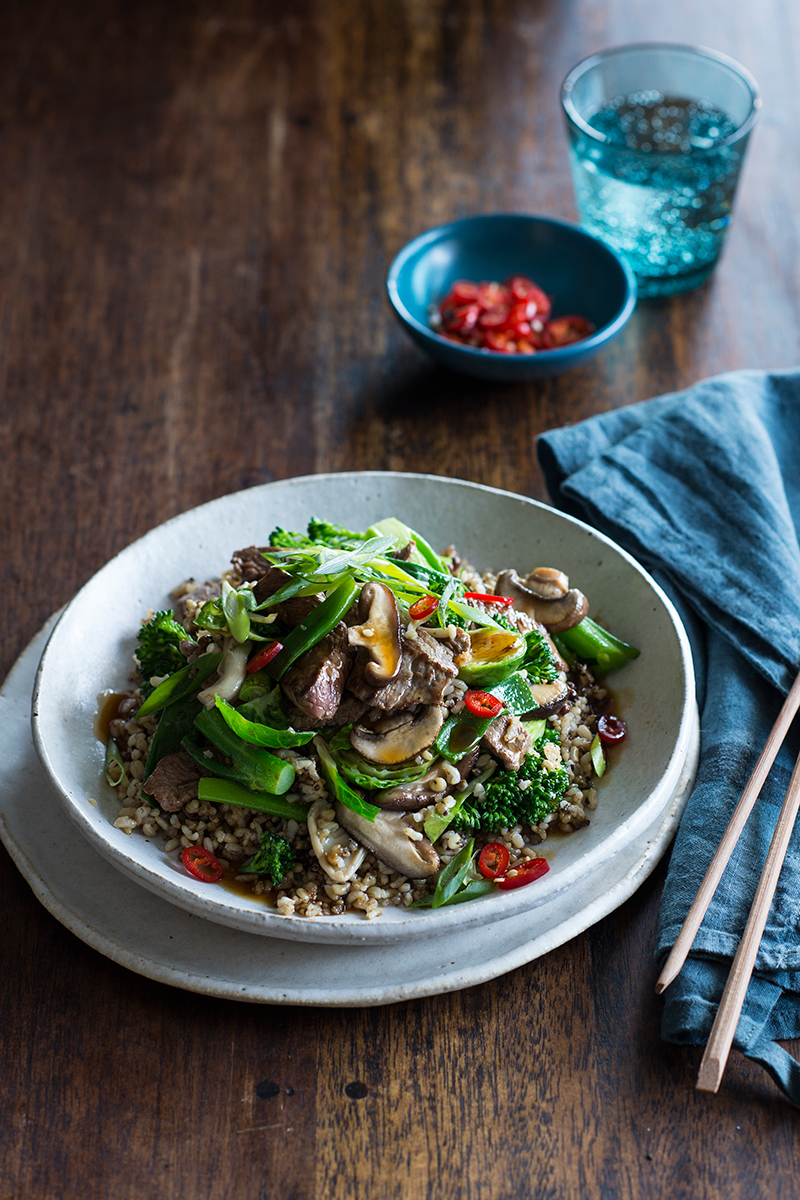 Beef, Mushroom & Ancient Grain Stir-Fry
Quick and easy to prepare, this stir-fry takes the stress out of midweek meals.
Serves: 4; Preparation time: 10 minutes; Cooking time: 15 minutes
Ingredients
600g beef rump steak, fat trimmed, cut into strips, 2 x 250g packets microwave 7 ancient grains, 2 tbsp vegetable oil, 2 garlic cloves, crushed 2 shallots, cut into 4cm lengths + extra, thinly sliced to serve, 1 bunch broccolini, cut into 4cm lengths, 200g brussel sprouts, thinly sliced, 300g mixed mushrooms, sliced, 2 tbsp light soy sauce, 2 tbsp oyster sauce, sliced chilli to serve, if desired
Method
Prepare microwave grains according to packet instructions and set aside.
Meanwhile, place beef in a large bowl or snap-lock bag, add half the oil and toss to coat. Heat a large wok or non-stick frying pan over high heat. Stir-fry beef in batches for 1-2 minutes or until browned. Set aside on a plate.
Add remaining oil to wok over a medium-high heat. Add garlic and onions and stir-fry for 1 minute. Add broccolini and brussel sprouts and stir-fry for 2-3 minutes. Add mushrooms and stir-fry for 1 minute. Stir in sauces and two tablespoons water and cook for 1 minute. Return beef to wok, add ancient grains and toss to heat through. Season with salt and pepper.
Serve stir-fry topped with extra shallots and coriander sprigs.
More information and recipes here.