Contrary to the overused emoji eggplant, at OutInCanberra we like our eggplant halved, seasoned and scorched. Unfortunately, all our faves are on sharing menus, but we believe you should never share your eggplant. We don't need any help devouring off this scorcher of a dish.
Akiba (pictured above)
The Miso Eggplant with Akiba-style Furikake a standout favourite among most Akiba fans as it's vegan and gluten free as well as incredibly delicious. It was created by the sashimi chef and finished off with pepita, puffed rice and nori to provide a crunch to the gourmet creation. First, they score the eggplant before deep frying allowing the flesh to become extremely soft.  The miso adds a sweet, rich hit of flavour, before the eggplant is blowtorched and the furikake garnish is sprinkled over the top.
Raku – (photo via Eat Canberra)
The nasu dengaku, deep-fried eggplant with black miso, tama miso and pinenuts will leave you with a sweet sweet sensation. An eggplant sliced in half, with the flesh scooped and mixed with miso for a bit of theatrics at your table. It's spectacular looking with its dual colouring, and it tastes even better than it looks with a strong flavour profile and a thick and creamy texture. If you can't handle how bold this eggplant is, be sure to pair with rice.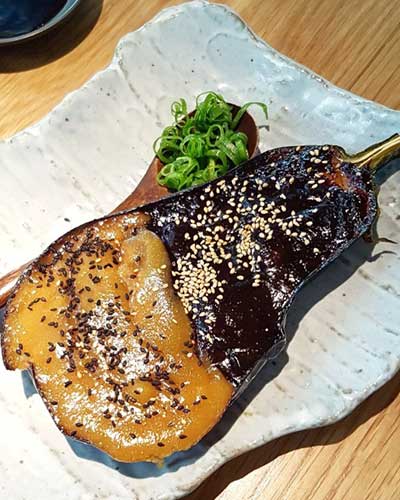 Until Terra turned their attention to after-hours, miso eggplant had our hearts. With a dinner menu focused around cooking over flames on their custom rotisserie and smoker – be prepared for things to get a little steamy in the company of the smoked eggplant with avocado, pepperonata and charred lime. It's a Mediterranean twist to what we are usually loyal to but let us say -you'll leave satisfied. With a focus on local, seasonal produce, be the first in the canteen line for this eggplant.