Kambri – a brand new cultural centre for Canberra – located at the ANU – has confirmed 23 retailers and most excitingly the announcement is a foodie's dream.
Split into two new precincts –The Lane and The Lawn – both will be lively, bustling places of innovation, creativity, and individuality.
Alive day and night, The Lane – fitted out with a mixture of natural, unconventional and raw materials – will be home to an amazing array of grab-and-go, hawker-style food outlets and exceptional coffee, with tenancies that will spill out and pack away, allowing customers to duck and weave through the eclectic mix of small cafes, shops and eateries that each bring their own character to the space.
The Lawn is the new 'town square', with a vast lawn, amphitheatre, abundant public seating and extensive landscaping a magnet for major events and meet ups.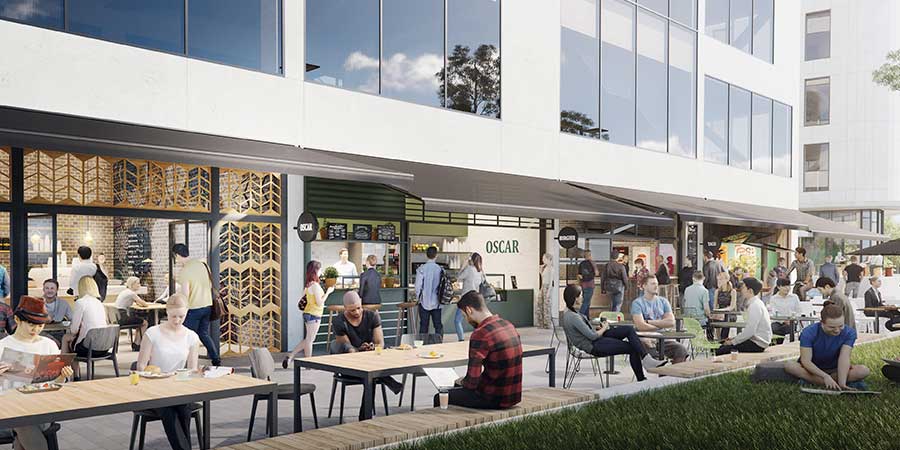 All the new foodie spots to hit at The Lane:
Café Milligram promote a health conscious coffee culture by nurturing the body, mind and soul of their customers with freshly brewed organic coffee and organic meals.
Chatime is Australia's trusted and most innovative fresh tea outlet, serving a delicious range of iced teas while shaking up the game like never before!
Daily Market was established in 2008 by Anthony Niravong, to supply the Canberra market with Asian groceries. Anthony's strong 20+ year history in retail and hospitality means Daily Market will be a well set up mini market to service domestic and international students and staff at ANU, as well as the surrounding urban centres.
Gangnam Lane will contribute Korean flavours with its takeaway food offerings. The menu includes a mix of traditional dishes and modern fusion, with dishes including Bulgogi and Kimchi, as well as street food.
Hot Star Chicken uses a unique processing technique and exclusive herbal marinate recipe in its now-famous feature snack. Known for its amazingly extra large sized fried chicken (up to 30cm).
The Campus Bakery has no airs and graces, just wholesome homemade food at an affordable price.
Urban by Asian Tiger aims to provide customers with an alternative to the common cafe experience, with a Chinese breakfast served from 8am, the lunch focus on fast service and value for money, and a set meal concept for the dinner menu which gives diners greater value and convenience.
What the Pho cooks up authentic Vietnamese street foods in the heart of Australia's Capital, with custom catering also available.
All the new foodie spots to hit at The Lawn:
Badger and Co. is the on-campus pub boasting a range of multi-functional areas for socialising.
Broger Burger will be dishing up delicious meals 7 days a week that look and taste amazing. It's the go-to joint for burgers, hotdog, chips, loaded fries, as well as salad, alcoholic drinks and coffee.
China Plate is an Asian fusion restaurant conceived as a place where great friends can come to meet, and to share in great food experiences in warm and always welcoming surrounds.
Green with NV make healthy eating options for busy university lifestyles with salads, sandwiches and fresh juices available fresh daily.
Cuppa Pro entice customers with the sweet aroma of their juicy coffee beans, fresh squeezed juices and mouth-watering menu, designed to help them go out and conquer the world.
Kebaba was started with a focus on building a name with quality and honesty, and preparing food in traditional ways and serving them with pleasure.
LAB have done the research to brew an amazing cup of coffee, and offer a full café service and tapas bar.
Rex Espresso cater to the busy on-the-go crowd who need to grab a quick coffee and a tasty meal, choosing from pre-prepared rolls, cakes and pastries.
Sushi Smith have the freshest, highest quality, made-to-order and on-the-go Japanese food.