Who likes to eat with a view? I know I do! And it's even better when the food is amazing and paired with a wine list that holds its own.
If you're not already onboard the Kingston Foreshore train, I recommend jumping on, ASAP! As the lakeside strip continues to expand, early-settling venues further establish themselves as prime spots to spend a lazy lunch, romantic dinner, or drinks with friends. Queue: Walt & Burley!
Easily one of the best lake views from any dining spot in Canberra, Walt & Burley is diving full throttle into their third year with a new menu and an atmosphere that is better than ever. The large space never feels cramped, even when the restaurant is packed and the bar is buzzing. The open layout has a mix of high and low tables to suit any group, each sharing in the stunning view and basking in the afternoon sun. Most importantly, the nearby park provides solace for parents and families who have the opportunity to sit back enjoy the view in peace and quiet while the kids play and exhaust that endless energy.
As is crucial for any great restaurant, a look at the drinks menu will make anyone want to let their hair down a little! The wine list features many Australian wines and a number of varietals available by both the glass and bottle. The sprightly bartenders also serve up classic cocktails in style and jugs for those in for a long afternoon.
The kitchen team at Walt & Burley is recently under new management. The bright-eyed and creative chefs have combined their love for classic pub food with a fine dining edge to create the people-pleasing menu on offer. Sous chef, Jordan Bell, told me that the 2017 menu has launched with a bang.
"I've been cooking for ten years and Manfred has been cooking for 25. His background is fine dining, whereas mine is rustic pub and classic Italian. We've met in the middle to make a more upmarket, Foreshore dining menu," says Bell.
That they have! This new kitchen team has hit the nail on the head here, producing a winning menu to match the winning space. The menu caters to everyone. Gluten free, vegetarian, vegan or allergies? They've got you covered!
"We've lifted the bar from where we were before and it fits the location perfectly. We use really fresh produce, getting everything in every one or two days to make everything fresh."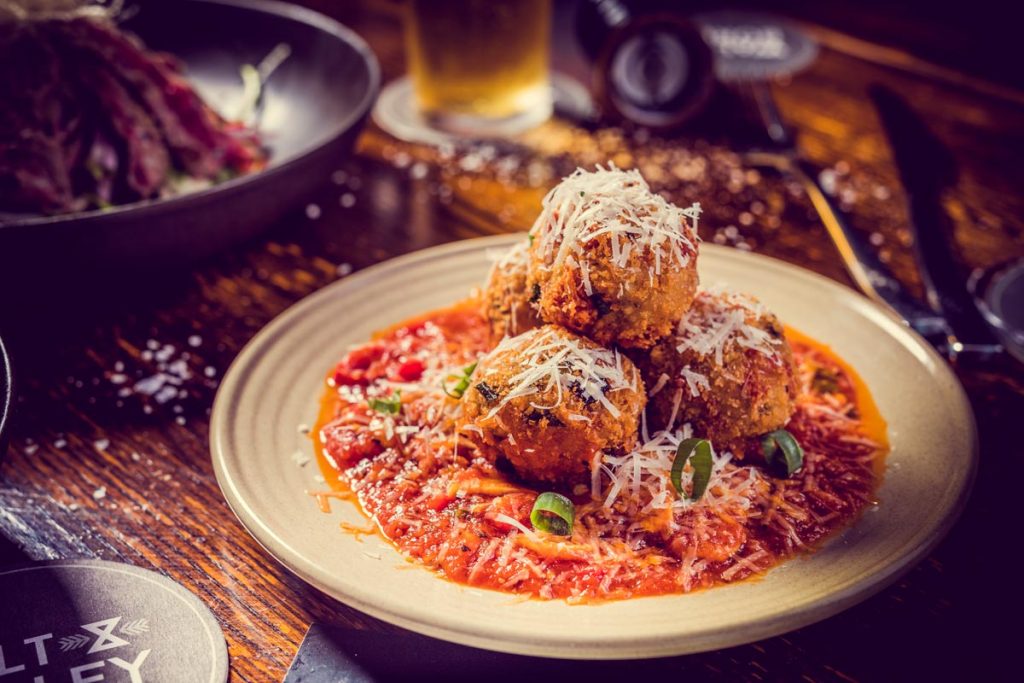 A must-have on the menu is a fine twist on a gastro pub classic- wings! There are two options, spicy buffalo or sticky honey and bourbon sauce. You had me at bourbon! Bell explained that this dish is "all about the sauce; nice and simple."
The sweet and sticky coating is balanced out perfectly with a generous serving of creamy buttermilk aioli. You'll want to tie your hair up for this dish, ladies!
Next up, crisp and creamy arancini!  These cheesy balls of porcini mushroom risotto are cooked to golden perfection and melt in your mouth as the simplicity and timelessness of Italian cooking speaks for itself. "We wanted the arancini to be really fresh. It is all about the cooking technique. The risotto is cooked to a nice al dente with the porcini mushrooms, thyme, garlic and porcini stock and the mozzarella gives it a nice smoky flavour." The smoked buffalo mozzarella makes the dish a standout and cements it as one of the most popular on the menu. Three perfectly round serves arrive perched on a liberal spread of perfectly balanced arrabbiata sauce, adding warmth and colour to the dish.
As the wise chef, Bell put it, "everyone loves a burger." I could not agree more. There are four mouth-watering options at Walt & Burley; beef, chicken, steak and a mushroom burger (that can be vegan!). For me, there is no way I could go past the buttermilk fried chicken burger. This is a serious chicken burger. I do not recommend wearing white. The chicken is marinated in buttermilk overnight so it takes on all the flavour, then rolled in a gluten free cornflour, to make it nice and crispy." The real kick, however, is the jalapeno coleslaw. The mix of the creamy slaw with the hint of spice delivers everything you want and more from the dish. And the meal wouldn't be complete without – you guessed it – the golden perfection that is string fries.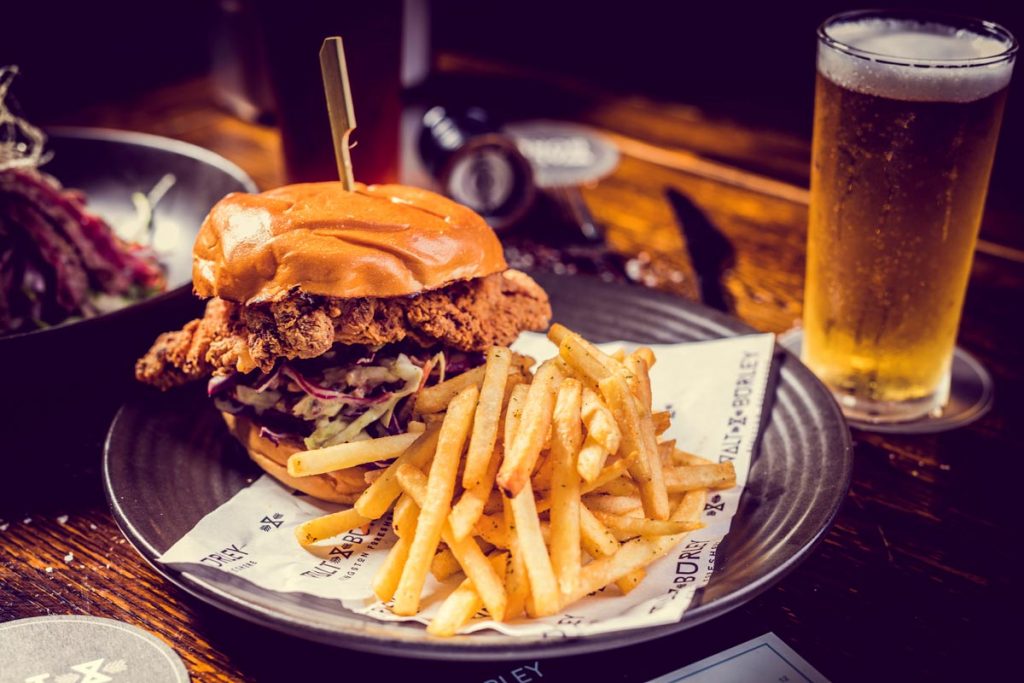 The Thai beef noodle salad is light, delicious, and always a crowd-pleaser. The peppery roquette warms the dish, followed by a zesty lime and chilli dressing. A satisfying crunch is brought by the crispy noodles and house fried onions, adding texture and colour to complement the grilled rare beef that has been cooked to perfection. "We get fresh produce in six times a week; fresh herbs, roquette and locally sourced beef." The chefs can do no wrong with the vibrant flavours of fresh endive, coriander, mint and fennel.
The roasted baby beetroot salad is the perfect guilt-free meal, delivering all the flavour and colour you want in delightfully delish, nutritious package. "Citrus and heavier beetroot go really well together." The baby beetroot is slow roasted in balsamic and brown sugar, bringing a sweetness to the dish that balances perfectly with citric orange segments. The base of house-made macadamia hummus brings a smooth and creamy element to contrast with the pop of quinoa, both ensuring the dish leaves you feeling satisfied and feeling good. The ingredients make the dish shine but if that isn't enough, add prawns!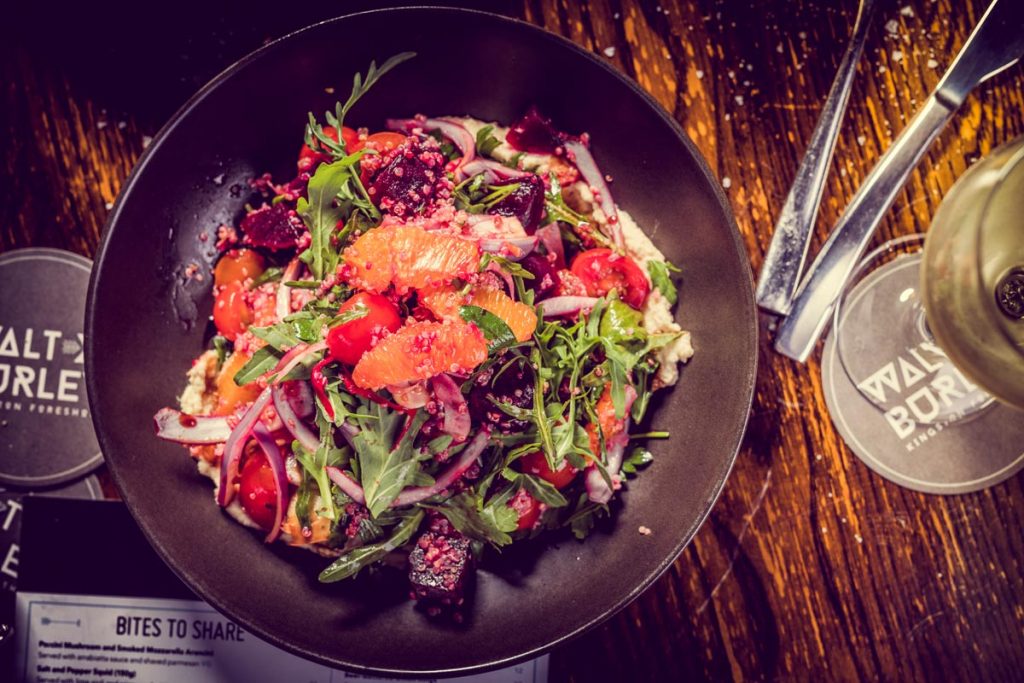 Come one, come all to this buzzing venue that is guaranteed to please all your senses. Perfect for any occasion, Walt & Burley is open from 11 am until late on weekdays and from 8 am on weekends. The casual, friendly service will make you feel welcome at any time of day.