'What's the best garnish for a martini? Olives! So, what's the best garnish for olives?' our server beams at us she reveals the answer, 'a martini, of course!' There's a small glass bottle filled with gin and vermouth on the table which she spritzes enthusiastically over the bowl of huge Ligurian olives. It's a simple idea but it's fun and effective, an idea that runs through the whole Braddon Merchant menu. Nothing is too fussy or overdressed, there's just a sense of well thought out, simplicity with a good dose of playfulness. They are able to pull off this act with the use of high quality, local produce. There are specific mentions of producers and locations so you have a real sense of the provenance of each menu item and the drinks list is a veritable 'who's who' of Australian wine.
The restaurant space under the Midnight Hotel is slightly sunken from street level which removes you from the hustle and bustle of street traffic. Grocery shelves stocked with olive oils, sauces and syrups subdivide the large dining room into smaller, more intimate spaces. A long bar table  with high stools makes an excellent spot to share a cheese board or Salumeria selection from the nearby deli display. The hard surfaces and high ceiling did make the acoustics quite boomy; at times we struggled to hear each other as more rambunctious tables shared a particularly good joke. But that is really the only drawback in an otherwise well thought out design.
A simple but delicious starter is the Modenese Tigelle with shaved mortadella, served with olive and artichoke spreads. Tigelle are small, round breads baked in a press that gives them a cute flower design. Diners are invited to build their own sandwiches in a fun, grown-up imitation of childhood mortadella and white bread lunches. Although the menu has a long list of cured meats my pescatarian dining companion was well catered for. Soft Persian feta, with a sweet onion puree and nutty fried buckwheat (which resembles miniature popcorn) is served with fresh endive 'spoons'. Now that's one way to save on washing up!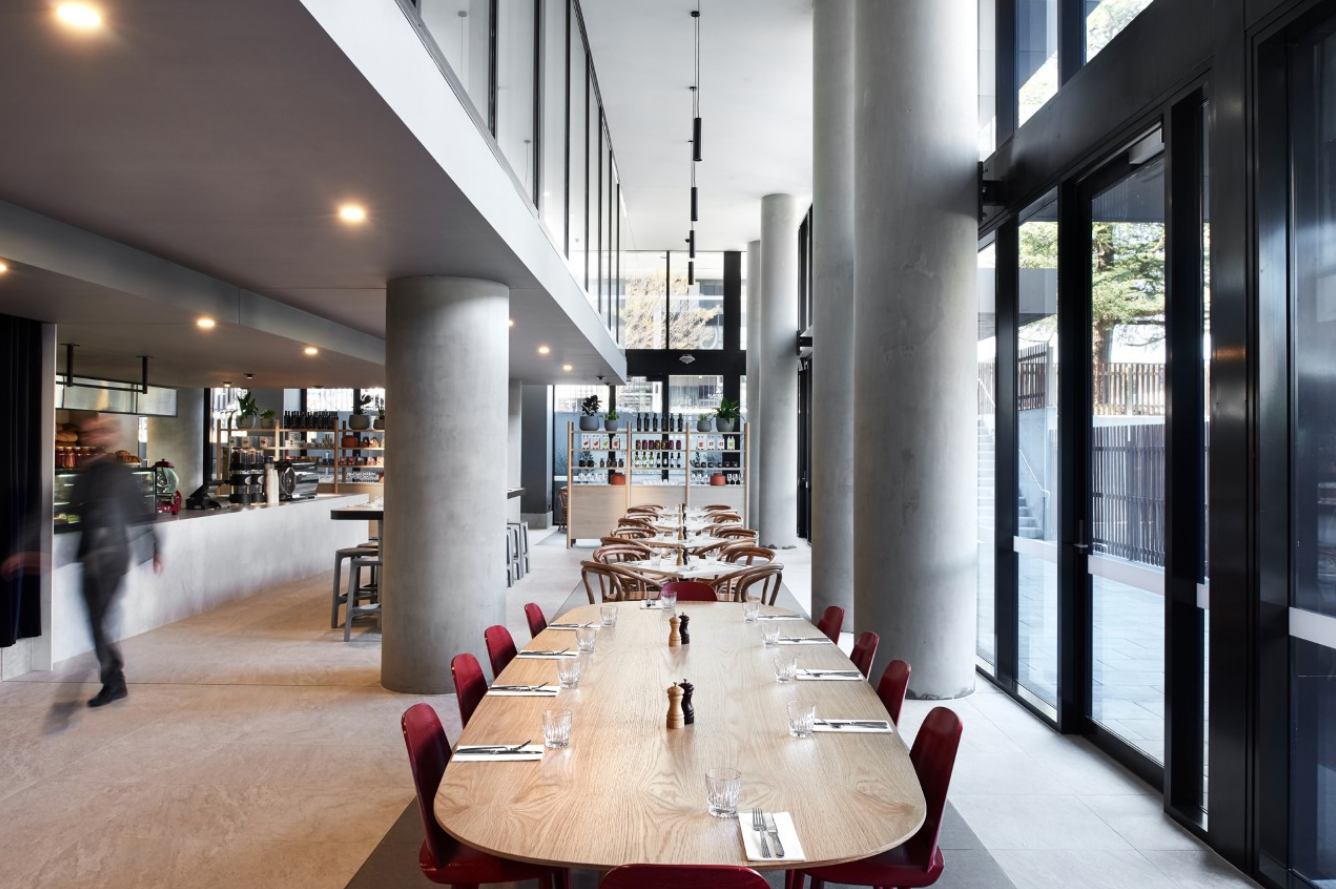 Our standout dish of the night was the grilled Narooma swordfish described as 'bacon' due to the smokey, caramelised flavours. Sweet, soft cooked shallots balanced out the strong flavours, and the upland cress was a refreshing touch. We also enjoyed the roasted king mushroom on creamy, porridge-like millet. The meaty mushrooms were complemented by charred spring onion, while pickled garlic was the perfect contrast to the richness of the millet. A local Syrah from Sholto vineyards was a good match for this hearty dish. A salad of blistered kale with pickled tomatoes proves that eating your greens really isn't a chore. It was a very tasty side dish to round out the meal.
We barely had space for dessert but we pushed on regardless and shared a Crème Catalan. Smashing through the thick caramelised crust with the backs of our spoons and revealing the creamy, citrusy custard underneath was a lot of fun.
The people behind Braddon Merchant have successfully created a menu that is both casual and, this is the crucial bit, high quality. Their focus on local produce is outstanding, and the attentive staff helped us to find the fun in their dishes. Now if you'll excuse me, I'm off to spritz some more olives…