I used to think 'horror' was short for 'horrible' when it came to films. More like experiences rather than a movie, a theme park ride; suspense leading to jump-scares and someone dying, then rinse and repeat with some kind of spooky character, like a ghost, or demon. Wasn't for me. Yet.
Get Out is going to break the mould, not just for its powerful political statements intertwined with the story, but it could be the trick that shifts the genre to more refined and narrative based horror, that uses your dispositions and expectations against you in the most fearsome ways possible.
Jordan Peele has transcended the comedian moniker to something much more reputable. Former Sketch show star now turned masterful director, he has created something very rare in the current cinema sphere – original content that is impactful, memorable and overall just damn good.
The acting from leading stars Daniel Kaluuya and Alison Williams sets the bar high and the supporting roles hold this standard on their shoulders like crowd surfing where the band is great writing, cinematography, editing and, of course, directing. I can't recall the last thing I watched that is this 'tight'.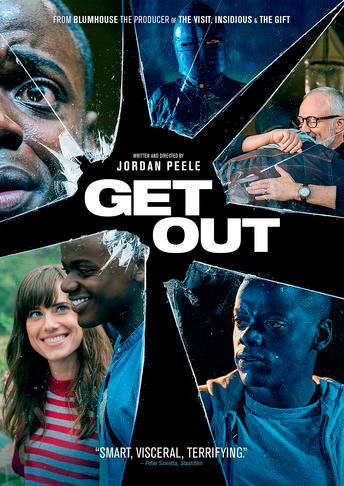 The plot itself is clever and thoughtful (also relevant to today's culture) Chris (Kaluuya) meets his girlfriend's (Williams) parents at their fancy estate and at first believes the reception he receives is due to awkward race relations, with him being black, and she white. Her family's attempts to overly accommodate go from creepy to sinister in a flash and what unravels from there continues to surprise and shock all the way to the end.
It is obvious Jordan Peele is a lover of film. His attention to detail is too meticulous in the shot choices and style, with his fingerprints on every element of the production. Even in its soundtrack which homages horrors of old from directors like Wes Craven. He should be applauded as well, for being the first African American director to make a film with returns of over $100 million, not bad, seeing as their budget was only $5 million.
Get Out frights as much as it delights, mixing comedy in with the truth bombs about the current political climate, and although occasionally falling to cliché (which I think is impossible to avoid in this genre), Peele covers it with precision and finesse that you have to respect, and if this had come out a few months later, could easily be a dark horse Oscar contender for its relevance and execution.
Rating 8/10