Earlier this year NoNameLane started building a reputation as a Foodie's Heaven when two of Braddon's most successful businesses in Ming's Pantry opened its doors in the lane, and Supa Bowl Poke shortly after, but the most innovative aspect of NoNameLane is the cantina-style restaurant called Terra.
If you've never been to NoNameLane, it will surprise you to see a once quiet part of the city booming with delicious food options. Terra has so far offered visitors everything from full meals to serious coffee to grab-and-go options, as a "canteen-style, produce-driven food destination".
Since opening in the middle of the year, there has been nothing, but good things said about it, so the launch of a dinner menu was always going to be the next logical piece in the puzzle.
It now means diners can have relaxed dining rather than the fast-paced counter service during the day and choose from an ever-changing shared menu featuring a selection of snacks and small plates to start, alongside rotisserie, wood-fired and smoked mains, and a range of seasonal vegetable sides.
Terra is owned by Anthony and Marcus Iannelli of The Food Forum – Canberra's locally owned and family run purveyor of quality fresh food that also supplies top-quality produce to the best restaurants around Canberra – and Sung Son (ex-Hartsyard Sydney).
The first thing that becomes apparent when you walk into Terra is the love that's being put into each dish that gets served. From a couple of buildings down the smell of meat hits you, the only thing it can really be compared to is when you walk into your Grandparent's house on Christmas Day, and Nan has been busy cooking all of your favourite foods.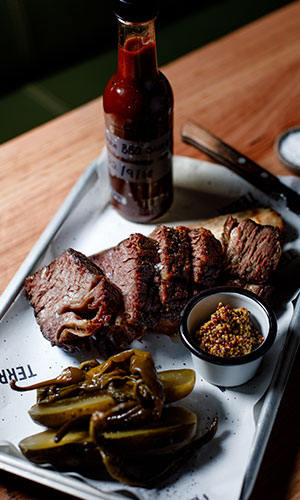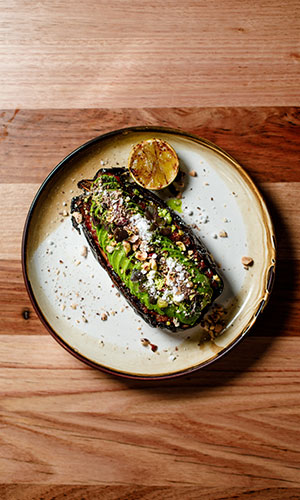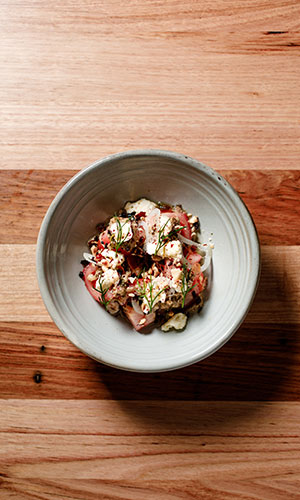 I wanted to test Terra's capabilities of feeding a variety of people, so I took a friend that doesn't eat red meat (secretly it also meant I got to eat more), and the restaurant passed the test with flying colours.
Each dish was well thought out, with a range of flavours lovingly paired with different wines to test your senses. I'm not big on Zucchini, but their Tempura Zucchini flowers consisting of brandade, oyster emulsion and parmesan was paired beautifully with a 2017 Eden Road Chardonnay.
Head Chef Sung Son has really nailed the menu. The BBQ Cowra Ribs made me feel like I was back in the country with my family, the Six Hour Smoked Beef Short Rib melts in your mouth, the Pork Belly was juicy and the crackling cooked to perfection, but for me the biggest surprise was the Fried Octopus.
Served with crispy potato skin, pickled green tomatoes and aioli, it was by far my favourite meal of the night. The combination again, making you think of the creativity of Head Chef Son.
"We always like to keep things casual, fun and interesting and we want dinners to be somewhere people can come for great food, drinks and music, and enjoy the atmosphere. All the action and aromas coming from the big open kitchen and the charcoal grill flows out and creates a really good, energetic vibe in the restaurant," Son said.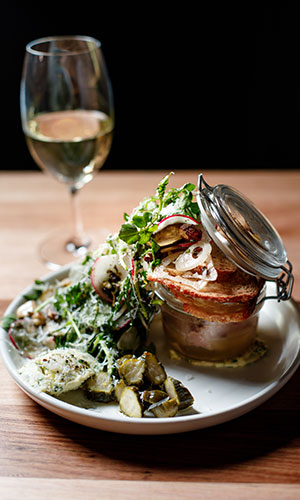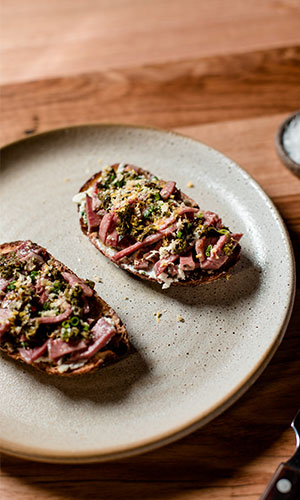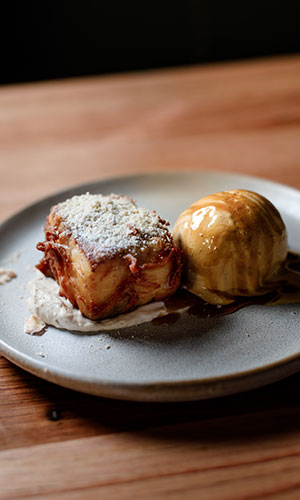 The snacks list has been designed so that guests can still come in for drinks and light bites if they do not feel like having the full dining experience. Guests can snack on smoked Ox Tongue and Toast with chimichurri and fresh Tasmanian wasabi, which I found was nothing like the Japanese variety and quite a delight, Terra Flatbread with Fois Gras parfait and dill pickles, or Chargrilled Oysters with jalapeño pickles, apple sauce and coriander.
If you want to be expansive and put yourself in the hands of Head Chef Son, dinners also feature a 'Feed Me' tasting menu option for $58 per person, curated by Son. The chef's selection showcases a range of dishes from the menu and sometimes unique or surprise dishes that are not available on the standard menu.
For those looking for a relaxing cocktail after work, Terra's Venue Manager, Sam Carlini (ex Molly Bar, Highball Express), has created a seasonal cocktail list to complement the dinner menu, featuring classics done well and some fresh house creations, including the signature cocktail, 'Smoke in the chimney', made using smoked brisket fat from the meats cooked during lunch.
I'm also told the wine, and beer list has been kept small and will rotate continuously with good reason so that new wines can be matched to suit the ever-changing flavour combinations of the food. Expect to see local names like Capital Brewing Co. and MADA wines making a regular appearance.
With the team that's been put together, it's hard to see this venture and dinner at Terra not working. You have to credit the Iannelli boys and Sung Son for the work that's been put into Terra so far, and you can only hope they'll continue to innovate Canberra's food scene for many years to come.
Terra Shop G2,
No Name Lane 40 Marcus Clarke St. City West, Canberra
Open Monday-Friday, 7.30am-4pm for breakfast and lunch Saturday, 10.30am-4pm for lunch Thursday-Saturday 5.30pm-late for dinner