15apr(apr 15)6:30 PM22(apr 22)11:59 PMThe Lord Of The Rings - Special Cast Reunion Q&A Screening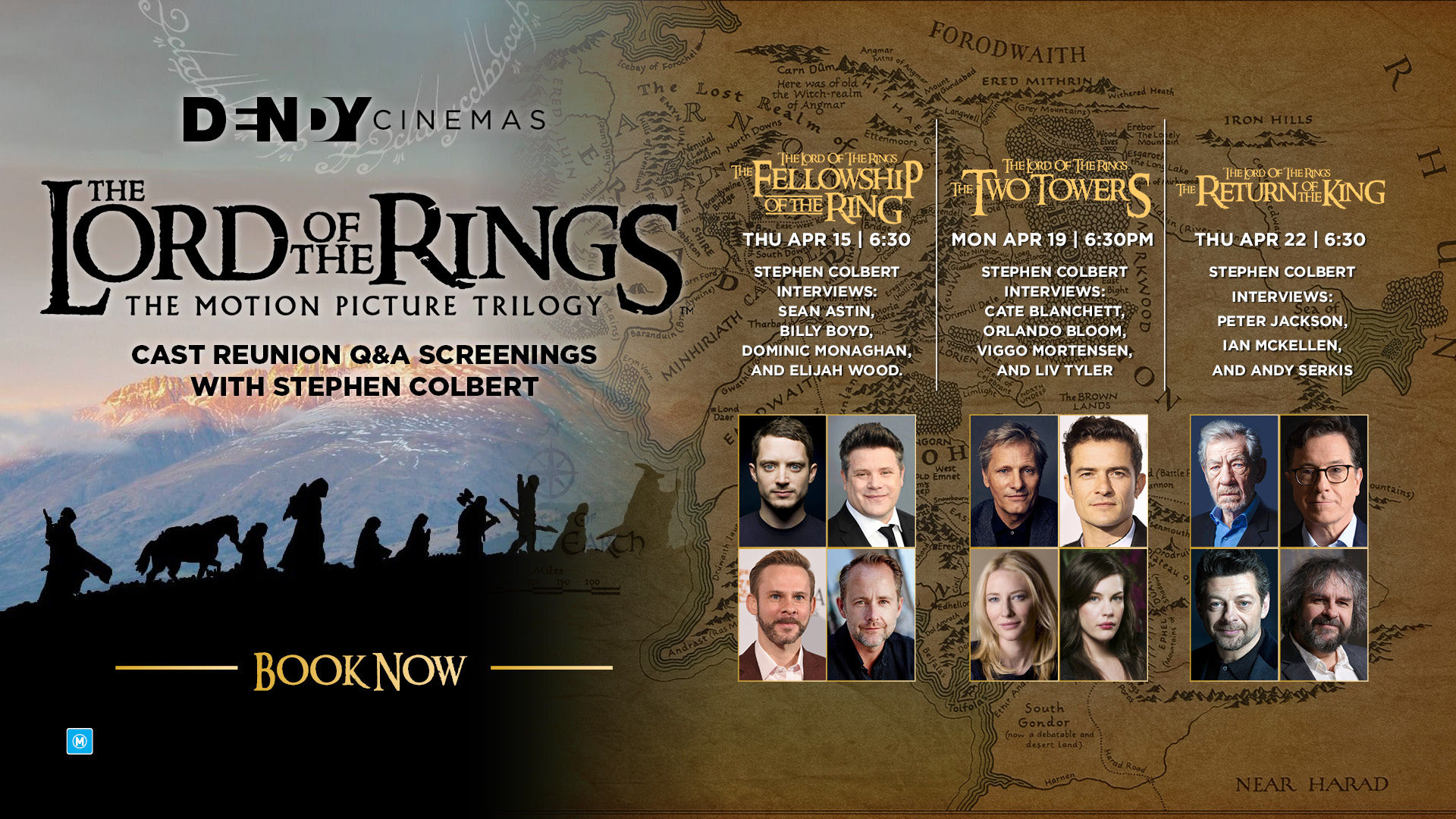 Time

6:30 PM Thursday 15 April 2021 – 11:59 PM Thursday 22 April 2021
The Lord Of The Rings – Special Cast Reunion Q&A Screening

Venture back to Middle-earth and join us for some special PRE-RECORDED Cast Reunion Q&A screenings of Peter Jackson's epic Lord Of The Rings Trilogy!

Interviewed by Stephen Colbert, each session will be followed by a pre-recorded Q&A with varying cast members, exploring their time on set and their experiences in J. R. R. Tolkien's world of Wizards, Orcs and Hobbits.

Lord Of The Rings: The Fellowship Of The Ring – Thursday, April 15 at 6:30PM

(Q&A with Sean Astin, Billy Boyd, Dominic Monaghan, and Elijah Wood)

In the first part of J.R.R. Tolkien's epic masterpiece, The Lord of the Rings, a shy young hobbit named Frodo Baggins inherits a simple gold ring. He knows the ring has power, but not that he alone holds the secret to the survival–or enslavement–of the entire world. Now Frodo, accompanied by a wizard, an elf, a dwarf, two men and three loyal hobbit friends, must become the greatest hero the world has ever known to save the land and the people he loves.

Lord of the Rings: The Two Towers – Monday, April 19 at 6:30PM

(Q&A with Cate Blanchett, Orlando Bloom, Viggo Mortensen, and Liv Tyler)

In the second part of the Tolkien trilogy, Frodo Baggins and the other members of the Fellowship continue on their sacred quest to destroy the One Ring–but on separate paths. Their destinies lie at two towers–Orthanc Tower in Isengard, where the corrupt wizard Saruman awaits, and Sauron's fortress at Barad-dur, deep within the dark lands of Mordor.

Lord of the Rings: The Return of the King – Thursday, April 22 at 6:30PM

(Q&A with Peter Jackson, Ian McKellen and Andy Serkis)

In the conclusion of J.R.R. Tolkien's epic masterpiece, The Lord of the Rings, as armies mass for a final battle that will decide the fate of the world–and powerful, ancient forces of Light and Dark compete to determine the outcome–one member of the Fellowship of the Ring is revealed as the noble heir to the throne of the Kings of Men. Yet, the sole hope for triumph over evil lies with a brave hobbit, Frodo, who, accompanied only by his loyal friend Sam and the hideous, wretched Gollum, ventures deep into the very dark heart of Mordor on his seemingly impossible quest to destroy the Ring of Power.