mar6:00 PM- 10:00 PMSparks Fly Skyfire EventMarch 16 at 6:00 PM - 10:00 PM Bad Betti's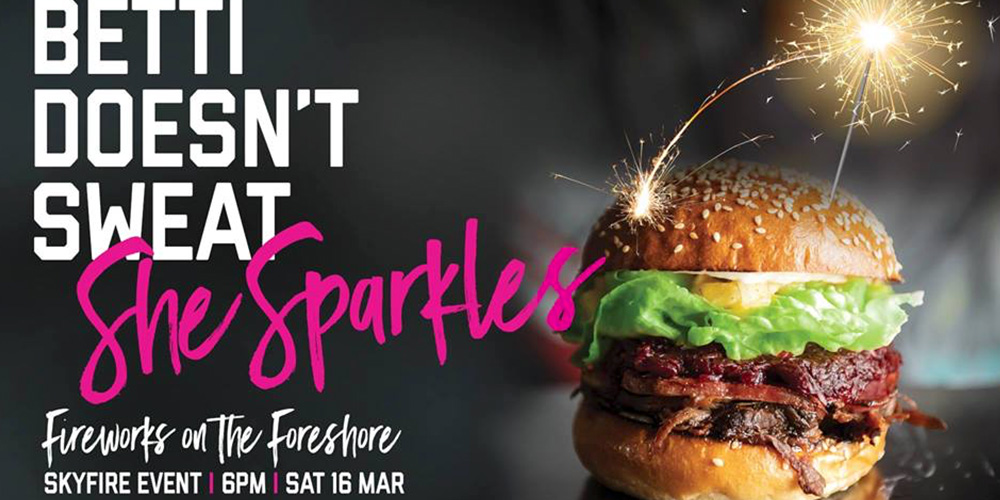 March 16 at 6:00 PM - 10:00 PM
Sparks Fly Skyfire Event
Betti doesn't sweat, she sparkles and you can too! You're invited to Fireworks on the Foreshore!
Bypass the hustle and bustle at the lake and watch the night sky light up for Skyfire 2019 from the comfort and convenience of Betti's.
No need to bring a blanket and radio we're recreating Skyfire right here with picnic blankets, decorations, sparklers and live DJ entertainment!
We've got all the best vantage points covered with our mouthwatering Burger Banquet.
No-one goes home hungry:
– Popcorn Jerk chicken
– Guacamole Corn chips, tomato relish, lime, sour cream
– Cured kingfish tostada's, corn puree, charred corn and avocado salsa
– Sweet potato fries, preserved lemon aioli
– Selection of Bad Betti's signature sliders – WITH SPARKLERS!
– Churro's with warm Mexican chocolate sauce
and
– A glass of the Skyfire inspired SPARKS FLY cocktail!
$49pp
For tickets call 6295 7000 or email: [email protected]
Read More