feb1:30 PM- 4:30 PMPines Tennis Club rally to raise funds for charityFebruary 24 at 1:30 PM - 4:30 PM The Pines Tennis Club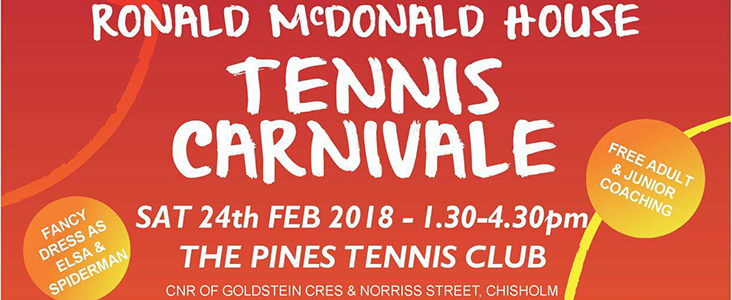 February 24 at 1:30 PM - 4:30 PM
The Pines Tennis Club The Pines Ten Club, Chisholm ACT 2905
Pines Tennis Club rally to raise funds for charity
The Ronald McDonald House Carnivale is back for 2018 and is set to draw a crowd, all in the name of charity.
Taking place at The Pines Tennis Club, the carnival will offer attendees the opportunity to try Tennis Australia endorsed programs including ANZ Hotshots for kids and Fitbit cardio tennis for adults, and all funds raised go towards The Ronald McDonald House Canberra.
Robert Jamieson, The Pines Tennis Club Head Coach says the event is an opportunity for the community to recognise Ronald McDonald House and to support all they do.
Saturday 24th February, 1.30pm – 4.30pm
Read More