08junAll Day09octNational Museum of Australia Connection Exhibition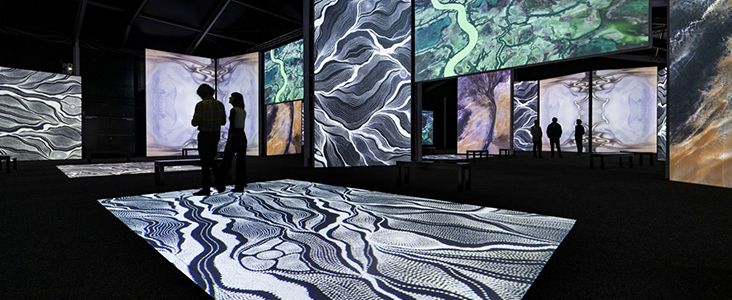 National Museum of Australia Connection Exhibition

From Grande Experiences, creators and producers of the most visited multi-sensory exhibition in the world, Van Gogh Alive, comes the world premiere of a new, captivating art experience celebrating the spirit of Indigenous Australia.

Using 360-degree, large-scale projections and cutting-edge light and sound technology, this is visual storytelling as you've never seen it before. Artworks from over 70 Aboriginal and Torres Strait Islander artists are transformed into one powerfully rich story of culture and Country.

Connection is a spectacular, first-of-its-kind experience, that simply cannot be missed. Exploring the spiritual connections to land, water, sea and sky through a vibrant and multi-sensory symphony of sound, light, and colour. State-of-the-art technology is used to create an immersive exhibition space, enveloping you in large-scale projections and cinematic surround sound.

Developed in partnership with the National Museum of Australia, the artistic line-up represents the wonderful diversity of Australia's First Nations peoples, showcasing work from traditional and contemporary artists across the country including Tommy Watson, Anna Pitjara, Gabriella Possum, Wayne Quilliam and many more.

Open 8 June to 9 October 2022.