1mar - 118:00 PMmar 11- 10:00 PMEnlighten Illuminations8:00 PM - 10:00 PM (11) Parliamentary Triangle, Canberra, ACT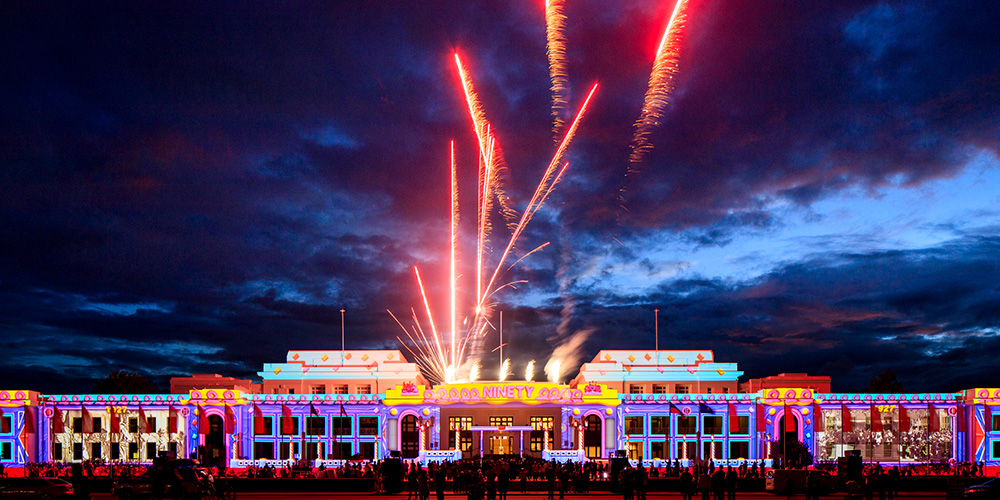 March 1 (Friday) 8:00 PM - 11 (Monday) 10:00 PM
Parliamentary Triangle, Canberra, ACT
Enlighten Illuminations
See the Parliamentary Triangle come to life after dark. Witness thought provoking and moving large-scale projections on Australian Parliament House, the National Portrait Gallery, the National Library of Australia, the Museum of Australian Democracy, the National Gallery of Australia and Questacon.
To kick start the Enlighten Festival in 2019, the Illuminations have been extended to 11 nights to provide the perfect backdrop for your Canberra Day celebrations. Canberra's Parliamentary Triangle and satellite venues will be transformed into vibrant arts precincts, showcasing Australian talent, amazing roving artists, live bands and enchanting performances. Plus, enjoy late night openings at many iconic national attractions.
Browse the Enlighten Festival digital program to plan you perfect evening full of musical magic, foodie fun and exclusive events.
Details
Dates: 1 – 11 March 2019
Times: 8:00pm – 10:00pm Sunday to Thursday
8:00pm – midnight Friday to Saturday
Location: Parliamentary Triangle
Cost: Free
Read More