26novAll DayDîner en Blanc Canberra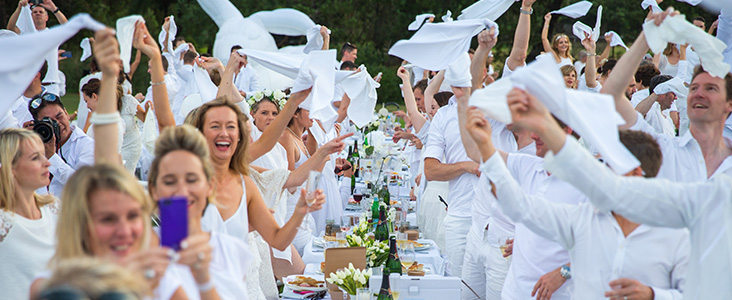 Dîner en Blanc Canberra

Australia's most sophisticated celebration of food, friends and fine wine, Dîner en Blanc is returning to Canberra on Saturday 26 November 2022 at a new secret location.

An elegant and exclusive affair, Dîner en Blanc has become THE social gathering of the year for Australians. This outdoor dining event transports guests into another world, offering guests the opportunity to meet new people with long-time friends while dressed up in white at a dinner à la Française.

Each year, Dîner en Blanc is staged in a new secret location, past events have been staged at iconic locations in Canberra such as The National Arboretum Canberra and Reconciliation Place.

To maintain the uniqueness of Dîner en Blanc as well as staying true to tradition, guests must observe certain requirements and follow a few key rules:
Once confirmed, each guest's participation becomes mandatory, regardless of weather conditions.  This is a rain or shine event.
Dress code: elegant and white only. Originality is encouraged as long as it is stylish and tasteful.
Table setting:  all white!
Champagne and/or wine. Beer and hard liquor are prohibited. As per Canberra's alcohol licensing laws, guests cannot bring their own alcohol, nor is any beverage allowed to BYO. Guests wishing to enjoy some wine or Champagne, must pre-order online through Dîner en Blanc's e-store.
To ensure that the location secret is kept undisclosed until last minute, guests meet at the assigned departure location and are escorted by a Dîner en Blanc volunteer.
In order to leave the event location as clean as when they arrived, guests are required to leave with all their belongings, leftovers and litter.
Guests must bring
A table, two white chairs, white tablecloth.
A picnic basket comprising poly-carb stemware and white dinnerware.
A catered picnic basket option, which can be pre-purchased online and picked up on-site, is available for those who do not wish to pack their own. Guests wishing to do so must reserve online through Dîner en Blanc's e-store.