sep6:30 PMDendy Dames, Ladies in Black at Dendy CinemasSeptember 12 at 6:30 PM Dendy Canberra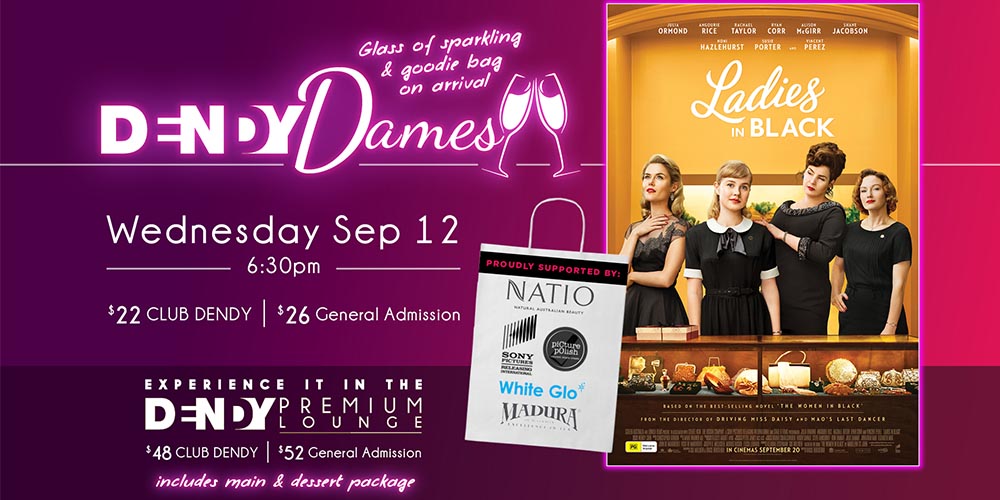 Dendy Dames, Ladies in Black at Dendy Cinemas
Wednesday 12 September 6:30PM – Drink & goody bag on arrival for each guest. Treat yourself to PREMIUM with a main and dessert included!
Adapted from the bestselling novel by Madeleine St John, Ladies in Black is an alluring and tender-hearted comedy drama about the lives of a group of department store employees in 1959 Sydney.
Set in the summer of 1959, when the impact of European migration and the rise of women's liberation is about to change Australia forever, a shy schoolgirl (Lisa) takes a summer job at the prestigious Sydney department store, Goode's. There she meets the 'ladies in black', who will change her life forever. Beguiled and influenced by Magda, the vivacious manager of the high-fashion floor, and befriended by fellow sales ladies Patty and Fay, Lisa is awakened to a world of possibilities. As Lisa grows from a bookish schoolgirl to a glamorous and positive young woman, she herself becomes a catalyst for a cultural change in everyone's lives.
For tickets and more information, click here 
Read More