oct11:00 AM- 4:00 PMCBR Fair Day at Gorman Arts CentreOctober 28 at 11:00 AM - 4:00 PM Gorman Arts Centre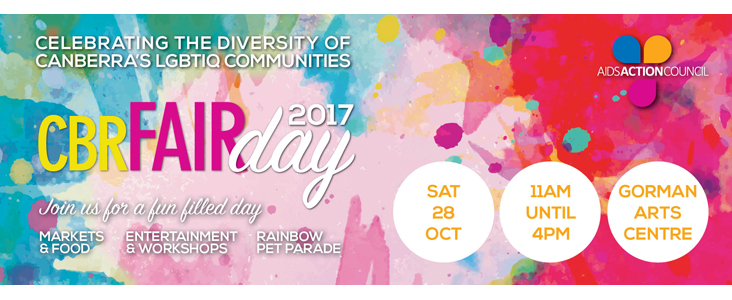 October 28 at 11:00 AM - 4:00 PM
CBR Fair Day at Gorman Arts Centre
The AIDS Action Council is proud to present CBR Fair Day 2017 at Gorman Arts Centre. This is Canberra's largest LGBTIQ community fair! Come and celebrate Canberra's wonderful and diverse LGBTIQ communities by enjoying a fabulous day of music and performances.
You can participate in activities and workshops, have a chat at the friendly stalls and indulge your taste buds with delicious food! Watch the beloved Rainbow Pet Parade from the grassy lawns and meet some new friends. Bring your dog along for the extra company and register them for the parade!
Fair Day has launched SpringOUT every year since the first SpringOUT Pride Festival in 1999. Bring your friends, partners, families and puppies as there is something for everyone to enjoy!
Where: Gorman Arts Centre, 55 Ainslie Ave, Braddon
When: Saturday 28 October 11am-4pm
Read More