oct11:00 AM- 4:00 PMOld Parliament House Wedding Open DayOctober 07 at 11:00 AM - 4:00 PM Old Parliament House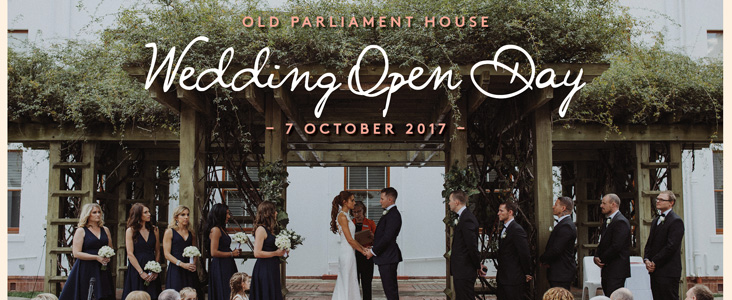 October 07 at 11:00 AM - 4:00 PM
Old Parliament House Wedding Open Day
Searching for a stunning backdrop to your special day? Then look no further than Old Parliament House, a unique, heritage building that creates the wow-factor to elevate your wedding ceremony and reception.
Come along to our Wedding Open Day, to discover a venue like no other and the versatility this building can offer couples planning their nuptials. We are experienced in weddings of all styles and sizes, from an extravaganza of 350+ to a more intimate affair of thirty of your nearest and dearest – and everything in between!  Our experienced events team can guide you along the way, from itinerary planning, creating the perfect ambience, table set-up and menu options.
We invite you to meet our team at the Wedding Open Day and gain valuable tips and expert advice on making your dream wedding a reality. Not only will you be inspired with some ideas for your big day, you can also sample our delicious food from our weddings packages menu.
When it's 'love at first sight' you just know it – so we will offer 'special deals' to those who book their wedding at Old Parliament House during the Wedding Open Day.
OLD PARLIAMENT HOUSE WEDDING OPEN DAY: from 11am – 4.00pm on Saturday the 7th of October 2017. Entry is via the Queen Victoria Terrace Bridges at the rear entrance of Old Parliament House.
TICKETS: Free entry. Get in early and book a free appointment with one of our experienced Coordinators.
CONTACT: For further questions and queries, please don't hesitate to contact the Restaurant Associates team by telephone on 02 6261 7200, or by email at [email protected]
Read More