sep12:00 PM- 8:00 PM'Hello Spring' Event at Courtyard by Milk CrateSeptember 15 at 12:00 PM - 8:00 PM Courtyard by MilkCrate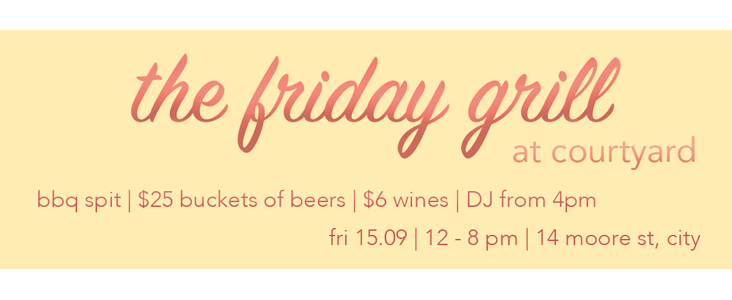 September 15 at 12:00 PM - 8:00 PM
'Hello Spring' Event at Courtyard by Milk Crate
'Hello Spring!' brought to you by Courtyard by Milk Crate is on the 15th September from 12pm-8pm!
The weather is starting to warm up and we are celebrating! Join Milk Crate for a lunchtime spit roast this Friday!
Enjoy a whole lamb spit, all salads, sauces, bread roll, Zucchini fritters for all the Vegos out there!
To top it off there will also be $25 buckets of beer and $6 house wine.
The DJ will be on from 4pm to keep the party rockin'
Read More