Whether you're vegetarian or not, the Ovolo Hotels have created an institution for dining while keeping the planet in mind. Taking the bold move to convert all their restaurants vegetarian for a year, back in 2020, the success and innovation that has come out of a once temporary shift saw a decision to make the change permanent.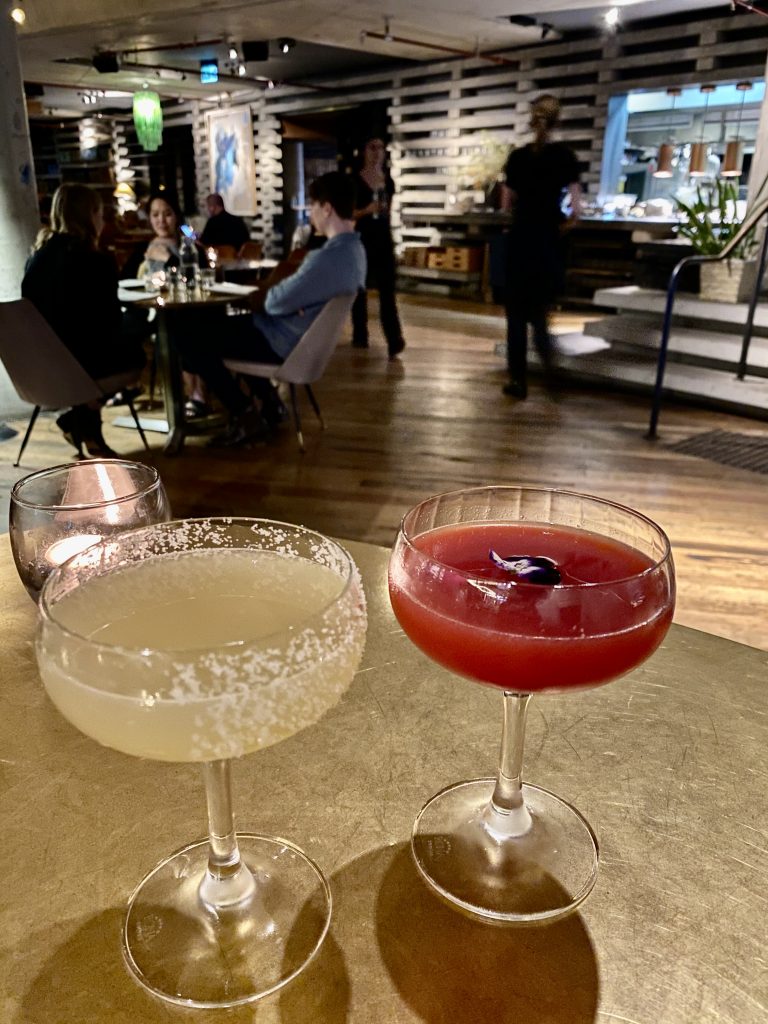 Canberra's Monster Kitchen & Bar champions vegetables unlike many other restaurants, always pushing the boundaries with such vibrancy and creativity. Focusing on local and seasonal produce, the contemporary modern Australian menu may interest diners with dishes such as the cheese & corn croquettes, or raise eyebrows with the cauliflower steak, but whether they manage to create satisfying dishes where you're not wondering when the meat will show up, is another story.
Located in the beautiful Ovolo Nishi building, keeping in tune with the contemporary, chic vibes of the hotel, Monster offers a trendy open space with an expansive bar area and dining room. It's very cool and moody feel shown through the concrete structural lintels, mosaic walls, comfy leather lounges, colour bursts of art and tiled chandeliers invites those wanting a wine between friends or an intimate dinner.
Starting with a drink at the bar, we opt for a seasonal cocktail – Velvet Morning with Larios gin, fino sherry, Curaçao, pinot noir, raspberry, kaffir and lime, and twist on the classic – Jalapeño Mezcal Margarita with Vida mezcal, Espolon Blanco, jalapeño, Curaçao and lime. The bold and powerful red of Velvet Morning was taken back by the dry nature of the sherry, an overall refreshing cocktail. While the margarita was smoky in flavour and perfectly spicy and powerful.
Taking the remainder of our cocktails to our table, we studied the menu. Being regular meat eaters ourselves, we opted for the eight-course set menu to experience more and maybe even get some inspiration next time we're in the kitchen.
It wasn't long until we were met with our first snack course, Carrot tapioca cracker with pickled baby onions and carrot crème. It was the perfect crunchy bite with a subtly of carrot and tang of onion.
Following our first taster was sugarloaf cabbage with miso dashi & yuzu broth, pea shoots and chive oil. Perfectly charred, the cabbage had unbelievable flavour when soaked up with the delicious light broth.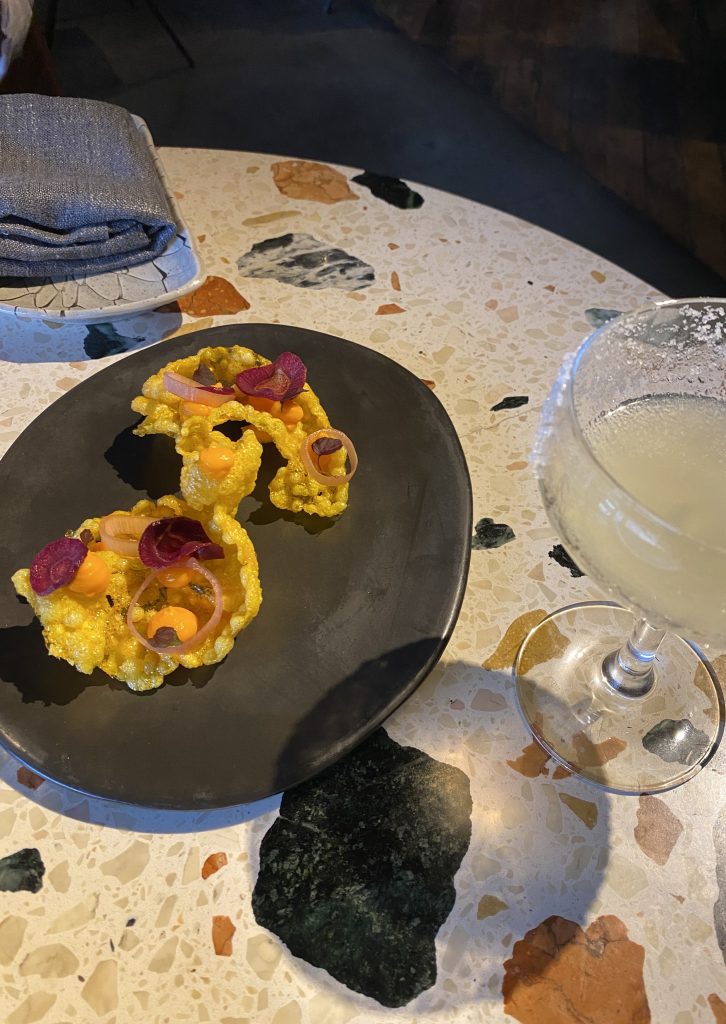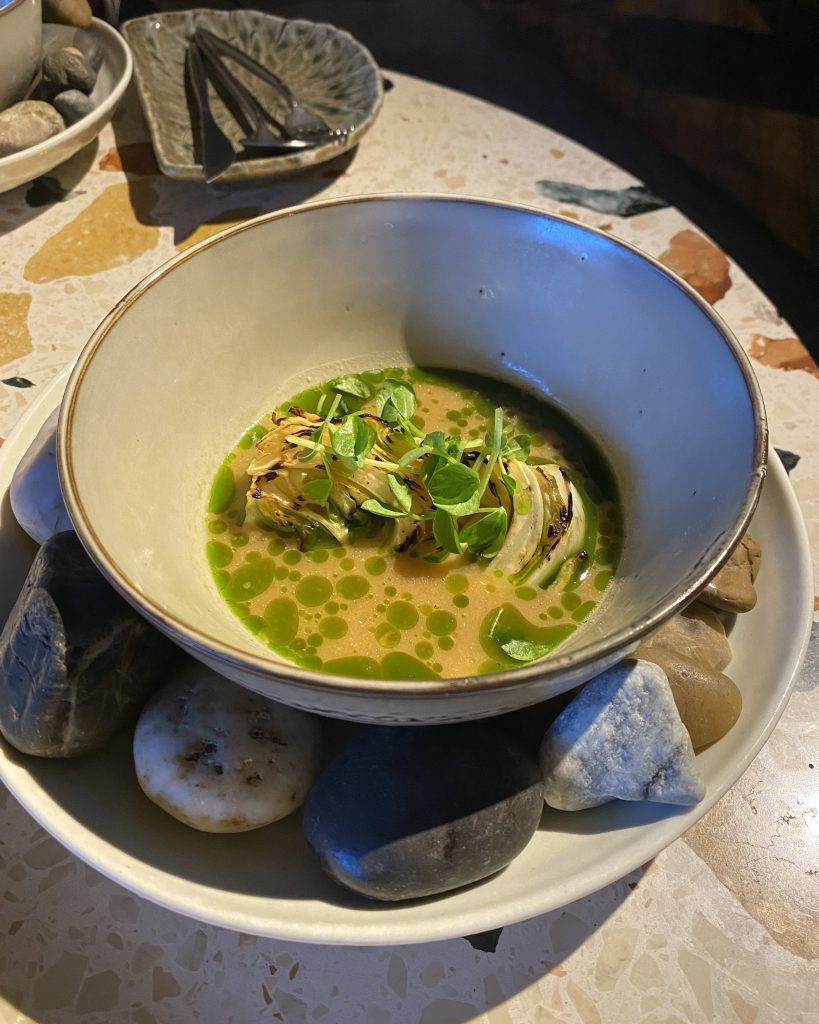 For our third course, a tartare sat before us with exciting vibrancy. Complete with beetroot, sheep milk yogurt, pickled shallots and a beetroot tapioca cracker to scoop into delicious morsels, it was our favourite dish of the night. The earthy beetroot chunks met with the creaminess of the yogurt and memorable tang from the pickled vegetable was the perfect combination of flavours.
Ordering a glass of Sangiovese in between courses, it was then served along with our fourth dish of the night. Celeriac & mushroom pies with master stock and goji berries. It was definitely the most intriguing mix of flavours we tried but worked perfectly as the juice soaked up into the pies.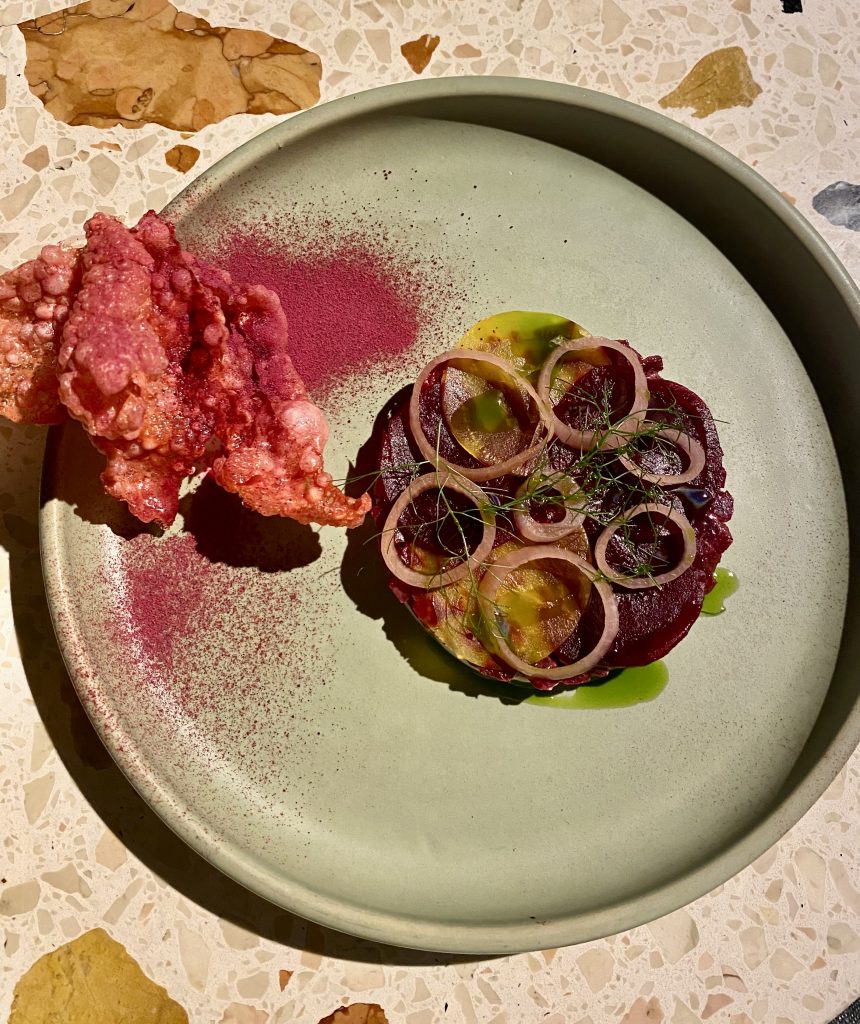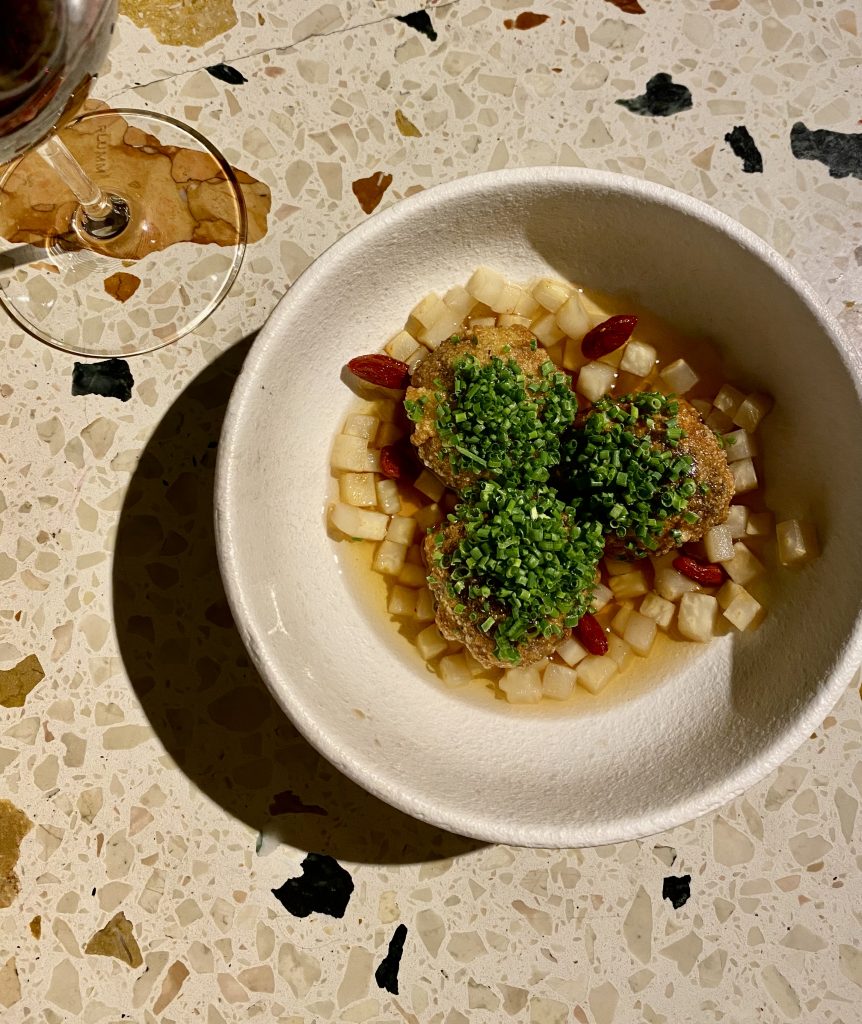 Next, we shared Hokkaido pumpkin with smoked almond velouté, comte cheese and roasted seeds, and purple cauliflower steak with aka miso, mushroom medley and burnt onion jus. Certainly generous in size, the mains were equally delightful. The flavours weren't complex but didn't need to be, truly letting the flavour of the vegetables shine, there was no need to over complicate.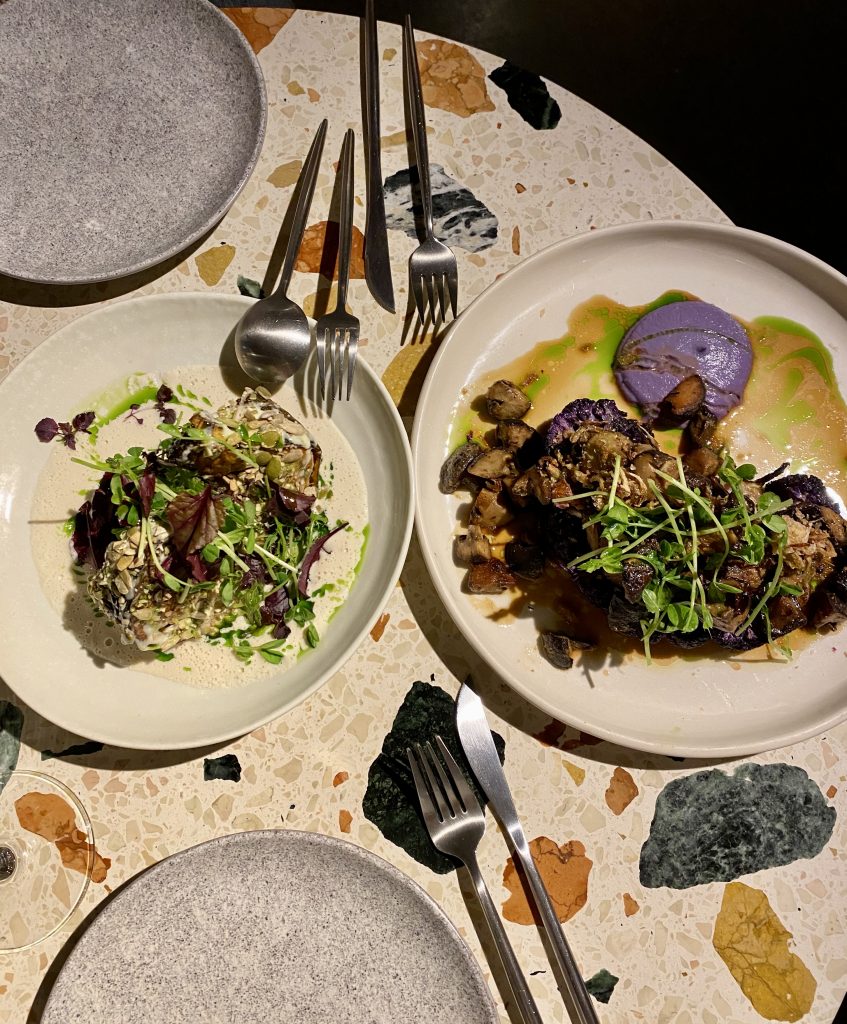 Moving onto dessert, we tried a rhubarb sorbet with vanilla, lavender and honey, and pandan ice cream with pistachio cake, coconut crisps and burnt meringue. Both light and fresh, it was exactly what we felt like. The palate cleansing sorbet together with the creamy vanilla custard was pretty unbeatable. Again, it was another simple yet incredibly flavourful dish. The ice cream and cake of the second dessert was another enjoyable combination of the vanilla tasting pandan with the nutty cake.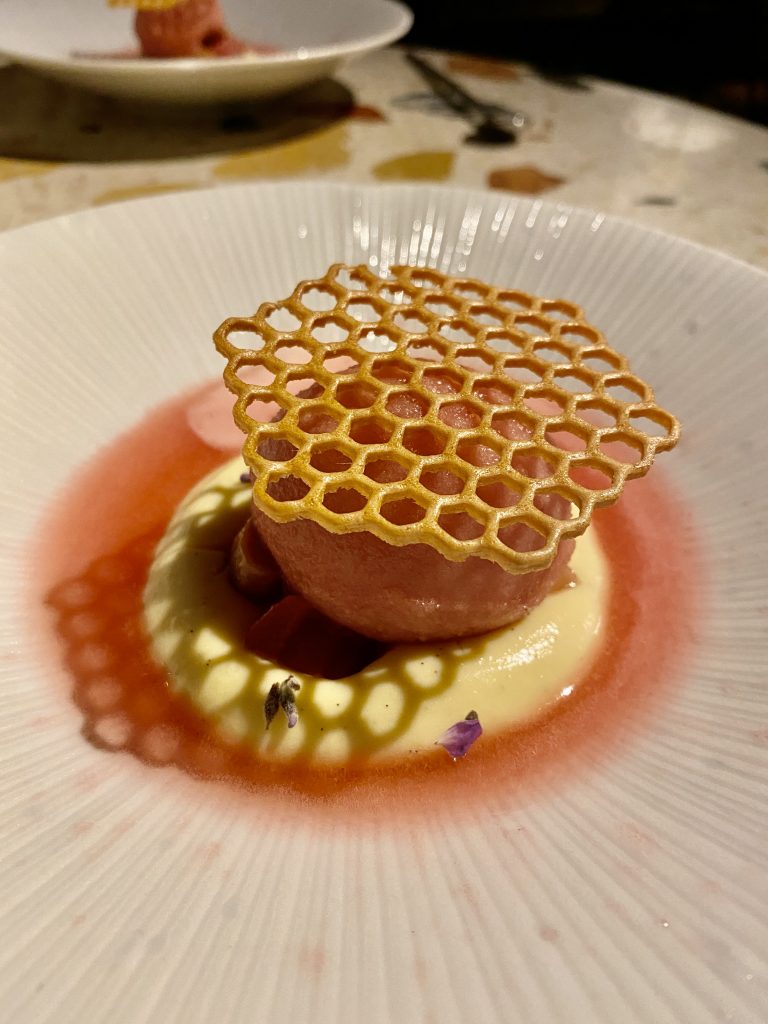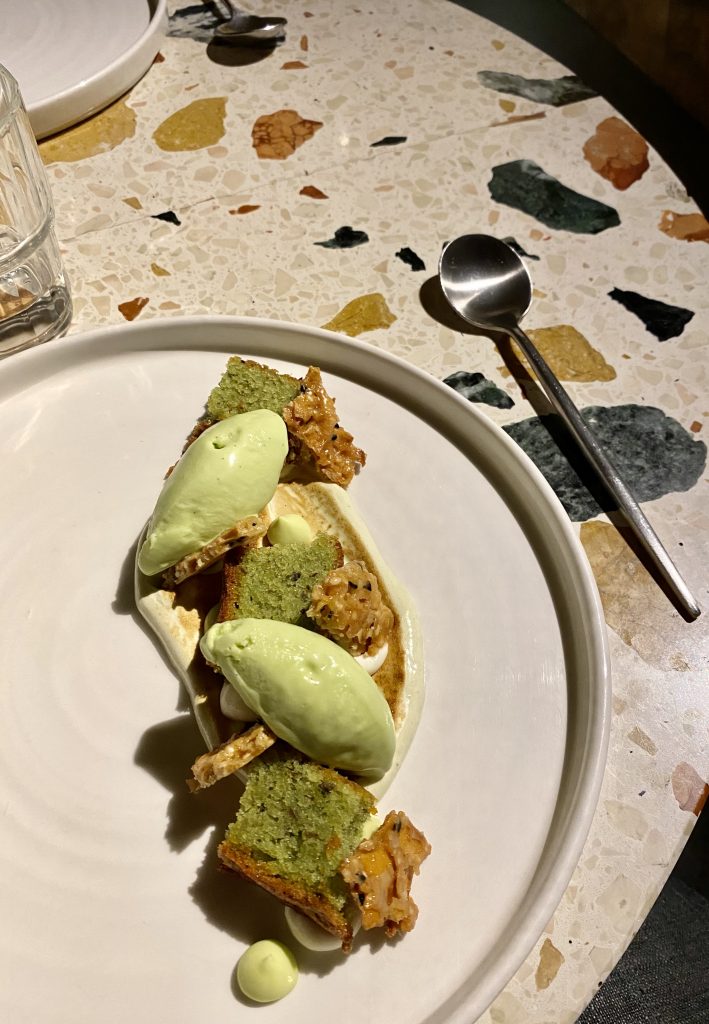 Feeling the full force of fresh vegetables, we were now full and satisfied. Each course bought a unique combination of flavours to the table, unlike any vegetarian dish we would make at home or receive at another restaurant in Canberra. All carefully presented with vibrant pops of colour, you can tell the chefs behind Monster are really trying to prove just how good veggies can be, something we hope they won't have to do for much longer.