"Hop Aboard the Enlighten Bus to tour around Enlighten's main attractions, new precincts and satellite areas." Well you don't have to ask me twice. This is an offer that I just can't pass up!
Wandering through the glass doors in the Canberra Centre, I had somehow missed that giant, glowing jellyfish have moved in to my beloved central shopping spot. It is absolutely striking. Just like a jellyfish in the wild, only gigantic, flashing and the first of many more.
Enlighten has stretched out this year and has been appearing in instalments throughout the capital. This meeting point for an exciting and exclusive preview tour was just the first of many amazing attractions that I didn't even know were here.
It's not just one giant jellyfish in the Canberra Centre either, it's a grand total of five, stretched across different levels and displays. One thing I never thought I'd say… or write… is that there is nothing better than a massive jellyfish to get adults running around the mall like children, getting the lights to flash in new patterns as you pass sensors. So exciting!
After our tour of the bustling centre, we are led out to the bus. But wait, this is not just any old bus – it is the Pink Party Bus. Yes, you know the one hired for arrivals to Year 12 formals, the infamous bus for 18th birthdays, hens nights, bucks nights and any other night that tends to get a little weird towards sunrise.
This is my first experience on the Pink Party Bus. Little did I know that it would make me feel like I was at a rave at 6:30pm, but also commuting to school on felt bench seats in a strange shade of grey-brown. If you have never been on this bus, let me paint you a picture. The traditional backdoor stairwell has been converted into an esky large enough to fit drinks for a bus full of people. There are dance floor lasers flashing around the bus and a DJ mix pumping through an incredibly impressive sound system that would probably shatter a normal-sized vehicle.
The above-seat panels do not show graffiti covered posters of local businesses. Instead, they are bright TV screens with photos of previous parties of people running amok on this very bus with an incredibly accurate slogan; "What happens on the bus, stays on the bus." What a good start to a bus tour with a group of people I have never met!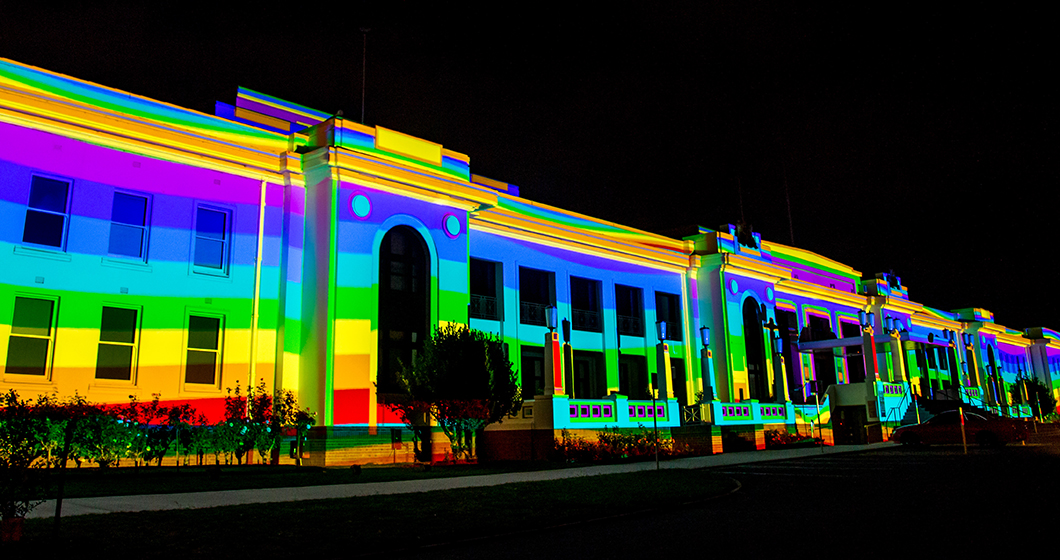 Without the confidence to go full backseat bandit, I sat myself right next to the esky and under a speaker playing a bass-heavy version of a Michael Buble song. And next, a little bit of sweet talking from our very own MC and some trivia about the history of Enlighten – with wine prizes!
Upon meeting the great event organisers, who we have to thank for the great feat that is Enlighten, there is a hint that this bus tour might be open to the public in future years.
I have actually never been to Enlighten so tonight is my night to see all the event has to offer in one massive go.  The instalments have covered three precincts this year;
The ANU, with light projections on the School of Arts and surrounds, accompanied by beer gardens, gallery exhibitions and mesmerising video footage projected onto brick walls to make you feel like you are lying in the grass watching a meteor shower;
amazing and excitingly secretive instalments throughout the city, including the Canberra Centre, Bunda Street, throughout NewActon and in places you might just not notice if you don't look up; and the traditional spot on the south of Lake Burley Griffin, lighting up the walls of Questacon, the National Library, Old Parliament House and every other Canberra landmark in the vicinity. And of course, this is where the infamous Night Noodle Markets sit.
We pull up outside glowing Questacon and wander through the buzzing crowd as they arrive for the noodle markets, and admire the exhibitions lighting up in the sunset. I have to admit, there is much more here than I expected. Even outside the noodle markets there are so many food vans and stalls, offering plenty of attractions for everyone, young, old, sober or not.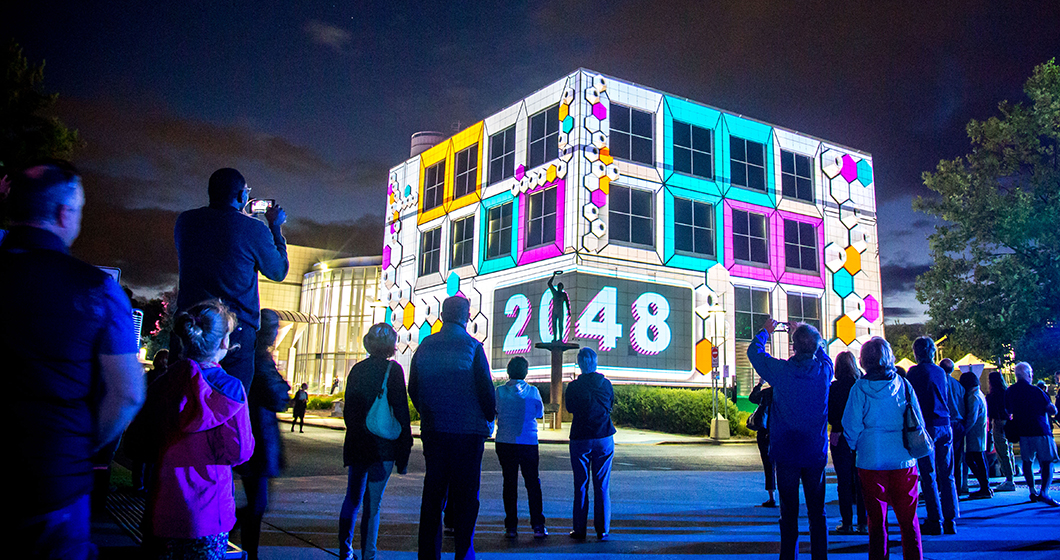 We hustle over to the BentSpoke beer garden and WOW. The bicycle wheels are lighting up, an art instalment themselves, and the beers are F-L-O-W-I-N-G. In this small fenced paddock, there is an assortment of all the things I want to see. Big old doggos sitting patiently as their owners sip cold bevs, glowing lights on strings overhead, cider that comes in 'large' sizes, and table delivery of bao, spring rolls, skewers and dumplings.
If I wasn't already sold, now I am. After a generous sample of the noodle markets' best bites, we are swept away to admire the beginning of the balloon festival and the roar of fire engines blowing up gigantic hot air balloons. They are a mighty sight as they rise from a dark field, bordered by lit-up buildings projected with mesmerising light shows.
As the balloons rise, I can't help but check out some of the attractions dotted across the field. A large scale kaleidoscope that you can stand in, a chance to win flights to any destination with Singapore Airlines (all you had to do was pose with a bunch of ridiculous props in front of a green screen), wander to the portrait gallery to take a selfie for the wall, and a full assortment of food vans, projections and crowds admiring the sights and sounds.
After my fair share of time wandering across the amazing main precinct, it was time to head back to the bus. As if the night couldn't get any better, a golf cart pulled up beside me on my way back to the carpark. It is nothing other than a tray of delicious desserts with a card saying "Abs are great, but have you tried donuts?" Well I can't argue with that logic! I grab not one, but two donuts and jump on the bus ready and rearing to go.
As we roll out with the speakers blaring and lights flashing, we are thrown so many glow sticks I feel like I'm at my year six disco. (Did anyone else ever live under some false belief that if you put glow sticks in the freezer they never stop glowing? Because that is definitely not true.) Nonetheless, I am not above wearing a fluoro grape and neon green halo for the rest of the tour.
A few stops in NewActon take us to some hidden gems. If you're not up for the crowds in the main precinct, take a stroll through the streets between the city and ANU to spot a huge variety of both beautiful and quirky light works of art.
We steer into the ANU to walk towards the art school. You can trust the art school to have projections of giant ants crawling across the building. I walked through the projections to explore a breathtaking exhibition of art, ranging from clothes to paintings to sculptures.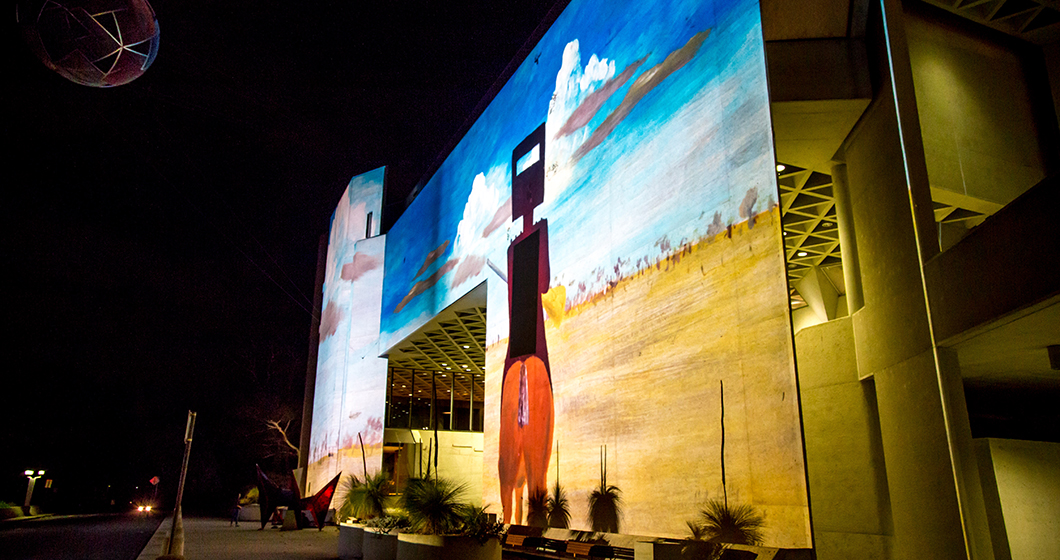 Popping out the other side to a galaxy swirling on the side of a building and another kaleidoscope-like video, I walk around the corner to be met with huge images of female founders as they swim among a sea of multicoloured lights above another welcome beer garden. There is no better way to end the night than sitting on a beanbag watching the crowd dissipate after a live show.
If you didn't get a chance to check out Enlighten this year (or even if you did), keep your fingers crossed that the bus tour will be a ticketed event next year because there is nothing I could recommend more to experience one of Canberra's greatest festivals.