One of the best things about my job is going behind the scenes of local businesses and understanding what makes them tick. First impressions of Bitten Goodfoods on Lonsdale St are a trendy health food shop with a sexy Instagram and extraordinary smoothies; but after sitting down with co-owners Alex & John and undressing their menu I understood the humble foods are deeply satisfying for more than just their tastes.
A little background on Alex, she started Bitten as a response to her chronic illness, which has been the driving force for her café and grocer offering locals a holistic approach to food. One that inextricably links our emotional state to our physical health. While the easy way out is a blanket of medication and stimulants to mask symptoms, Alexs' natural determination led her down the path of solving the mystery of her body's responses. Her fascination to stay up-to-date with food and have her finger on the pulse of future foods could be labelled as obsessive, but it's the reason Bitten has been able to deliver progressive food options that aren't available at any other Canberra stores.
Let's start with a morning coffee, and how your caffeine fix can last longer at Bitten. The Bulletproof Coffee – it may sound intimidating but when the pros are supressed hunger, mental clarity and sustained focus, reduced inflammation and no caffeine crash you'll be shooting down the Bulletproof coffee. For people who intermittently fast this drink keeps you in a fasted state, for those on the keto diet the MCT oil rapidly converts to ketones while the grass-fed butter  decreases inflammation and slowly absorbs the caffeine allowing your hit to last longer in the morning. Plus, they have a vegan version so nobody misses out.  Another interesting way to get your caffeine fix is through the Coffee Infused Kombucha by Ballsy, produced exclusively for Bitten Goodfoods.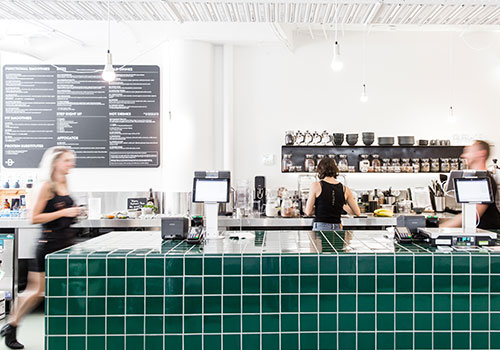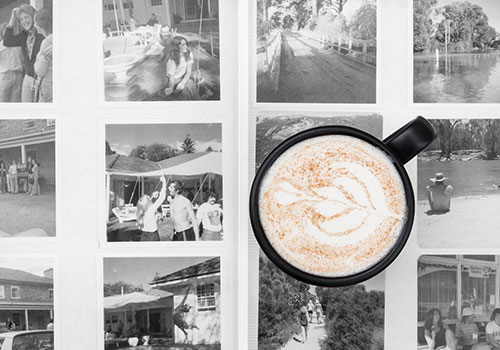 The Specialty Lattes are equally impressive, formulated with a mix of adaptogens (plants that help your body resist stressors) and provide your body with real cellular (ATP)energy. Take the 'Forever Young Latte' which gets its name from all the aforementioned benefits plus the added ingredient of collagen; a warm drink that targets gut, brain and skin. Go a step further by substituting milk for a sustainable option such as Bitten's signature Tigernut & Hemp 'milk' – tigernuts are a prebiotic, made from tubers (like potatoes) while Hemp contains more calcium than dairy plus an ideal balance of anti-inflammatory omega 3 and 6 essential fatty acids.
Beyond the extensive list of smoothies is a whole lot of purpose. The Functional Smoothies are packed with a range of functional foods which beyond taste and energy serve other purposes. 'Sat by the Ocean' for example serves the same purpose as visiting the ocean, using foods such as turmeric and pineapple for their anti-inflammatory properties just like the salt water. Fit Smoothies are framed around those with fitness goals, and under Superfit Smoothies you'll find options such as the Blast which is a keto diet smoothie, full of good fats and named after its ability to blast fats into energy. The Balance Smoothie serve an entirely different purpose again, this time focused on foods that balance hormones and eliminate excess estrogens.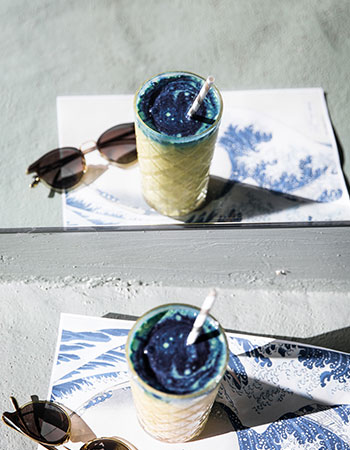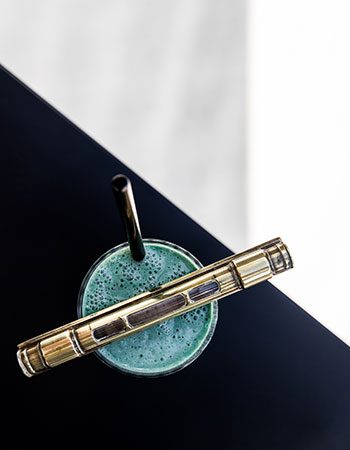 Now that we are all caught up on drinks that change your life! The café creates foods following the same principals but also to teach locals how to use Bitten's grocer ingredients in everyday home cooking. Alex has created a space where her team can offer advice on pantry swaps to substitute bad habits and share tips on the kitchen. Equally as important, the cafes other function is to reduce waste from the supermarket. Finding ways to minimise waste well beyond a keep-cup is something Alex thrives on day-to-day.
While there are plenty of options designed to suit vegans it's important to mention Bitten isn't solely a vegan cafe. In fact, they adapt their offerings for low inflammatory, grain free, dairy free, gluten free diets. Their plant-based foods have focus on being progressive and organic. The Super-Mushroom Ragu is a standout favourite. Deep in flavour and colour with the hero ingredient being superfood mushrooms chaga and cordyceps. Using earthy flavours to create the stock and black garlic oil for a hint of sweetness and an element of fermentation. All served on black rice noodles as a light way to enjoy pasta, and topped with cashew parmesan, chilli and peppery flavours of chives, this dish is ideal for winter – after polishing off a bowl I genuinely felt good after my Friday-out lunch choice.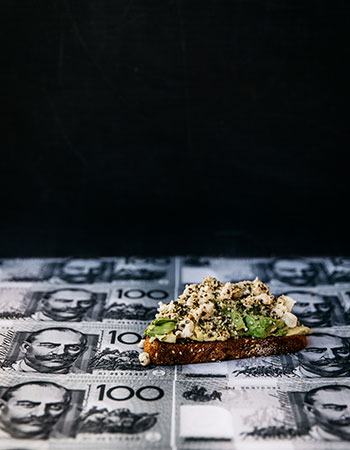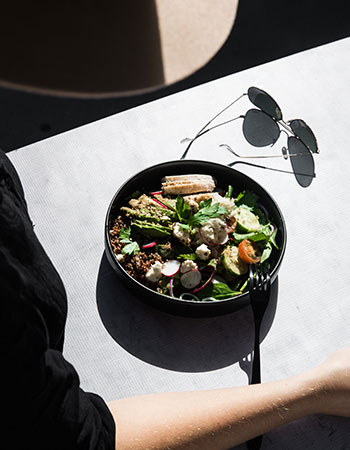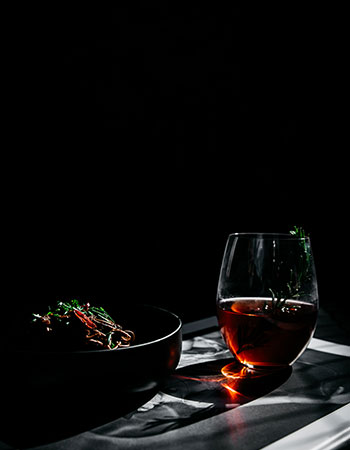 Throughout winter you will also find on the go soups from all organic produce for just $7 in a mug for a quick warmup meal or $14 with any bread you want including gluten, grain free or paleo. If you're on your way into work, the Stacks are something to marvel over. We had the Avocado, Macadamia feta Stack with hemp dukkah and wondered how we would ever eat ordinary avo on toast again. In the baked cabinet you will also come across healthy treats such as the Golden Cookie which is P, V, DF, GF yet super delicious featuring the Bitten's golden cookie which resembles a Golden Gaytime crumb.
While we worry about what to have for lunch tomorrow, Bitten is worried about what we should be eating for a healthy and sustainable future.
Opening Hours
Mon-Fri: 7am to 8pm
Sat: 8am to 6pm
Sun: 9am to 5pm